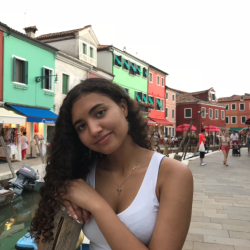 Lexie Ross
"I like that my course pushes me to see the complex nature of media studies, which is really exciting."
Course
Media and Communication BA (Hons)
Choosing Surrey
I chose Surrey as I enjoyed the atmosphere when I came to visit on an open day. The student ambassadors and the lecturers were friendly and talked enthusiastically about the University.
My first thought was how beautiful the campus is - there is a lake in the middle of it and so much greenery and fresh air. There are different places to eat, hang out, play sports and most importantly, study.
Now, I work as a student ambassador on open days and it is a privilege to share my experience of Surrey with future students.
My course
I become more passionate about my course with every module I take. In the field of media, everything is changing so fast and our lecturers use contemporary examples and research to teach us about the ever-changing media landscape of society.
"I chose to study my course at Surrey because it is so relevant to the issues that society is facing around Big Data, social media platforms, AI and so much more. When I looked at the course modules, I knew it would push me to widen my knowledge and my understanding of the media landscape."
The best thing about my course is being taught the foundations of theories and concepts, but the assignments allow me to research my specific interests further. I like that my course pushes me to see the complex nature of media studies, which is really exciting.
Academic staff
The academic staff on my course are supportive to students and enthusiastic about their fields. I'm a course representative, so I've been given the privilege to work alongside our wonderful lecturers. In my meetings, I get to see how passionate they are about creating modules for new students. Dr Ranjana Das is truly inspirational as she is always looking at how to innovate our course to reflect the current and future media landscape.
Life at Surrey
Living in the University accommodation was exciting as it was the first time in my life that I was in charge of where I lived. The best part was meeting so many new people in the same situation as me. I could meet up with my friends easily and classes were only a five-ten-minute walk away. I really enjoyed living in the accommodation and I will forever treasure the memories.
I've changed so much since starting at Surrey and have become so much more confident and more optimistic about the future. I'm looking forward to embracing all the opportunities that come my way after university. 
Coming to Surrey has been one of the best decisions I have made so far, and I am excited to see what the future holds.