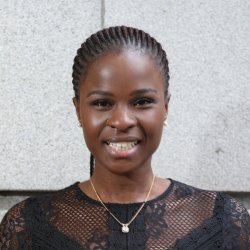 Mary Dinah
"Graduation was amazing, the Alan Turing statue was very inspirational and there were some epic parties!"
Course
International Hotel Management MSc
Mary graduated from Surrey in 2005 with an MSc in International Hotel Management. She is founder and MD of M.A.D Hospitality and has a passion for connecting people to their dream jobs, setting up Nigeria's first job centre and providing support to victims of sexual harassment.
In 2018, Mary became part of the British Council Future Leaders Connect programme, a global fellowship where exceptional young people link to the UK Houses of Parliament, meet with inspiring leaders and policymakers and discuss the most significant global issues facing the next generation globally.
In 2019 she was named as the winner of the Outstanding Contribution to Society Award in the Vice-Chancellor's Alumni Awards.
What does it mean to be chosen as the winner of the Outstanding Contribution to Society Award?
I feel really honoured. The work we do for the young people of Nigeria is the reward in itself so it is very touching to receive this and feel appreciated.
What attracted you to choose the University of Surrey to study for your degree?
My sister did a Business Economics with Computing degree at Surrey and I would often visit her and her friends became mine. Guildford was very peaceful and I liked that it was a campus university. I had been working previously at the Four Seasons Hotel in London and a few of our past general managers had attended Surrey so I knew it was a good course.
My first degree had been in computer science at Nottingham so my family was very surprised when I said I wanted to go into tourism. I can't explain it but I just felt a real passion for hotels and hospitality and when I saw the website for the Four Seasons Hotel I fell in love! It confirmed what I wanted to do.
What were the best things about your course?
The head of department, Professor Peter Jones, was very inspiring. I learnt so much about management on a global scale and the science behind it.
 What is your strongest or happiest memory of your time at Surrey?
There is more than one. Graduation was amazing, the Alan Turing statue was very inspirational and there were some epic parties!
Tell us a little bit about your work
It has been very varied but all within hospitality. I started my company 11 years ago and we managed a number of boutique hotels in Nigeria before branching out into hotel reservations and global booking systems. During that time I also became Head of E-commerce for all the Starwood Hotels in Nigeria. Currently, I am CEO of the luxury Seattle Residences and Spa in Lagos, training staff and showing them what excellence looks like. It's good to bring what I have seen around the world to my own country.
I love meeting people and working in luxury hotels. It makes me smile when I walk into a beautiful property or resort.
How did Job-Link start?
Initially, I thought I would set up a recruitment agency as it was quite hard to find people with the right skills and training in my sector but in the middle of this there was a disaster which stopped me in my tracks.
At a large-scale job open day in a stadium in Abuja in 2014, 100,000 people arrived and when the gate opened, the crowd surged through, killing seven people and injuring more than 50 others. It was an eye-opening moment for me and I realised that unemployment was a much bigger problem than I had imagined. Nigeria has a 50 per cent youth unemployment rate.
I approached high-net individuals and raised over $1 million to set up a foundation to help alleviate hardship and poverty. In five years, Job-Link has helped 10,000 young people find employment and 2,000 have received free training. With the support of Microsoft Philanthropies, Lagos State Ministry of Youth and the Ministry of Labour, further centres have been established and a free CV review clinic has benefited 1,000 young people to date.
Tell us about the Power to Women Association (P.O.W.A)
While helping out with interviews at Job-Link, I found that for many women there were gaps in their employment history or they had suddenly left their previous job. When asked, sexual harassment in the workplace was a very common reason. This came at the time that the terrorist group Boko Haram intensified its control on northern Nigeria and focused on stopping girls being educated. In response, we set up a free career counselling service for women – the P.O.W.A. in partnership with the State Ministry of Women's Affairs. It works to support victims of sexual harassment and gathers data to lobby the Senate to pass appropriate bills into law to protect these women.
What are your goals for the future?
We plan to roll out 40 more job centres in Lagos, which has a population of 20 million. I am looking forward to working more closely with government on this which, hopefully, will lead to a more prominent role advising on youth empowerment. I am presently on a fellowship with the United Nations in Geneva, where the focus is on improving foreign affairs and diplomatic practices in Nigeria, and so an ambassador role in the future definitely appeals.
Do you see yourself as a role model?
There are not too many role models for young women in Nigeria so it is important they see someone from their background and ethnicity succeeding. I always take what I learn back to my community.
Discover more about our courses in hospitality, events, tourism and transport.