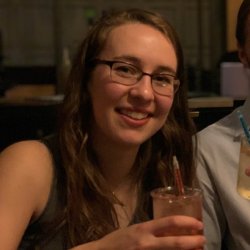 Mollie Autherson
I wanted to study a music degree that was renowned in the audio industry, which also used strong elements of maths and physics.
Course
Music and Sound Recording (Tonmeister) BSc (Hons)
Choosing Surrey and your course
When I found out about the Tonmeister course, it was a no-brainer. I wanted to study a music degree that was renowned in the audio industry, which also used strong elements of maths and physics. When I saw the Surrey campus and world-class recording studios and facilities, it just got even better.
What were the best things about your course?
The most valuable part of the course was the opportunity to do a placement year and Surrey has great links to the industry with some brilliant studios and manufacturers.
It gave me many skills (both technical and personal) that helped with my final year and getting a job.
Another great thing about the Tonmeister course was the sense of community between the students. There were only 24 of us in my year and we all got on so well. I know that I'll have these friends for a long time and if I'm lucky, I might end up working with some of them in the future.
What do you do now?
After graduating, I secured a job where I did my placement year. I am a Technical Sales Specialist at DiGiCo, who are one of the largest manufacturers of live digital mixing consoles. I write technical documents about the consoles for the website and brochures, as well as preparing marketing documents that require a good knowledge of the products. I carry out training, do webinars, make videos and demos for customers and am also involved in research and development in the test department. One way in which the Tonmeister course helped, was the insight it gave into so many different aspects of audio. For example, I have a reasonable understanding of both electronics and programming, which means that when I'm fault-finding with the consoles, I can work out the likely cause and contact the right people to fix it.
Choosing a career
When I started studying at Surrey, I wanted to be a recording engineer working in a studio and making hit records. It wasn't until I started the course that I realised working in a studio on a fulltime basis wasn't for me. Luckily, the lecturers gave a lot of guidance about life after Surrey, showing that there were many career paths open to me. Being able to experience a year in the industry was a great way to tell if you'd enjoy a certain career. 
Advice for future Tonmeisters 
The audio industry is small, everyone knows everyone and is passionate about what they do. One of the most desirable traits is being able to fit in well with a team, whether you're an audio engineer mixing shows or work for a manufacturer.