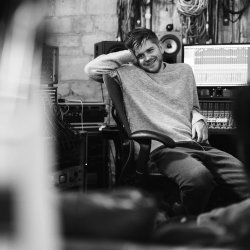 Oli Jacobs
"Graduate Tonmeisters are an amazing network to be a part of and even now I call on people I studied with to help, either for advice, or for a project together."
Course
Music and Sound Recording (Tonmeister) BSc (Hons)
What made you choose the University of Surrey?
The Tonmeister course was first recommended to me by the Head of Music at my secondary school, so I came to Surrey for an open day. The staff and other hopeful students I met were like-minded and friendly, plus there were some real characters among them - the Tonmeister course ended up being the only course I applied to. 
What is your strongest memory of your time at Surrey? 
The time-pressure of recording my first lunchtime concert sticks with me. Another strong memory is chatting to the final-year students in the pub, about what they did in their placement years. It was exciting to learn about all the possibilities that the music industry has to offer, and the amazing industry links the Tonmeister course has.
What were the best things about your course?
The other students were the best thing about the course. I met a group of people I could connect with about shared passions. Some of the people I met are still my closest friends today. Graduate Tonmeisters are an amazing network to be a part of and even now I call on people I studied with to help, either for advice, or for a project together. I work with fellow graduates every day, at Real World Studios (where I now work) and beyond.
The facilities at Surrey are world-class. Importantly, the main focus on the course isn't just learning about the equipment, as it is with some courses at other universities, but you focus on the underlying fundamentals that set you up to work with anything you come across - in the studio, broadcast or a live show.
Finally, the teaching and support staff are fantastic. Many of them have 'been there and done it' - they're a team of highly skilled professionals. There's nothing better than learning from people who have been at the top of their game.
Life after Surrey
I now head up the engineering team at Real World Studios. I engineer many of the projects that come through the studio, I have my own production/mix room, and visit other studios and venues. The diversity of music that comes through Real World is one of the most enjoyable aspects. You can be working on jazz one day, pop the next and a film score the day after. 
My time at Surrey helped cement my desire to be a recording engineer, while also giving me a broad set of skills that I could apply to other areas.
What is your advice for students aspiring to work in your profession?
It's good to be open-minded and not fixate on one particular role within the music industry. There are so many exciting possibilities out there and studying at Surrey opened my eyes to many of them. 
Going the extra mile really does make a difference in this industry. It's often not enough to just do your job well and go home, especially if you want to work at the top. To really succeed you must put in the time and develop skills outside of just the ones you're being paid to do. Especially in the record production world, it's a small team - there's no such phrase as 'that's not my job' when you're starting out (or, to be honest, when you're ten years in!).