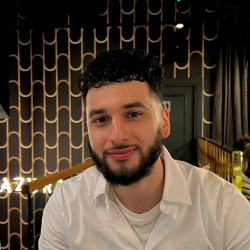 Mustafa Hassan
"I would 1000% recommend this university to everyone and guarantee it will be the most incredible few years of your life."
Describe your experience at Surrey in three words:
Sensational
Memorable
Unique
Why did you choose to come to Surrey?
I remember applying for UCAS and never having a clear number one university which I wanted to go to initially. Therefore, I planned to go to all my open days for the five options I selected, and Surrey completely stood out. I had such an amazing experience that day, exploring the campus and facilities, and made incredible friends before even officially starting University.
It was such an ideal location as a 'Londoner' as well, as it is close enough to London that you would never really get homesick, while also giving you a different atmosphere to London in Guildford, which I've even grown to prefer funnily enough (never thought I'd see the day!).
In addition, everyone is so welcoming, and the diversity makes you feel at home here no matter your background. For example, I frequently played for the Afro Caribbean Society (ACS) 11-a-side football team, even though my background is neither, making so many friends along the way and learning about different cultures. Therefore, I would 1000% recommend this university to everyone and guarantee it will be the most incredible few years of your life. I would definitely start again if I could and would not change a thing about it.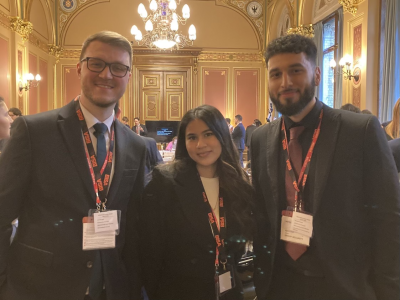 Why are you passionate about your subject?
My passion for international relations, or politics in general, came at quite an older age than usual. I only started to really have an interest in politics during my A-levels and used to previously think it was the most boring subject in the world beforehand. However, since doing it for A-levels, I've loved every minute of learning the subject and became extremely passionate on it. Furthermore, Surrey has only enhanced that passion, with its incredible facilities and amazing opportunities, and really opened my eyes on the future career/education paths I want to potentially take.
For example, I was privileged by Surrey to take part in an incredible 'Model NATO' scheme alongside two other bright students, whereby we were selected to represent the interests of Czechia as NATO delegates and negotiated with 31 other nations on how to proceed in a crisis simulation. This was an eye-opening experience as it replicated what it is like to work for NATO and thus intensified my passion for international relations greatly, having me even considering doing a masters on it.
How has your time at Surrey had an impact on you?
Surrey has matured me significantly and is different from anything I have previously experienced. Entering as a teen and leaving as a young adult, I've made friends I know I will always be in contact with and memories that I will never forget.
The students and staff really make Surrey and after living here for three years, it genuinely feels like Surrey is now my home. The staff in the politics department are all phenomenal and extremely considerate to your needs, motivating you even at your lowest. The students are so diverse in character, meaning you would never have to worry about being alone in your interests. Therefore, Surrey has really impacted me and I will miss everything about it once I officially graduate, especially the people in it.
Do you have any other comments you'd like to offer about your time at Surrey?
I have had a lot of high and lows during my time here, and when I originally started my first day as a student, I was so excited and nervous at the same time.
"I have made mistakes along the way, but that is a part of growing up and Surrey has always been there to support me when needed."
Starting my final year now, I am finally excited to graduate and enter the 'real world', but as the day comes closer, I now feel upset knowing my time here will eventually come to an end. I want to thank everyone I have met during my journey in Surrey and give a special shoutout to the Department of Politics who have always been so kind to me. Thank you for everything.