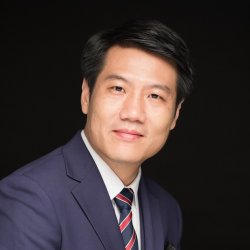 Patrick Zhu
"My professors were excellent and I received a solid engineering background which has benefited me throughout my career."
Patrick graduated from the University of Surrey with an MSc in Mobile Communications Systems in 2002. He is now President and COO of Sungy Mobile (Listed in Nasdaq: GOMO), the world's leading mobile application provider.
In 2019 he was named as the winner of our Alumni Achievement Award in the Vice-Chancellor's Alumni Awards.
What does it mean to be chosen as the winner of the Alumni Achievement Award?
Winning the award is a real honour and very special. My company has won lots of awards and recognition but this is more personal and is like my family saying well done! I am really looking forward to visiting campus again with my family and sharing my happy memories.
What attracted you to choose the University of Surrey to study for your MSc in Mobile Communications Systems?
I had offers from other universities but I was impressed with the quality of the course and that Surrey is a really international university, so there were opportunities to meet students from different cultures. I also liked the fact that Guildford is close enough to London but also gives you the peace of the countryside. I have never regretted my decision.
What were the best things about your course?
My professors were excellent and I received a solid engineering background which has benefited me throughout my career. My classmates were very supportive too and I received some very good advice about working in China. This was invaluable and when I returned just a year later I was able to achieve an income five times higher!
How did you change as a person during your time as a Surrey student?
I was kind of shy when I arrived but I made good friends at Hazel Farm, all different nationalities, and I gradually became more confident. I also realised that I needed to learn to do things really quickly as I was only at Surrey for a year. Alongside my academic studies, I learnt to cook and cut my hair!
What is your strongest or happiest memory of your time at Surrey?
Finishing my final paper was such a relief and I was so happy to close my computer at the end. I was surviving on three or four hours sleep a night and drinking up to 10 coffees a day! My happiest moment, however, was my graduation – I really wanted to cry.
Tell us a little bit about your work.
What we are doing affects a lot of people. Our applications on Google Play have 200 million active users and when we do our monthly updates that equates to nearly three per cent of the world's population! That is a very exciting feeling.
I remember that when I went to New York to list the company, one of the immigration officers told me he used our GO Keyboard. I was so, so happy to meet one of our customers!
Knowing what we do affects people all over the world – that is very motivational.
What are your business challenges?
Society is so fast-changing and so we are constantly having to adapt to new technologies. This means we are always learning and challenging the status quo but it makes working life more interesting.
What do you consider to be a career highlight?
In 2017 I was invited to a ceremony in the House of Commons because Go Launcher was selected as one of the top 30 Chinese brands across the world. I was very proud to be there and I thought without my year at Surrey I wouldn't be here today.  
What are your goals for the future?
We have recently set up a charity to provide free cancer screening for people aged between 55 and 75 in Guangzhou which has a population of 15 million. Technology is not only for efficiency – but more importantly for the wellbeing of people and families and this is the point of development. We really hope to expand the service to more provinces in China.
You have had incredible success in your field – do you see yourself as a role model?
Since becoming a father I realise how important it is to be a good role model for your children. My mum was named as a National Work Model – this was a scheme to recognise people from different industries who were successful – and I saw how incredibly hard she worked. She was an inspiration to me.
I am a strong believer that you should always lead by example. I set myself a personal challenge every year and recently took up the guitar. It took me six months – my son, aged eight, just three weeks! He watched me and copied what I did – it's no different in business.
Discover more about our courses in electrical and electronic engineering.