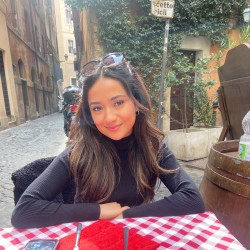 Rabia Dhami
"All in all, Surrey has been great but the biggest takeaway from this University is finding friends for life."
hy did you choose to come to Surrey?
The University of Surrey has always had a special place in my heart. From my second year of A-levels, I always knew I wanted to go to a university that was very green compared to where I'm from home in London; there are hardly any parks or scenic areas near my home.
On visiting Surrey on my open day, I could not believe how green the campus is! I knew I wanted to have my accommodation on campus due to this reason and, luckily, I did. It was amazing to walk through the lake on the way to my lectures every morning.
Aside from this, Surrey offered a great deal of opportunities to me career wise that heightened my reason to apply not to mention Politics being ranked 9th out of all the courses in Surrey in the Times.
What was your first impression when you got here?
My first impression of Surrey was how easy it was to get around campus and how impressive the architecture of the buildings was. I found the maps around campus made it easy to navigate and there is a lot of meeting points if you ever lose your friends. The Lake being a massive one!
Why are you passionate about your subject?
I am passionate about my subject because it allows me to gain knowledge about making the world a better place. I enjoyed politics throughout my teenage years, and it prompted me to apply for this course at university. Sociology also followed with this passion so when I saw Surrey does this course, I knew instantly I wanted to apply.
What do you like about your course and why?
I liked how there was a range of modules to pick from when it came to second and third year. It offered me a good scope of the subject area in terms of picking what aligns closely to my interests.
Who was/were your favourite academic/s and why?
Jas Nijjar, my module leader for Race and Racism in my second semester this year. He always showed support and had a real compassion for the subject whilst teaching which made it more enjoyable to attend.
Robert Meadows, module leader for Mental health in Semester 2 of third year. I enjoyed his lectures and seminars as they were always interactive, and he was super-helpful when it came to queries we had.
Theofanis Exadaktylos, politics module leader in Semester 1 of my second year. He always displayed a passion for teaching and public policy is one of the many areas I want to work towards, career-wise, so going to his lectures heightened this passion. I thoroughly enjoyed this module.
What were the facilities like on your course? How did they help your studying experience?
Due to my course being one that mainly required only two things, a laptop/computer and books, it was easy to find access to these around campus. However, the politics and the sociology lecturers were helpful with material, and I got help whenever I reached out for help with assignments.
What did the work on your placement involve? What were the highlights? 
My role at Unilever was in the Reward Team, a part of human resources HR). It was interesting because this operation was a hybrid of finance and HR.
The main highlight from my placement was getting involved with the Equality, Diversity and Inclusion (ED&I) team. At Unilever, the company was very keen on students and making sure they experience every ounce of business they can. With this, the organisation had a whole team dedicated to early/future careers which guided us all throughout the whole year, ensuring we were aware of what was to come and made sure we had on-boarded into the company well.
All interns got placed into different divisions of their co-hort. I applied and got the job for HR and was placed into the Reward Team amongst HR. Alongside my everyday duties which kept me busy, I also branched out to other cohorts within HR.
The two major projects I worked on that I am extremely proud of was working with the Equality, Diversity and Inclusion team. Within Unilever, there are different teams that represent ED&I, such as Proud which is the LGBT+ team, and the Empower team which I was a part of to help promote ethnic backgrounds and for more racial equality in the workplace.
During the month of Ramadan, I asked if we could promote this month within the office. So we brainstormed ideas and came up with a couple of ideas. The first was to host a 'fast n learn' session to local UKI. Within this session we asked three volunteers who are practising Ramadan to share their stories about how they celebrate Eid and Ramadan. This session went very well and it even reached the European team who suggested us to do another round for them! The next idea was to host a spotlight event across two of the sites in Surrey and London. Within these spotlight events we showcased some traditional foods that are typically eaten on Eid and during Ramadan. The foods that were given out was baklava, gulab jamun and dates. Each person who approached the stall would get a mini-lesson on what each dish is as well as information on how we celebrate Eid/Ramadan.
And finally, the last event that took place was a fasting day challenge where we asked whoever wanted to, to fast for a day. We created a big group chat for everyone who was fasting so they could communicate on it.
Would you recommend a Professional Training placement to others? Why?  
I would 100 per cent recommend a placement year to any student who can do so. I met some incredible lifelong friends at the firm I worked at and gained skills to help prepare for my career. I developed a business focused mindset which motivated me in my last year of university to apply for graduate jobs.
Are you part of any clubs or societies? How have they contributed to your Surrey experience?
It was incredibly easy to join clubs and societies at surrey, I found it everyone was super-friendly and welcoming. I had been training Taekwondo from a young age and took it up again at Surrey. It was nice to feel welcomed by people who enjoyed it as well.
What are the best things about life at Surrey?
The two best things are that it is near London, so for me I never really got homesick and, if I did, I knew it was only a 35-minute train away. The second is that the town centre is near the uni, so it makes it easy for spontaneous meet-ups with your friends.
What has been your best moment at Surrey so far?
All in all, Surrey has been great but the biggest takeaway from this University is finding friends for life. I have been blessed with the best circle around me from my first year until now, and how I have created relationships and found friends forever; this will always be the main highlight.
How has your time at Surrey had an impact on you?
Surrey has contributed to helping me mature as a well-rounded person. I think the last four years have taught me the good and bad about myself as well as always making sure I'm making the most out of situations.
Do you know what you want to do when you graduate?
I want to use the skills I picked up in my placement year and delve further into the HR operation. I am looking forward to developing my career in HR and seeing what element of this operation I enjoy the most.
Do you have any other comments you'd like to offer about your time at Surrey?
There were ups and downs but I was blessed with good course leaders who always helped me with queries and questions I had on hand and despite going through a pandemic which they handled tremendously, I still felt heard and seen.
And finally... 
Is there a song that reminds you of Surrey? Why?
A song that reminds me of Surrey is 'Angels' by Robbie Williams. Only Citrus regulars will understand why. Every Wednesday at Rubix, the night ends when the lights turn on and this song plays. It's a joyful way to end the night as it became a routine!
What's something you couldn't live without at university?
Ear plugs. Everyone at university has different schedules, you may find one of your flatmates sound asleep and another on the phone to their parents or stressing out about an assignment deadline. Ear plugs were my best friend.  
What's one food dish or snack you couldn't live without at university?
Instant noodles. For obvious reasons, it was instant and filled me up whenever I was in a rush in-between lectures. Not the healthiest but did the job!
Describe your experience at Surrey in three words:
Fun
Memorable
One of a kind