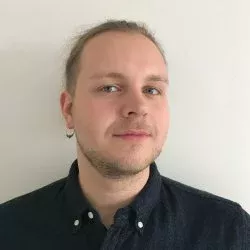 Tautvydas Kuliešius
"I will always associate Surrey with that feeling of belonging and creation"
When did you decide to come to Surrey? What were you doing and how did it feel?
I decided to come to Surrey very late and got in through Clearing. I was planning to study my degree somewhere else, but had a change of heart which eventually worked out for the best! Surrey's magnificent campus attracted me from the very first visit, but eventually it was the Creative Music Technology (CMT) course that really sealed the deal for me!
What was your first impression of Surrey?
The first impression that Surrey gave me was of immense potential, ready to be realised. It felt as you were part of a great community that is collectively striving to better themselves and their surroundings by constantly innovating and learning, no matter which course you are on.
Why did you choose to study your course at Surrey?  
Music has always been a big part of my life, as it possesses the ability to connect us on a different level. Being creative and making meaningful art is what keeps me going. I was drawn to the CMT course as it offers a great selection of optional modules as well as essential core modules. The selection is wide enough to help you tailor to your specific needs and that helped me to stay motivated and excited about my chosen subject.
What do you like about your course and why?
I love the creative approach to art that is fused with technology; we are always surrounded by magnificently powerful computers and smart devices that can create interesting art. Why not learn how to utilise it?
The academic staff are a wonderful bunch of professionals who are focused on nurturing and helping you develop yourself. They are very approachable and make you feel welcomed, as well as sharing great knowledge and their personal experience!
Are you part of any clubs or societies?
I am a part of Gospel Choir, Craft and Sound Design societies. They have enriched my experience here at Surrey and bring a sense of belonging. It's great to be surrounded by like-minded people who are eager to learn and socialise together.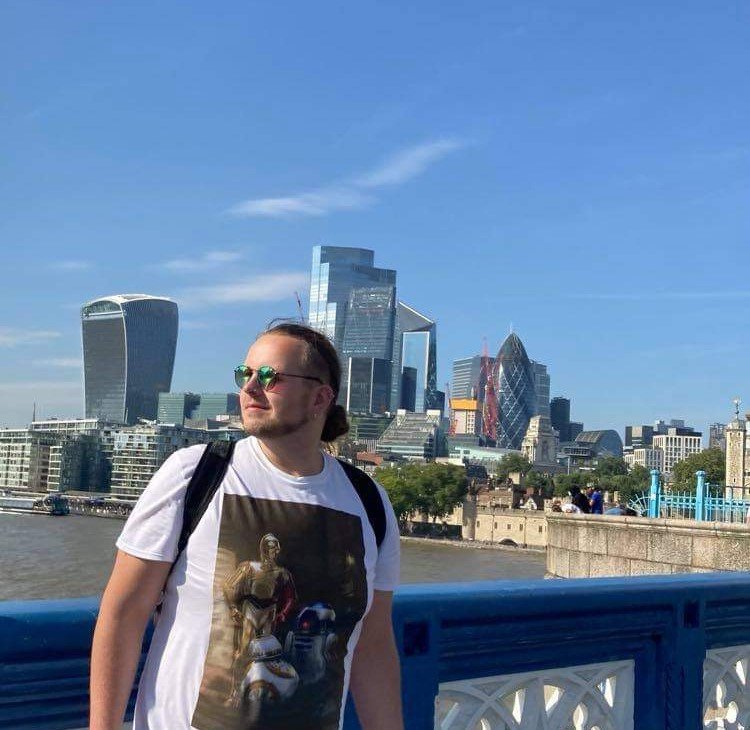 What are the best things about life in general at Surrey?
The campus is huge and has so much to offer, from quiet study areas and 24/7 studio and rehearsal rooms, to a pub and night club and that's just on campus! London is just a 34-minute train ride away from Guildford and Guildford itself is a lovely, safe little town that is surrounded by beautiful, hilly scenery.
I usually spend the most of my time at the Performing Arts and Technology Studios (PATS), where I practise, record, and collaborate with other students. But I do love getting away and spending some alone time by the lake which keeps me grounded.
Do you feel supported at University?
Absolutely! The tutors are great and truly nurturing, they always look after us. The staff are very passionate about what they do and always welcome you with a smile, a joke or sometimes a cup of tea.
Our Student Union, which is run by students, is working hard to make sure that our wellbeing is in check by providing various free services.
The staff at MySurrey Hive are great with supporting and guiding students who need help with anything. When I applied for extenuating circumstances, they were lovely to speak to and were very helpful.
What careers support have you received?
I have had various help from tutors who provided contact details of professionals and helped me to connect with them. Having a direct access to them has helped me to ask important career questions and get an insight into their day-to-day life. I've also had a taste of what an academic career might be like as I was lucky enough to get on to a vacation internship. 
"I've been lucky enough to get a vacation research internship here at Surrey, which has been great! It's their first year of offering this wonderful opportunity for undergraduate students to get a taste of academic research."
Being at Surrey has positively impacted my employability, as I feel more confident and knowledgeable as well as experienced in my field of study.
What has been your best moment at Surrey so far?
The best moment at Surrey for me is more like a collection of little joyful moments that take place when like-minded people get together, socialise, and create art. I will always associate Surrey with that feeling of belonging and creation.
Do you think you've changed since you started at Surrey?
Yes, I do. I have become more outgoing, creative and confident in my occupation. I have also re-discovered myself and made new realisations to what I want to do in life.
Do you know what you want to do when you graduate?
I am looking for a part-time job in composition and/or sound design, but I am strongly considering postgraduate master's studies here at Surrey.
Discover more about undergraduate and postgraduate programmes offered by the Department of Music and Media.