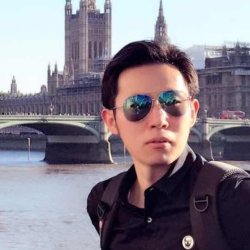 Xiaotong Ma
Surrey's Doctoral College is a very warm and friendly place that always makes you feel welcomed and relaxed.
Course
Hospitality, Tourism, Transport and Events PhD
"I'm the type of person that is passionate about travel and I very much care about preserving the environment. As a part of social science, tourism focuses on the engagement between people, the exchange of knowledge and views, understanding concerns, and reshaping and building a more sustainable society and industry. As an inexperienced entry-level researcher, I always feel motivated to do something helpful, and at the very least contribute some new knowledge in this field or spread the word on sustainable lifestyles. All of this is what drives me to be passionate about the subject. 
Studying my PhD at Surrey is an amazing experience for me. Surrey's Doctoral College is a very warm and friendly place that always makes you feel welcomed and relaxed. The teaching and learning facilities are very advanced which significantly increases our efficiency. We also have access to quite a lot journal articles and books, and as well as that, a great variety of workshops are provided to level up our capabilities.
For me, Surrey Sports Park was the biggest surprise for me when I moved to Guildford. The large scale of it was far beyond my expectations. Although it may take some time to get to the Sports Park gym from the main campus, having workouts four times a week can help me balance my research and personal life and keep me fit and healthy.
"The learning environment at Surrey is very friendly, my supervisors are always very supportive and responsive towards me." 
Initially, they briefed me on the PhD programme as a whole and gave me quite a lot options from which I could choose to carry out my research and facilitate my academic skills. I've recently just shifted my research topic a bit towards another field that's yet to be attempted.
My supervisors who were aware of my stress from this challenging work, tried to help me build up a research conceptual framework and point me in the right direction, which greatly alleviated the pressure I felt. In addition to that, my supervisors also check how my work is getting on regularly and provide me with timely constructive feedback to make sure I'm on the right track.
The biggest takeaway from studying at Surrey will be developing critical thinking and evaluation skills, as well as overall professional academic skills which are currently in great demand. Over the course of three or four years at Surrey, there is a huge variety of over 300 workshops and seminars which will be available for us to take part in, which means it's an open platform and we can learn what we want from it."
Discover our courses in hospitality, events, tourism and transport including our PhD Hospitality and Tourism Management.