Key information
Start date:

To be confirmed

Attendance dates:

To be confirmed

Venue:

Leggett Building, Manor Park campus, University of Surrey, Daphne Jackson Road, Guildford, Surrey GU2 7WG

Contact details:
Module overview
This module explains how nutrition can help us to age healthily and avoid disease.
Learning outcomes
On successful completion of this module, you will be able to:
Explain the relationship between senescence, function, immunity and nutritional status
Discuss the extent to which nutrition can help to prevent or treat age-related diseases
Describe the effect of inadequate dentition on nutritional status
Evaluate the association between nutrition and age-related diseases
Appraise the efficacy of diet, nutritional supplements and the use of fortified/functional foods in improving clinical outcome (e.g. following illness or surgery)
Debate the key issues regarding the prevalence of malnutrition and frequently encountered nutritional deficiencies in hospitals and the community
Evaluate the evidence for the role of nutrition in the aetiology, prevention and treatment of age-related conditions
Apply theory critically to analyse own professional experience
Assess the limitations of the published norms and interpretation of nutritional status assessment in the elderly to evaluate the impact of clinical intervention.
Course content
Indicative content includes, some or all of the following topics:
Biology of human senescence
Functional consequences of human senescence: Neurological and cognitive decline; impaired vision and hearing; poor dentition; reduced strength; muscle wasting (sarcopenia); reduced physical activity; deterioration of circulatory and gastrointestinal function; bone loss; immobility; impaired immune function
Nutritional implications of human senescence: Diminished appetite; impaired taste and smell; fall in
nutrient absorption; impaired nutrient utilisation; masticatory disability; food selection
Effect of ageing on immune function; benefits of micronutrients
Nutritional status assessment and screening
Current nutritional status of the elderly; frequently-encountered deficiencies
Diet in the aetiology of some age-related conditions e.g. osteoarthritis, osteoporosis, hypertension, cardiovascular disease, cancer, cognitive decline/Alzheimer's disease, age-related eye disease
Nutrition to aid prevention of some age-related diseases
Osteoporosis and osteoarthritis
Alzheimer's disease and impaired cognitive function
Macular degeneration, cataract
Cardiovascular disease
Hypertension
Stroke
Cancer.
Learning and teaching methods
The learning and teaching methods include:
Lectures
Workshops
Journal club
Class discussions.
Assessment
Assessment for the module is optional for those taking it as a short course. Assessment is compulsory if it is being taken as part of an award programme. Please contact the course leader, Margaret Rayman, or the Programme Administrator, Angeliki Panagiotara, for further details.
Summative assessment
The summative assessment for this module consists of: 
Coursework: Assignments collectively comprising a maximum of 5,000 words, which may include a compulsory element. A maximum of 10 questions ensures a range of subject areas are assessed, demonstrating learning outcomes across the range for the module
You will be required to submit the coursework electronically on a set deadline two months following the module.
In order to complete the assessments you will, as a starting point, be required to demonstrate knowledge obtained from the course material and reading. The essays will also require you to discuss and reflect on the material. Coursework essays are expected to be well researched and referenced.
Formative assessment
You will receive feedback electronically and module organisers will be available for further discussion if necessary.
Course leader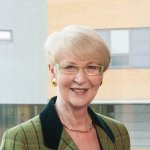 Professor Margaret
Rayman
Professor of Nutritional Medicine
Reading list
You will be required to do some reading prior to the module starting, take a look at the reading list.
Entry requirements
A minimum of a 2:1 UK honours degree in either a medical degree (MBBS, MBChB), Biology, Biological Sciences, Pharmacy, Dentistry, Nutrition, Nutritional Science, Human Nutrition, Dietetics, Biochemistry, Microbiology, Medical Microbiology, Chemistry, Biomedical Science, Natural Sciences, Pharmacology, Physiotherapy, Osteopathy, Sport and Exercise Science, Psychology, or a recognised equivalent international qualification.
Applications that do not meet these criteria will also be considered based on relevant experience.
English language requirements
How to apply
Please download and fill in an application form.
Send your form back to us at the address or email included on the form.
Please ensure that you have completed all sections and answered all questions, uncompleted forms may result in delays and ultimately missing out on available places. 
Terms and conditions
When you accept an offer of a place at the University of Surrey, you are agreeing to comply with our policies and regulations and our terms and conditions. You are also confirming you have read and understood the University's prospective student privacy notice.
Further details of our terms and conditions will follow.
Disclaimer
This online prospectus has been prepared and published in advance of the commencement of the course. The University of Surrey has used its reasonable efforts to ensure that the information is accurate at the time of publishing, but changes (for example to course content or additional costs) may occur given the interval between publishing and commencement of the course. It is therefore very important to check this website for any updates before you apply for a course with us. Read the full disclaimer.
Campus location
Stag Hill
Stag Hill is the University's main campus and where the majority of our courses are taught.
Angeliki Panagiotara Programme Administrator
Address
University of Surrey
Guildford
Surrey GU2 7XH