---
news
ATI Director becomes Distinguished Professor at Chinese universities
Professor Ravi Silva, Director of Surrey's Advanced Technology Institute (ATI) has been elected to Distinguished and Guest Professorships at two world-renowned Chinese universities – Zhengzhou University and Wuhan University of Technology.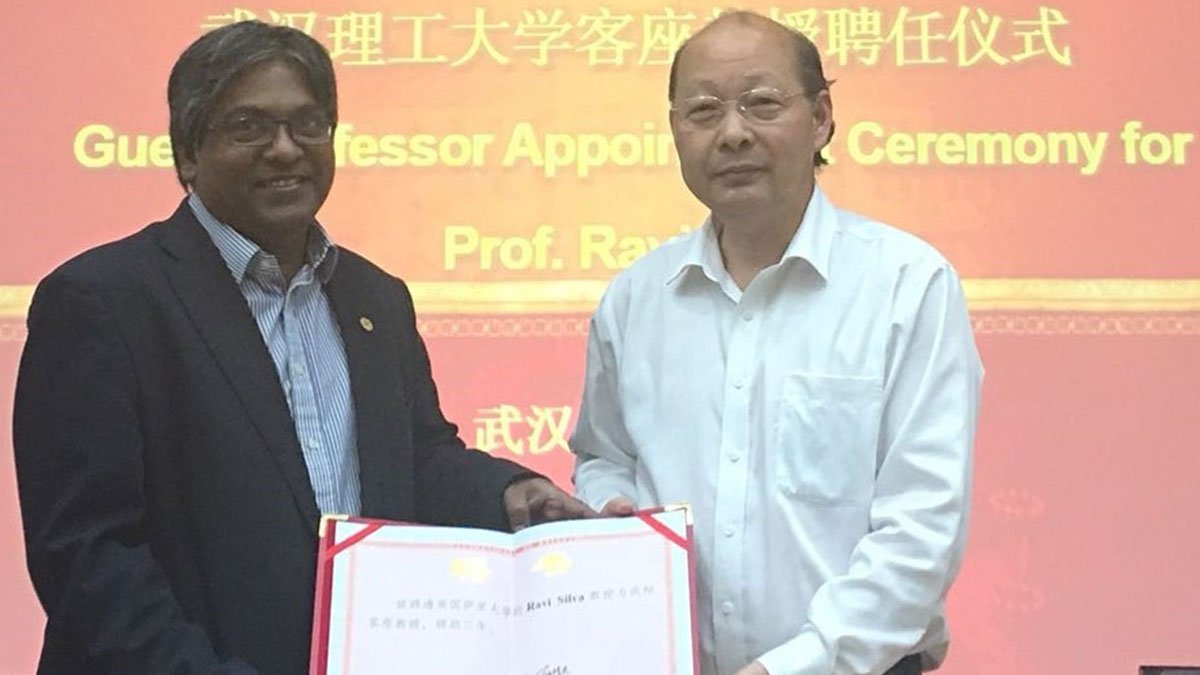 Professor Silva recently attended special award ceremonies in China where he was welcomed to his new posts of Distinguished Professor at Zhengzhou University and Guest Professor at Wuhan University of Technology.
At Zhengzhou University, President Professor Jiongtian Liu, Chinese Academician, said that there was much scope for collaboration between Zhengzhou and Surrey. He outlined the need to set up a Surrey Zhengzhou Enterprise and Innovation Hub between the universities and the Mayor of Zhengzhou's office. This idea has been welcomed by the Mayor, who has committed to putting all necessary resources in place to facilitate the programme.
At the Wuhan University of Technology event, the University's President, Professor Qingjie Zhang, Chinese Academician, warmly welcomed Professor Silva to the Guest Professorship. He stated that he looked forward to working with Surrey to establish a UK-China Battery storage network, and strengthening Wuhan's leading reputation for its materials science and engineering programme through the partnership.
Professor Ravi Silva said: "I am delighted to have been awarded such distinguished posts from leading universities in China, and look forward to strengthening the ties and very ambitious plans for expanding the respective networks of excellence between the universities. I was honoured to be personally welcomed to the posts by the presidents of the two universities who both head major programmes within the university and for the respective academies."
Professor Max Lu, President and Vice Chancellor, said: "I offer my personal congratulations to Ravi for these significant appointments at two top institutions, which are also our strategic partners. His collaborations with his Chinese counterparts will further strengthen our valued links with China's research and innovation."
These Professorships build on Surrey's partnership with Chinese institutions in the field of nano-materials research. Read about Professor Silva's Honorary Directorship of the Zhengzhou Materials Genome Institute.
Discover our programmes in electrical and electronic engineering.