---
news
Digital Mental Health Day
Mental healthcare is going digital and the University is at the forefront of these developments.
NHS England is committed to fully digitised mental healthcare provision by 2024 (1) to enable more people to receive effective care and provide greater accessibility and choice.
To help prepare our future clinicians for this revolution, over 30 trainee clinical psychologists took part in the second annual Digital Mental Health Day at the University of Surrey on the 10 June. Students got 'hands-on' experience of technologies used to deliver online therapy, as well as an introduction to the professional and ethical issues surrounding their use.  
The day was led once again by Dr Alesia Moulton-Perkins, a senior teaching fellow in the Faculty of Health and Medical Sciences. Dr Moulton-Perkins gave an experiential workshop on delivering psychological therapy by video call.
This was followed by Andrew Jackson and David Tinker from ProReal Ltd, industry leaders in the world of virtual reality therapy technology, who gave presentations allowing the trainees to experience the use of avatars and virtual world technology.
Participants also considered the safe and effective use of videoconferencing software to provide care online and examined the evidence base for the quality of the therapeutic relationship in online therapy.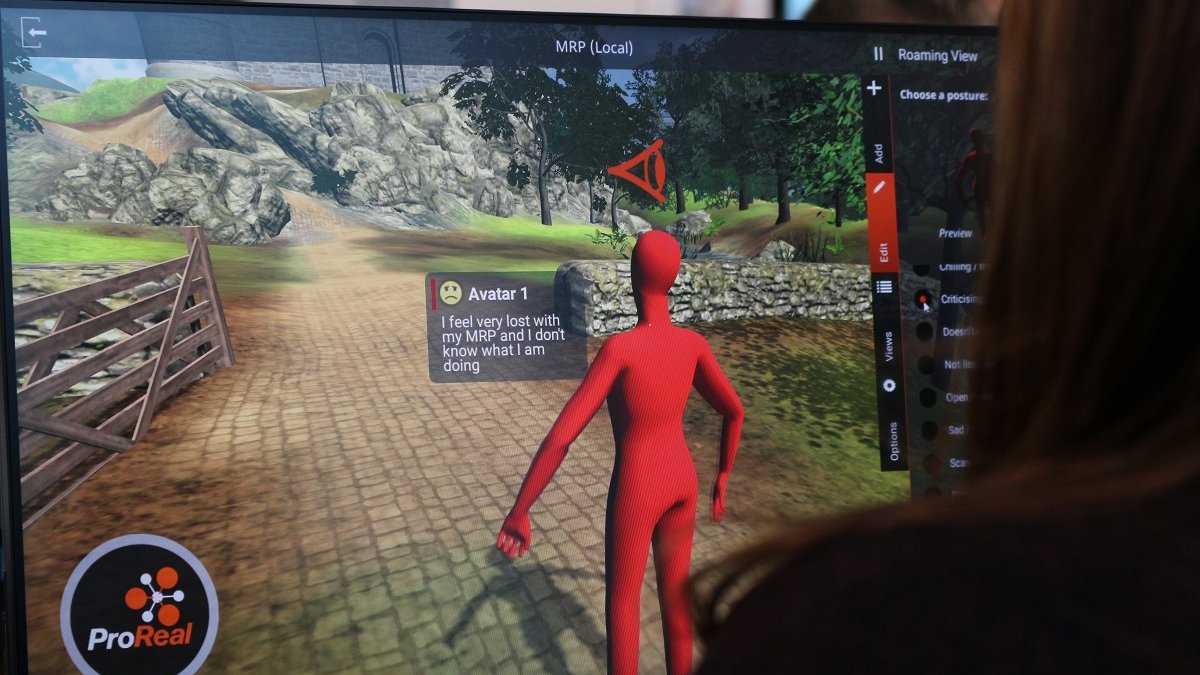 Today saw the launch of a pilot collaboration between the clinical psychology department and ProReal. A small group of digital champions will commit to spreading the digital message to other trainees. To assist them in this work, ProReal Ltd are providing a substantial package of free training and software licences.
I want our trainees to be ahead of the pack when they emerge from their doctorates in three years' time – and these days that means being digitally skilled and confident.
Dr Alesia Moulton-Perkins, Senior Teaching Fellow
"I really enjoyed the event – this is a hugely important subject for this 'next generation' of clinical leaders. The whole ProReal team feel very proud to be a part of this collaboration and we're looking forward to supporting the students' learning" said Andrew Jackson, Chief Executive of ProReal Ltd.
At the end of the event, Dr Moulton-Perkins said "I want our trainees to be ahead of the pack when they emerge from their doctorates in three years' time – and these days that means being digitally skilled and confident".
With an independent report for the Department of Health (2) calling for healthcare workers to be prepared for the digital future, this Digital Mental Health Day shows the University leading the way in training the next generation of clinical psychologists. The programme lead Mary John echoed this:
"The need  for mental health services to assertively join the digital movement  could not be greater with the recognised increase in emotional and mental distress across the life span. Surrey University is committed to engaging with these advances  as it will help reduce some of the health inequalities through generally increased access but more particularly it will reach out to  many who would not think to enter a traditional mental health service. Having the trainees at the outset of their careers gain experience and consider how best to use these approaches is an exciting opportunity  for them and the clinical psychology profession."
A special thanks to Nicola Orpin and the IT Services team for all their fantastic support!