---
news
Doctoral student contributes to industry guidelines on sustainable construction
A guide on more sustainable approaches in the construction industry, co-developed by Dr Erica Russell as a doctoral student, has been downloaded 15,000 times across 100 countries since being launched three months ago.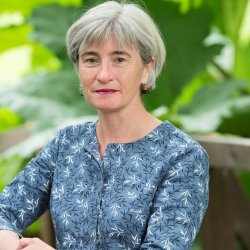 Dr Erica Russell
Dr Russell helped to develop the Climate Emergency Design Guide while working with the London Energy Transformation Initiative (LETI) as part of her Practitioner Doctorate in Sustainability (PDS) programme. Launched in January 2020 to over 600 industry representatives at The Building Centre, the Guide sets out the approach, targets and benchmarks that UK building developments need to achieve in order to reach Net Zero Carbon.
The UK construction sector is a major source of carbon emissions, created not only during building, maintenance and demolition, but also embodied in the thousands of materials used to create or refurbish built assets. The industry comprises an immense, complex network of actors including business, institutions, professional bodies, NGOs, government and individuals and cross disciplinary collaboration is limited.
Created to stimulate action in the industry, LETI has brought together an industry-wide group which offers practical measures to help the industry reach the target of Net Zero, based on member expertise in energy and carbon reduction.
As one of over 200 volunteers at LETI I used knowledge and research skills developed during my doctoral work to analyse survey data, support project planning and facilitate workshops, among other tasks.

At the launch of the Climate Emergency Guide, along with an Embodied Carbon Primer which provides additional guidance, there was an enormous sense of being part of a movement, of standing alongside many professional bodies, institutions and individuals, all committed to change.
Dr Erica Russell
The Climate Emergency Guide and Embodied Carbon Primer have been downloaded 15,000 times across 100 countries since their launch.
Dr Jacquetta Lee, Associate Director of the PDS programme, said: "The PDS programme is designed to put doctoral students right at the centre of industry, to give them the insights necessary to deliver real world solutions to pressing sustainability issues. Erica's excellent work in the construction sector during her Practitioner Doctorate gave her access to information, networks and people, which has enabled her to achieve far reaching impact outside of her immediate industrial sponsor."
Dr Russell was awarded her PhD, 'Leading Role or Bit Player? Main contractors, supply chain and sustainable construction', in November 2019.
Read about Surrey's Centre for Environment and Sustainability.
Discover our environment and sustainability courses, including the Practitioner Doctorate in Sustainability Programme.