---
news
Following in Daphne's footsteps...
2021 marks 50 years since Daphne Jackson became the first female Professor of Physics in the UK. Honouring this milestone, Surrey has launched a year of 'Surrey Women in Science and Engineering' to celebrate the achievements of Professor Jackson and the many women she helped to inspire.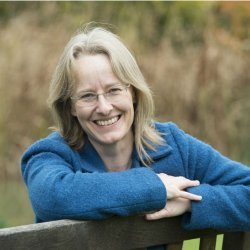 Caroline Haigh
This month, we spoke to Professor Bonnie Buchanan and Caroline Haigh from the Faculty of Arts and Social Sciences, to see how they got into their chosen fields and what inspired them to embark on a career within the areas of science, technology, engineering, arts and maths (STEAM).
Surrey's Dame Daphne Jackson became the first female professor of physics in the UK in 1971. As a key figure in the history of UK science, how does her story resonate with you? 
Caroline: "Her love of physics resonates with me as I was one of a small handful of girls who took the subject, along with maths and further maths, at my sixth form in the 1980s. I have worked in male dominated environments ever since, both in industry and academia. I appreciate her campaigning for being able to pick up your career after having children."
Bonnie: "Dame Jackson was amongst the first in her family to attend university - so was I, and my undergraduate degree was in science. Dame Jackson's engagement with the Engineering Society and Meteorological Society also resonates, because it shows you that science does not limit you to one discipline. After completing a BSc (Hons) and MSc in mathematics, I started to pursue research and a career in finance. A really solid grounding in mathematics was very beneficial in this regard."
Who have been the influential or supportive women in your academic journey and why?
Bonnie: "My mother was a driving influence in my academic journey. She was extremely supportive of me pursuing higher education. My mother was a voracious reader and we constantly discussed books. She taught me that I could achieve anything. I know my mum would have been immensely proud of me pursuing a PhD. I have also been fortunate to have other supportive women in my academic journey. Whether they are mentors or co-authors, they have been great support. I believe in mentoring, regardless of career stage."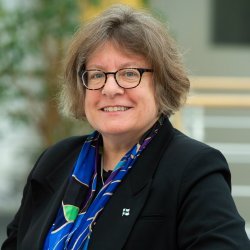 Prof Bonnie Buchanan
What do you consider to be your greatest achievement so far?
Caroline: "Working on hundreds of classical music recordings for Decca and Abbey Road. Getting a book published as lead author. This drew on my industry career and my academic interests."
Bonnie: "There are two that break-even just after I arrived at the University of Surrey in 2019, I was asked to go back to the USA and testify at the House of Financial Services on Capitol Hill in Washington DC. The topic was algorithmic bias in artificial intelligence. It was a real honour to discuss this topic with government officials and industry representatives.  My work in AI/FinTech was also mostly carried out whilst I was the Fulbright Distinguished Chair in Business and Economics at the Hanken School of Economics, Finland. It really did change my life."
Why should more women study STEAM subjects? 
Caroline: "Because it's really interesting to find out how things work, and it's very creative as you have to find solutions to problems all the time. We need women's input and voices in this area. It is also often better paid."
Bonnie: "When I was a first-year undergraduate student, I had no idea that I would end up working in finance, or a business school. But my math courses exposed me to applications in engineering, epidemiology, agriculture and business, and I just clicked with mathematics and finance applications. This caused me to ask bigger questions about the global economy and our future. Looking back, I have found that training provided me with independence when it came to life cycle financial planning issues (housing, pensions, healthcare etc). The great thing about studying STEAM subjects is that you do not know where it may take you in the long run. And it is changing all the time. I mean, these days evolutionary biology is being used to inform some finance areas."
What legacy do you hope you leave for the next generation of female learners?
Caroline: "I hope to have taught students well, and also made it easier for the female students to see from my example that they can work in the audio industry, and understand the technology and engineering involved just as well as their (often more confident) male peers. I also hope to have shown the female students that sometimes male confidence is misplaced, and does not mean greater competence, better understanding or ability."
If you're interested in a career in the arts, discover our fantastic courses on offer within the Faculty of Arts and Social Sciences.