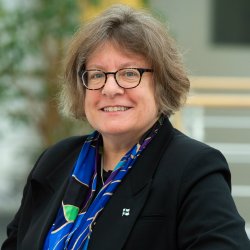 Professor Bonnie Buchanan
---
Director of Sustainable and Explainable FinTech (SAEF) Center and Professor of Finance
BSc (Hons); MAppSc; PhD, FRSA
About
Biography
Professor Bonnie Buchanan is the Director of the Sustainable and Explainable FinTech (SAEF) Center at the Surrey Business School (SBS) and a Professor of Finance. She was Head of Department of Finance and Accounting at SBS between 2019 - 2023. Professor Buchanan is also a fellow of the University's Center of Sustainability, the Center for AI and the Centre of Digital Economy (CoDE).
In 2018-2019, Professor Buchanan served as the USA Fulbright-Hanken Distinguished Chair of Business and Economics at the Hanken School of Economics, Finland. Prior to this, Professor Buchanan worked at Seattle University where she was the Howard Bosanko Professor in International Finance and Economics and the George Albers Professor. She also served as the MSF program director and MBA program director at Seattle University.
Professor Buchanan has published in leading international journals including the Journal of Corporate Finance, Journal of Business Ethics, American Business Law Journal, International Review of Financial Analysis and European Journal of Finance. Her research on shareholder proposals has been recognized with the Hoeber Memorial Award for Outstanding Article in American Business Law Journal and her work has been cited in the Financial Times. She has research expertise in FinTech, AI in financial services, securitization, CSR and law and finance. Professor Buchanan has also taught in Australia, Russia and Finland. She was the Editor in Chief of Journal of Risk Finance between 2013-2021.
Professor Buchanan also appears in the media on FinTech, big data and AI issues. 
Areas of specialism
FinTech, AI in financial services, securitization, CSR, law and finance;
synthetic data and alternative data
University roles and responsibilities
FASS representative for National Physical Laboratory (NPL) strategic partnership.
My qualifications
PhD in Finance
University of Georgia, USA
Previous roles
2018 -
2019
Fulbright Hanken Distinguished Chair in Business and Economics
Hanken School of Economics, Finland
Research

Research interests

Professor Buchanan's research interests are:

FinTech
Biodiversity and FinTech
Synthetic Data and Alternative Data
P2P lending
Artificial intelligence in financial services
Ethics of AI and data privacy
Securitization
CSR/ESG issues
Corporate Governance 
Financial history and crises

Indicators of esteem

2020    Innovate UK Research Grant, "Accelerate an Urgent Sustainable Economic Recovery for COVID-19 in the UK Mortgage Market: Applying an AI Lens", (£233,000)

2020    Foundation for Economic Education (Liikesivistysrahasto), Finland –" How to measure and analyse ESG information to support sustainable business?" for 2020-2022 (€200,000)
Supervision
Postgraduate research supervision
I am also currently supervising PhD students. My areas of interest are: FinTech, Artificial Intelligence in Financial Services, Securitization, CSR and Law and Finance.
Teaching
MANM493 Overview of FinTech (PGT)
MAN3124 Banking and Money.(UG)
Courses that I have taught previously: History of Financial Crises, Financial Institutions and Markets and FinTech
Publications
Highlights
2020    Artificial Intelligence in Finance (co-authored). Wiley.
2017     Securitization in the Global Economy, Palgrave Macmillan (Book)
2018    Corporate Social Responsibility, Firm Value and Influential Institutional Ownership (with C.Cao and C.Chen).                                  Journal of Corporate Finance. Cited on Columbia Law School's Blog on Corporations and Capital Markets
2017    Uncertainty and Firm Dividend Policy – A Natural Experiment - with E. Liljeblom, C. Cao & S.Weihrich. Journal of                            Corporate Finance. Vol 42. pp. 179-197.  Winner of Best Paper Award – BFWG Conference, London.
2016    Securitization: A Financing Vehicle for All Seasons? Journal of Business Ethics. Vol 138, No. 3. pp. 559-577.
2021    Multiple Owners and Productivity in Family Firms, European Journal of Finance (Forthcoming) – with Eva Liljeblom, Minna                            Martikainen and Jussi Nikkinen.
2021    The Impact of Financial Services on UK Financial Services. (with Danika Wright). Oxford Review of Economic Policy, Volume 37,                   Issue 3, Autumn 2021, Pages 537–563.
2021    Corporate Social Responsibility and Inside Debt: The Long Game, International Review of Financial Analysis - with Xuying (Cathy)                 Cao and Shuhui Wang. (Forthcoming)