---
news
Published:
06 October 2021
Following in Daphne's footsteps: Meet our female civil engineers
Surrey is home to an incredible range of female civil engineers who have made their mark in research, industry and public engagement. As part of our Year of Surrey Women in Science & Engineering – marking 50 years since Daphne Jackson became the UK's first female Professor of Physics at Surrey – we talk to just a few of them.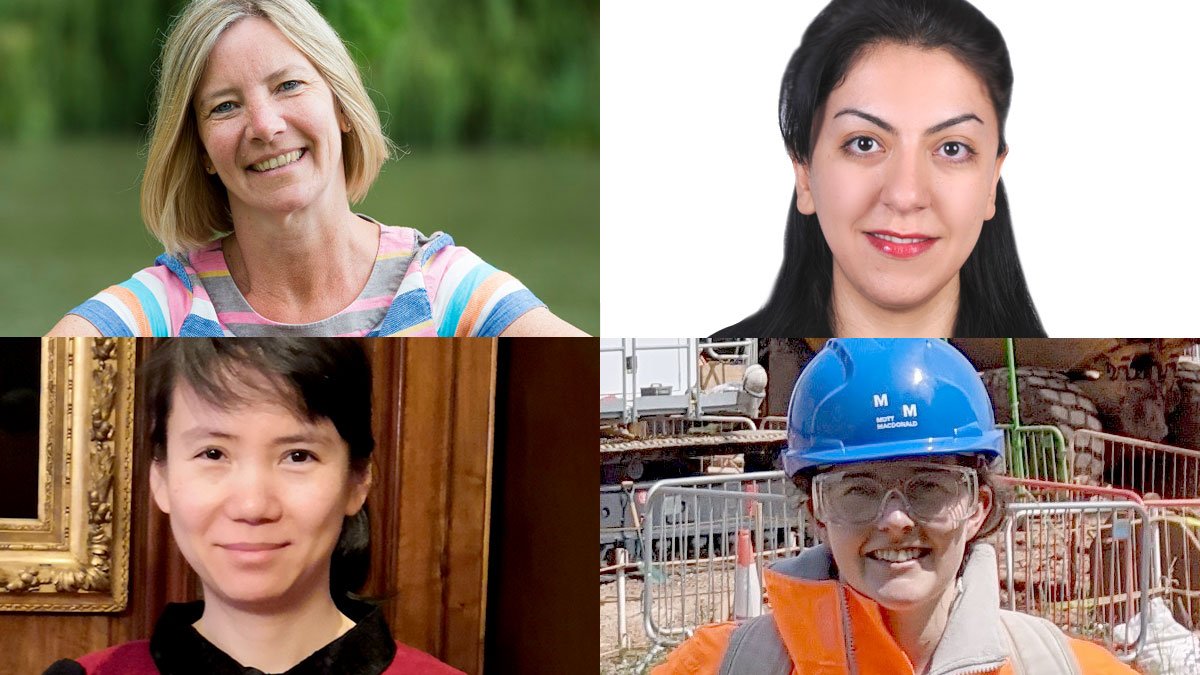 Professor Daphne Jackson is a key figure in the history of UK science. How does her story resonate with you?
Dr Donya Hajializadeh: Daphne Jackson was a visionary who broke the glass ceiling in her male-dominated field and overcame many challenges throughout her career. Even today, many female academics and professionals face these barriers, although they might be more subtle and less visible. 
Dr Kathy Pond: Many female (and male) researchers struggle to restart their research following a career break and Daphne Jackson set up a fellowship for this purpose. I went on maternity leave and found it very difficult to establish my research again – funding is very competitive and it takes time to build up collaborators, so I think that this is a fantastic initiative.
Ruth Carlson (alumna): I am often the only woman in my team meetings or on site but thanks to trailblazers like Dame Daphne Jackson the differences aren't so pronounced. 
Who have been the most influential women in your academic journey and why?
Dr Liang Cui: One of my university professors who was very knowledgeable and patient when lecturing us. She made me recognise the value and impact of academics and want to be one of them.
Kathy: Rachel Carson, the American marine biologist and conservationist, had a big impact on me when I was younger – she was very forward-thinking in terms of environmental issues. In addition, I'm from a family of science teachers so I guess the women teachers in my family have greatly influenced me to pursue this career!
Donya: Marie Curie. An immigrant who had to make a double effort, not only to overcome the challenges of settling into her new host country and culture, but also to distinguish herself at the time when the general mindset was not ready to accept a female scientist – let alone one who would become the first woman to win the Noble Prize, not once but twice! As an immigrant myself, she is a true inspiration to me.
What first got you interested in civil engineering?
Ruth: The ability to be able to impact the world in a positive way was what drew me to engineering. I have lots of interests and liked every subject at school, and engineering seemed to incorporate a good balance of my skills while enabling me to make a contribution to the world.
Liang: My interest in engineering was originally inspired by my first physics teacher whose humorous teaching pattern made me fall in love with the subject. Having studied engineering for a number of years, choosing civil engineering was a very natural step for me.
Kathy: I started off in public and environmental health (which is still my focus) and was very fortunate to be able to work for the World Health Organization for a period of time in the water and sanitation department. I've continued that area of work but applied it to water and environmental engineering. It's important for engineers to understand why interventions need to protect human health and that's the focus of my work. I am really interested in the cross disciplinary nature of engineering.
"I've always been fascinated with the application of maths and physics to build structures (particularly bridges) and infrastructures that connect people and communities. Civil Engineering aims to better the quality of life and solve society's problems in a broader sense – such as overcoming the challenges mother nature presents like earthquake, flood and landslide." - Donya
Tell us about your current role, and what do you enjoy most about your job?
Liang: I am a Senior Lecturer and undergraduate Programme Leader. The thing I most enjoy is inspiring my students and passing on my knowledge about a subject that fascinates me.
Kathy: I'm a Senior Lecturer and Programme Manager for the MSc Water and Environmental Engineering. I love the fact that this masters course attracts so many international students who are from countries with different challenges to their water supplies. It brings an insight into real life problems to our course and we can learn from the students as they learn from us. In my research, I work closely with the World Health Organization to improve small drinking water supplies. I love this aspect of my job: the opportunity to work with professionals from around the world.
Ruth: I'm a Graduate Civil Engineer working in the Foundations and Geotechnical department at Mott MacDonald. Currently I'm working on ground movements and instrumentation and monitoring required for HS2. I am enjoying getting stuck into the more technical side of engineering and understanding some pretty niche topics!
Donya: I'm Senior Lecturer in Structural/Bridge Engineering and also Director of Employability at the Department of Civil and Environmental Engineering. My daily highlight is inspiring students to understand the beauty of maths and its application in Civil Engineering, and how to approach and solve an engineering problem.
Is there a particular female scientist whose work inspires you?
Liang: It would be my PhD supervisor, Catherine O'Sullivan, who is now a Professor at Imperial College London. She opened the door to an interesting and powerful approach which has driven me to dig deeper along this path.
Ruth: I take a lot of inspiration from women in other sectors. I am big into my sports and Beth Barrett-Wild is the head of female engagement at the England and Wales Cricket Board. She has led this absolute explosion in women's cricket over the last few years: her work will impact so many people and change lives.
Donya: Mary Isloen Fergusson OBE, who was the first fellow of the Institution of Civil Engineers (ICE) in 1957. She received an Honorary Doctorate of Science from Herriot-Watt University in 1985 for her work in encouraging women to take up engineering careers.
What's the main barrier to women studying STEM subjects and going into STEM careers, and how can we do more to support them?
Kathy: I think the main barrier is still a perception that engineering and science is a 'boys' subject, which is absolutely not the case. I've worked with primary school pupils and seen how enthusiastic the girls, as well as the boys, are about science. We need to promote STEM subjects at a much earlier age and primary schools need better facilities to allow pupils to engage in the fun parts of science.
Donya: The media often stereotypes STEM careers as not for girls – for example celebrities will say: "I don't understand maths" and be proud of that. Fortunately things are slowly moving in the right direction. Let's make STEM subjects 'cool' again!
"I wasn't naturally gifted at maths and really struggled when it became more complex during A levels, but I worked hard at it as I knew I needed maths in order to study engineering at university. I imagine lots of people have been in similar positions to me. Some continue, but others drop out of STEM subjects due to lack of support or fear they aren't good enough." - Ruth
Liang: People's biased and negative opinions against women studying STEM subjects may be the main barrier. We need to show them successful examples of women doing as well or even better than men in their studies and careers.
What advice or hopes do you have for the next generation of women scientists?
Liang: Believe in yourself. Engineering is not just for men. If you find it interesting, it's for you.
Kathy: I'd love the next generation of women to adopt a 'can do' attitude in all aspects of their lives – not just science.
Ruth: I want the next generation of women scientists and engineers to be as confident as their male counterparts. Be confident in your ability, you will get told you are wrong a lot of the time but try not to take it personally. Don't let others put you off!
Donya: Hard work, persistence and having the tenacity not to give up. You can not only break the glass ceiling but shatter it to pieces!
If you've been inspired by this interview with our female academics and students in the Department of Civil and Environmental Engineering and think you might enjoy the culture and student experience we offer, check out our undergraduate and postgraduate civil and environmental engineering courses.