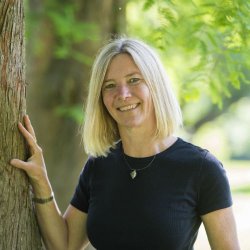 Dr Katherine Pond
---
Senior Lecturer
PhD Coastal Management
Biography
Prior to joining the Robens Centre for Public and Environmental Health in 1996 Dr Katherine Pond worked for four years as co-ordinator of a national coastal pollution project.
She spent a 2-year secondment at the WHO European Centre for Environment and Health, Rome where she worked in the Water and Sanitation Unit.
Since returning to the University she has acted as a WHO Temporary Advisory on a number of contracts providing technical and administrative support and training in the field of water quality monitoring and human health and in the development of environmental health indicators.
University roles and responsibilities
Admissions Officer, Undergraduate Civil Engineering

Programme Leader, MSc Water and Environmental Engineering
Research
Research interests
I am particularly interested in improving the quality of small water supplies. I am currently working with the World Health Organisation and supervising a PhD student to revise the risk assessment approach used to identify potential contamination to these supplies.
Previous research interests include the optimization of swimming pool design to reduce operational costs and develop energy efficient systems. Building-related energy use is an increasing concern for the aquatic leisure industry, with the national carbon reduction targets almost certain to affect the leisure industry. This research programme is tackling these design challenges from the perspective of an integrated building, chemical and pathogen control perspective.
I am also interested in the impact of climate change on water and sanitation systems.
Research projects
Improving water safety planning: Data to decisions' – case studies from Uganda and Rwanda
Principal investigator: Dr Katherine Pond
Start date: January 2021
End date: July 2021
Funding amount: £48,000.
Research collaborations
Currently collaborating with Defra and Surrey Sports Park Ltd to look at design challenges of swimming pools from a health and energy conservation perspective.
Collaborating with Dr Sotoris Moschoyiannis (Department of Computing and Mathematics) and Dr Katrina Charles to investigate whether probabilistic modelling can be used in drinking water standards (funded through MILES).
Supervision
Postgraduate research supervision
I am currently supervising the following PhD students:
Richie King: Improving sanitary inspections for small drinking water supplies.
Small drinking water supplies such as boreholes, springs and wells, face a number of challenges which make their users vulnerable to the consequences of poor drinking water quality. This project is working with the World Health Organisation and in collaboration with Kyambogo University, Uganda and University of Malawi, The Polytechnic for fieldwork aiming to improve the risk assessment/risk management process associated with the improvement of small drinking water supplies found throughout the World. 
My teaching
Programme Leader: MSc Water and Environmental Engineering
Module leader ENGM289 Global Challenges in Water and Health - MSc Water and Environmental Engineering