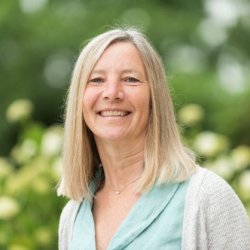 Dr Katherine Pond
---
Associate Professor
PhD Coastal Management
About
Biography
Kathy has over 20 years experience in cross-disciplinary national and international research and consultancy focusing on improving water quality and public health in low and high income countries. She has close collaboration with the World Health Organisation (WHO) since joining Surrey in 2000 and is the lead contact for the WHO Collaborating Centre for the Protection of Water Quality and Human Health held by the University of Surrey.
Prior to joining the Robens Centre for Public and Environmental Health, University of Surrey in 1996 Dr Katherine Pond worked for four years as co-ordinator of a national coastal pollution project.
She spent a 2-year secondment at the WHO European Centre for Environment and Health, Rome where she worked in the Water and Sanitation Unit.
Since returning to the University as a Researcher she has continued to work as a WHO Temporary Advisory on a number of contracts providing technical and administrative support and training in the field of drinking water quality and human health. Kathy leads the work of the WHO Collaborating Centre for the Protection of Water Quality and Human Health, held by the University of Surrey.
Kathy is now a Senior Lecturer (working part time since 2009) in the Department of Civil and Environmental Engineering and is the programme lead for the MSc in Water and Environmental Engineering. 
University roles and responsibilities
Programme Lead and Admissions Officer, MSc Water and Environmental Engineering

Member of Athena Swan SAT
Research

Research interests

My current research, recently funded by Research England (GCRF), is focused on improving the quality of small water supplies. Small drinking water supplies such as boreholes, springs and wells are used by millions of people in both developed and developing countries. Users face a number of challenges which make them vulnerable to the consequences of poor drinking water quality. This work is relevant globally to Sustainable Development Goal 6 and is supporting the World Health Organisation (WHO) in the development of guidance and tools for small water supply systems. The outputs of this research will feed into the WHO Guidelines for Drinking Water Quality (GDWQ) currently being revised. The GDWQ is the most authoritative technical guidance on operation and management of small supplies, particularly in rural or remote areas, and informs government policy worldwide.

Previous research interests include the optimization of swimming pool design to reduce operational costs and develop energy efficient systems. Building-related energy use is an increasing concern for the aquatic leisure industry, with the national carbon reduction targets almost certain to affect the leisure industry. This research programme tackled these design challenges from the perspective of an integrated building, chemical and pathogen control perspective.

I am interested in developing research topics around the resilience of small supplies and sanitation systems to resist the impact of environmental and anthropogenic stressors.

Research projects

Improving water safety planning: Data to decisions' – case studies from Uganda and Rwanda

Principal investigator: Dr Katherine Pond
Start date: January 2021
End date: July 2021
Funding amount: £48,000.

Water Quality Analysis Tool (WQAT) Development

The aim of this project funded through the Sprint programme, is to develop a water quality analysis tool. The novel aspect is its ability to identify and analyse the quality of water bodies and source of pollutants by utilizing high resolution space data. Data will be processed to extract spectral features that are sensitive to water quality variables. The extracted features will be correlated with field data to validate their sensitivity and the relationship will be modelled to produce map of water quality in Lake Ziway in Ethiopia.

 

PhD project - Natasha Harris - APPLICATION OF FLUORESENCE SPECTROSCOPY TO UNDERSTAND SOURCES AND INSTREAM PROCESSING OF RIVERINE NATURAL ORGANIC MATTER

This PhD project is exploring how microbial processing effects fluorescent organic matter signals and if this can be measured in the field. Focusing on the upper Thames catchment, this will involve a novel approach of measuring fluorescent organic matter alongside microbial assessment methods beyond simple enumeration, including activity assessments and sequencing, as well as more typical water chemistry variables.

 

Research collaborations

Currently collaborating with Lensa, University of Leicester on a Sprint-funded project to develop a water quality analysis tool using satellite data. This project is also in collaboration with colleagues from the Department of Civil and Environmental Engineering, University of Surrey - Dr Belen Marti-Cardona, Dr Donya Hajializadeh and Dr Emma Hellawell.

 

Previous collaborations with Defra and Surrey Sports Park Ltd to look at design challenges of swimming pools from a health and energy conservation perspective.

 

Collaborating with WHO, Kyambogo University, Uganda; University of Iceland, British Geological Survey and Polytechnic University of Malawi on small drinking water supply research.
Supervision
Postgraduate research supervision
I am the principal supervisor for the following recent PhD students:
Richie King (completed January 2022), partially funded by WHO, is assessing the benefits and challenges of using the risk assessment tool advocated by WHO for users of small water supplies and testing and revising the tool accordingly in collaboration with Kyambogo University in Uganda and University of Iceland, University of Malawi, the British Geological Survey (BGS) and Surrey Dept of Law.
Jo Herschan (NERC Scenario-funded, due to complete April 2023) is investigating the issue of collection of WASH data and use or more specifically non-use in selected countries. This is an issue identified by the recent WHO GLAAS report. Jo is also investigating risk assessments of household filters.
Natasha Harris (NERC Scenario-funded, due to complete October 2023) is working on developing sensors for monitoring drinking water quality in low and high income countries. This project is in collaboration with BGS and is jointly supervised by Tom Bond.
Sallu Pujeh (funded through Shine Scholarship, part-time, due to complete in 2027), is Assessing Infrastructure Resilience of Small Water Supplies in Blama, Sierra Leone. This project is jointly supervised by Donya Hajializadeh and Donald John MacAllister (BGS).
Teaching
Programme Leader: MSc Water and Environmental Engineering
Module leader ENGM289 Global Challenges in Water and Health - MSc Water and Environmental Engineering
Module Leader ENGM303 Nature-Based Solutions to Environmental Engineering