---
news
Former student named finalist in British Council Alumni Awards
Hasan Murtaza, who is a Senior Satellite Communication Engineer with the government of Pakistan, has been recognised as an alumnus whose work has created change in the space sector.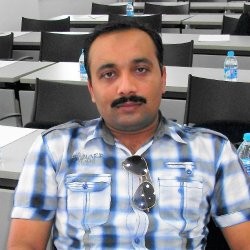 Currently serving the Government of Pakistan in the field of space technology, Hasan completed a Masters course in Satellite Communications Engineering at Surrey in 2009.
During his 11 years working for Pakistan's government in Lahore, he has successfully developed a number of satellite communication projects including tele-education, tele-medicine and video-conferencing services. He has represented his country at numerous space tech platforms across the world, and is also a consultant and trainer at several national and international satellite communication companies.
The British Council's Alumni Awards aim to highlight the impact that alumni of UK higher education institutions have had in their chosen field, and how this was sparked by their studies in the UK.
Hasan's shortlisting within the British Council Alumni Awards is the latest in a line of honours he has received for his work in space engineering. Having received a PhD scholarship from the University of Padova in Italy, he was twice awarded the prestigious International Space University (ISU) France scholarship, and the Commonwealth Professional Fellowship from the UK.
Hasan said: "I was very excited and overwhelmed when I heard that I was a finalist in the British Council Alumni Awards.
"Studying at the University of Surrey enabled me to learn from the world's best satellite professionals with a vast experience of the industry. I was lucky enough to do my thesis at Surrey Space Centre where I modelled the space radiation environment for Pakistani communications satellite PakSat-iR. The University, and Surrey Space Centre in particular, plays a vital role in training the space engineers of tomorrow."
The winners of the British Council's Alumni Awards will be announced in a special Awards ceremony in March.
Why not explore our programmes in Electrical and Electronic Engineering, including our MSc Satellite Communications Engineering?