---
press release
Published:
29 October 2018
A great sign as Surrey helps make history in the Commons
University of Surrey academic Kathleen Grehan recently provided British Sign Language (BSL) classes to International Development Secretary Penny Mordaunt, enabling her to use sign language in Parliament for the first time.
When Penny Mordaunt became the first minister in British history to use sign language from the despatch box in Parliament, it was an extremely proud moment for her BSL tutor Kathleen Grehan who is Director of Dot Sign Language and teaches BSL at the University of Surrey's School of Literature and Languages. Grehan was asked by Mordaunt to help her achieve this milestone in deaf awareness on the back of her extremely successful introductory sign language course with the Department for International Development (DFID) for a group of Whitehall staff earlier this year.
Mordaunt chose to use BSL to highlight the fact that the UK was co-hosting the first ever Global Disability Summit with the International Disability Alliance and the Government of Kenya in July. She opted to speak and sign at the same time so Grehan took great care when structuring each sentence so that the signs fitted with the speech, at the same time as maintaining correct BSL.
There are around 300 different types of sign language used around the world today, and BSL is the most common form of sign language in the UK with its own grammatical structure. After years of campaigning, BSL was finally recognised by the UK government in 2003 as an official minority language which led to increased funding for deaf awareness.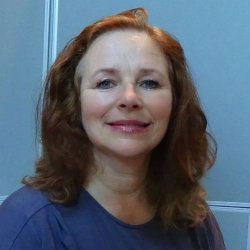 Kathleen Grehan
Grehan said: "Penny was an excellent student, working extremely hard in a short space of time to learn the speech. As well as bringing attention to the important work done by DFID, the news coverage of this Parliamentary 'first' has highlighted BSL as a language."
Grehan has worked with a wide range of companies including VMware, NCT, and SCOR London, and more recently the Deaf Federation of South Africa, who read about Dot's Deaf Awareness training with GP practices in Surrey and wanted advice into conducting similar training.
Grehan isn't the only Surrey academic working to improve deaf awareness. She also taught BSL Level 3 to Surrey's Professor Richard Bowden in the Centre for Speech and Signal Processing who is now developing a new machine that turns BSL into written English. According to a 2016 survey conducted by totaljobs, 65% of deaf people believe that technological developments have transformed the workplace for them, so new technology like this will aim to help the deaf community tackle work-based discrimination.
Watch the video of Mordaunt signing in Parliament and further news coverage on Gov.uk and the Independent.
Featured Academics
---
Media Contacts
---
External Communications and PR team
Phone: +44 (0)1483 684380 / 688914 / 684378
Email: mediarelations@surrey.ac.uk
Out of hours: +44 (0)7773 479911