---
news
Published:
30 September 2021
Meet our Department of Civil and Environmental Engineering
Thinking of studying civil engineering at Surrey? If so, take a look inside our Department of Civil and Environmental Engineering and check out some of the exciting experiences, great facilities and fascinating academics you'll find here.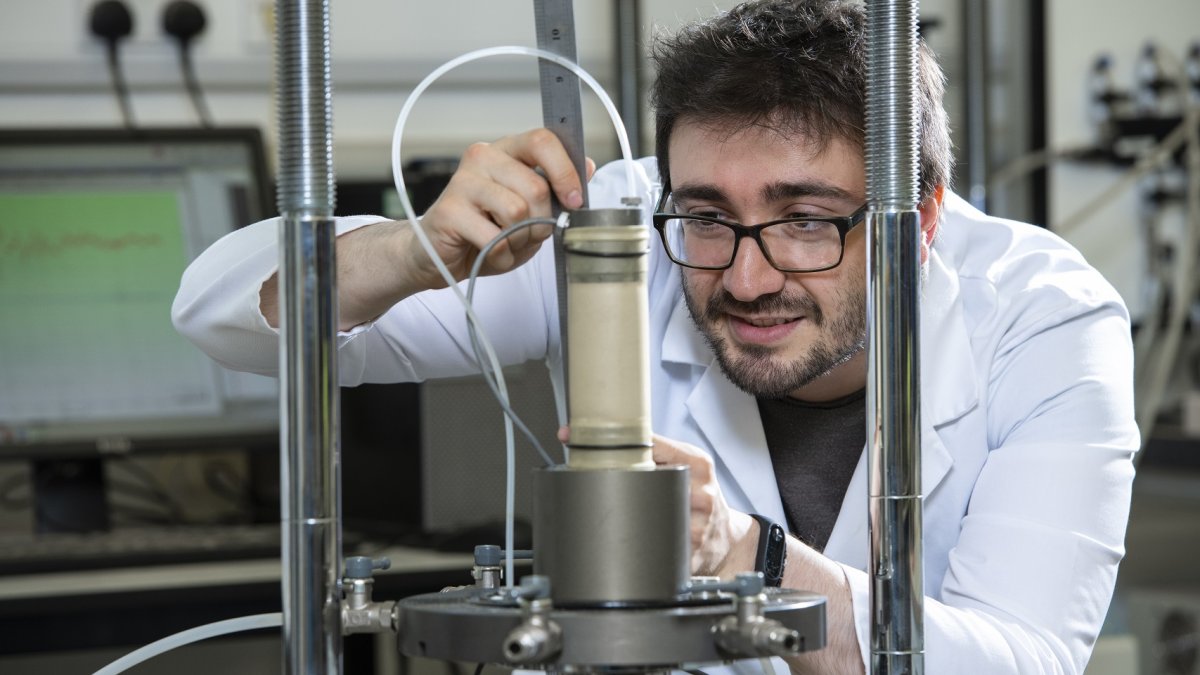 What's special about the Department?
We're a dynamic Department housed on the third floor of the Thomas Telford building. A friendly community, we total more than 400 undergraduate and postgraduate students, researchers and academics.
You'll rub shoulders with people working at the forefront of global research in fields like air pollution, water treatment and infrastructure management. We also bring together international experts in events such as the 7th International Conference on Spatial Structures. We're home to the Global Centre for Clean Air Research, too, which leads local and international initiatives to mitigate the effects of pollution.
Around 35 per cent of the Department's undergraduates are on our unique Surrey/ICE (Institution of Civil Engineering) scholarship scheme. This pairs students with a relevant industrial company early on in their course and shapes their experience. Not only do they spend their year-long Professional Training placement with the organisation, they also benefit from paid summer work placements and receive a generous scholarship bursary of £1,950 every year. Once they graduate, many are offered a full-time role at their industrial company.
What it's like to study here
You'll get an incredibly varied learning experience and study in an environment that's been rated 'Gold' in the Teaching Excellence Framework. Your average week will combine lectures, seminars, personal tutorials, industry talks, lab sessions and group work, amounting to around 19 contact hours every week for a first-year student.
Recent undergraduates have also taken part in national competitions and international collaborations leading to academic publication.
You'll have a personal tutor who'll support you throughout your time at Surrey, too. You'll be able to schedule an appointment with them whenever you want or need to via our online booking system.
Course highlights
DAD (Design, Assemble, Dismantle) project
As a first-year student, you'll be challenged to collaborate as part of a group for our Surrey-designed DAD project. Here, you'll work against the clock to design, assemble and dismantle a structure.
Project work
In your third year, you'll take on an individual project connected to a real-world industrial or research challenge. Depending on the topic you choose, you might work in our:
If you're studying on our MEng course, you'll also get to work on a multidisciplinary design project in your final year, often in collaboration with an industrial company, teaming up with students from other engineering disciplines.
Keynote talks
Along with everyone in the Department, you'll be invited to attend our regular talks from industry leaders. Recently these have included Nick Prior of Deloitte, who spoke about global infrastructure challenges and opportunities in the post-pandemic period, and Professor Douglas Oakervee – one of the UK's most distinguished civil engineers – who talked about the challenges of delivering High Speed 2 and other major infrastructure projects.
Professional Training placements
You can secure a year's valuable work experience in a major engineering consultancy or contractor through our award-winning Professional Training placement programme. Recently our students have gone to over 30 leading civil and environmental engineering companies. These include: 
Atkins
Bachy Soletanche
Balfour Beatty
Costain
Hewson.
Our teaching staff
Our teaching staff are all passionate about their particular area of civil engineering and keen to inspire students by sharing their knowledge. Our academics include:
You'll work in a range of state-of-the-art laboratories and specialist facilities, including our:
Air Quality Lab, a world-class facility for monitoring air quality
Centre for Environmental Health and Engineering, which addresses water quality and associated health issues around the globe, and is a World Health Organization Collaborating Centre for the protection of water quality and health
Materials and Structures laboratory for the manufacture and assessment of structural elements 
Surrey Advanced Geotechnical Engineering Lab, which carries out advanced laboratory testing of soils and scaled model tests of geotechnical problems. Our geotechnics and geology lab has recently undergone a £450,000 upgrade
Wind tunnel facilities for pollution dispersion modelling and measurement.
What our graduates go on to
Armed with a civil engineering degree from Surrey, our graduates go on to achieve great things in industry and research. And it's not just us saying that. Surrey was named the University of the Year for Graduate Employment by The Times/Sunday Times Good University Guide for 2022. Also, according to the 2021 Guardian University Guide, 97 per cent of our former students are in graduate-level employment or undertaking further education within 15 months of graduation.
Many of our graduates go on to become Chartered Engineers, taking on a high level of responsibility within leading companies. Recently they've gone on to roles at:
Atkins
GDC Partnership
Lendlease Group
Mott MacDonald
Walkers Construction.
Read about the success of two of our graduates who won the top prize in the 2020 Young Structural Engineering International Design Competition.
Find out more about our BEng (Hons)/MEng Civil Engineering degree programmes.