---
news
Published:
04 February 2021
Surrey graduates win international structures award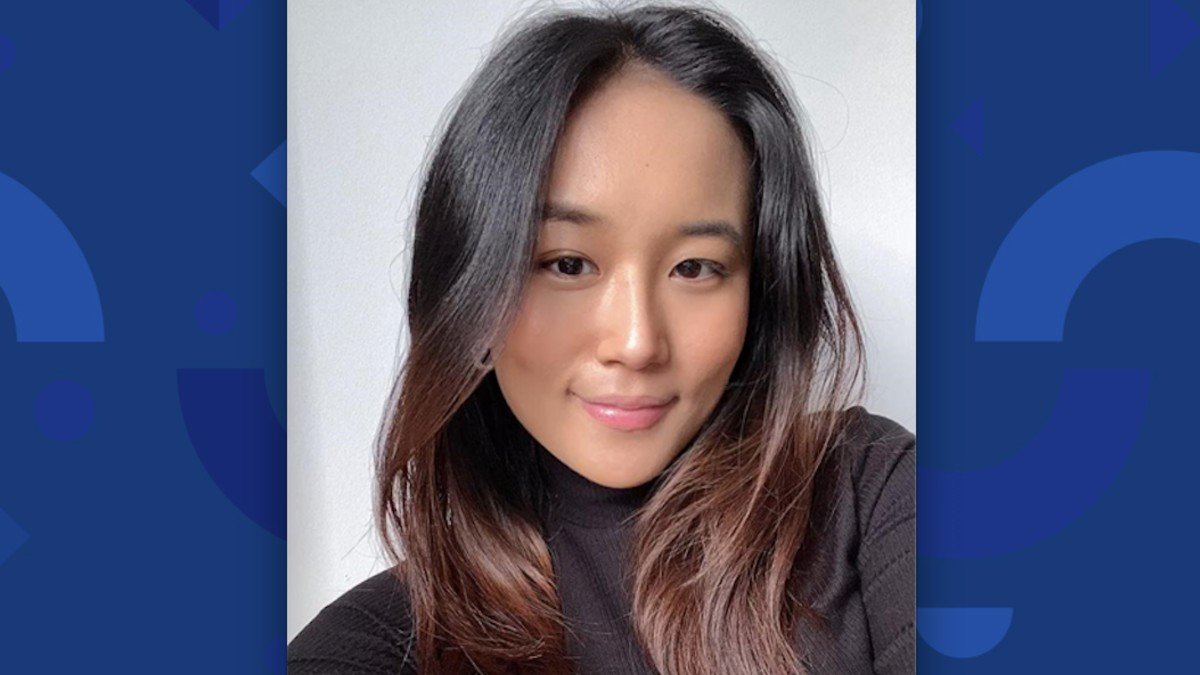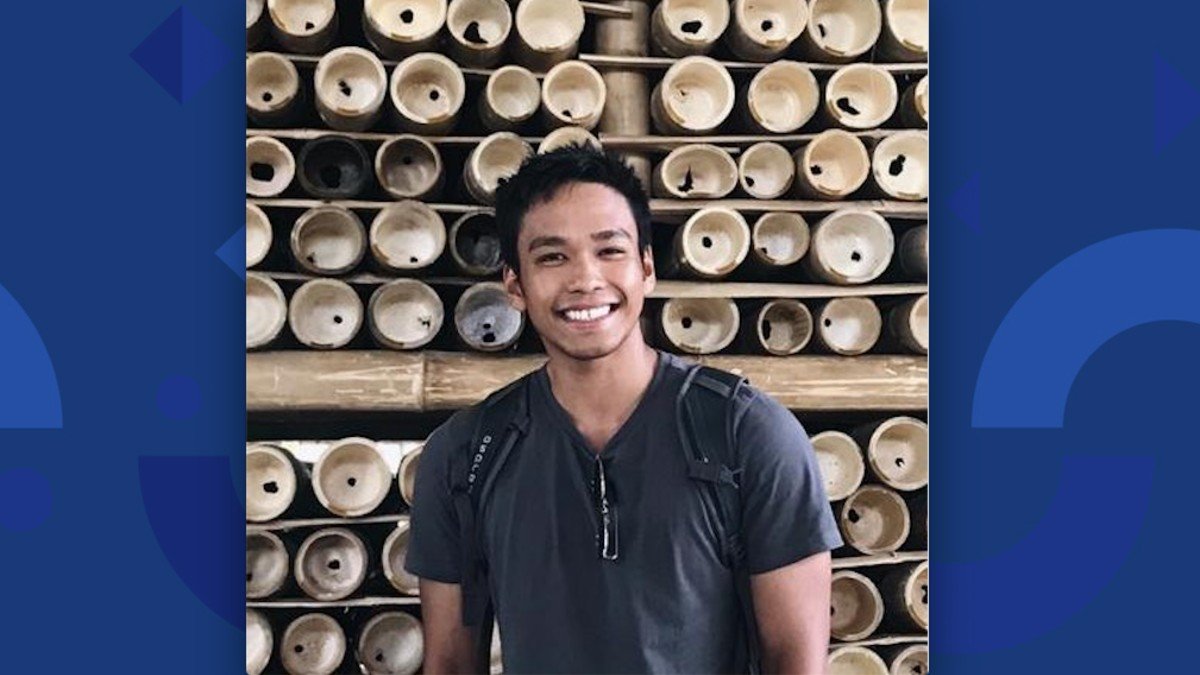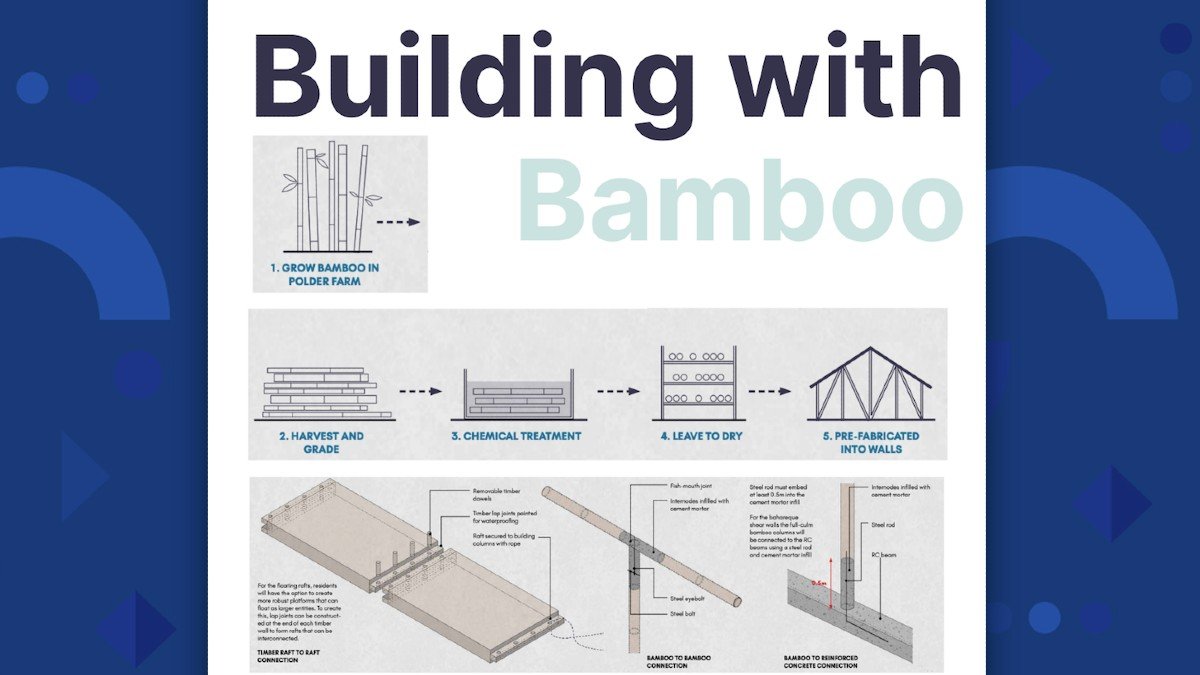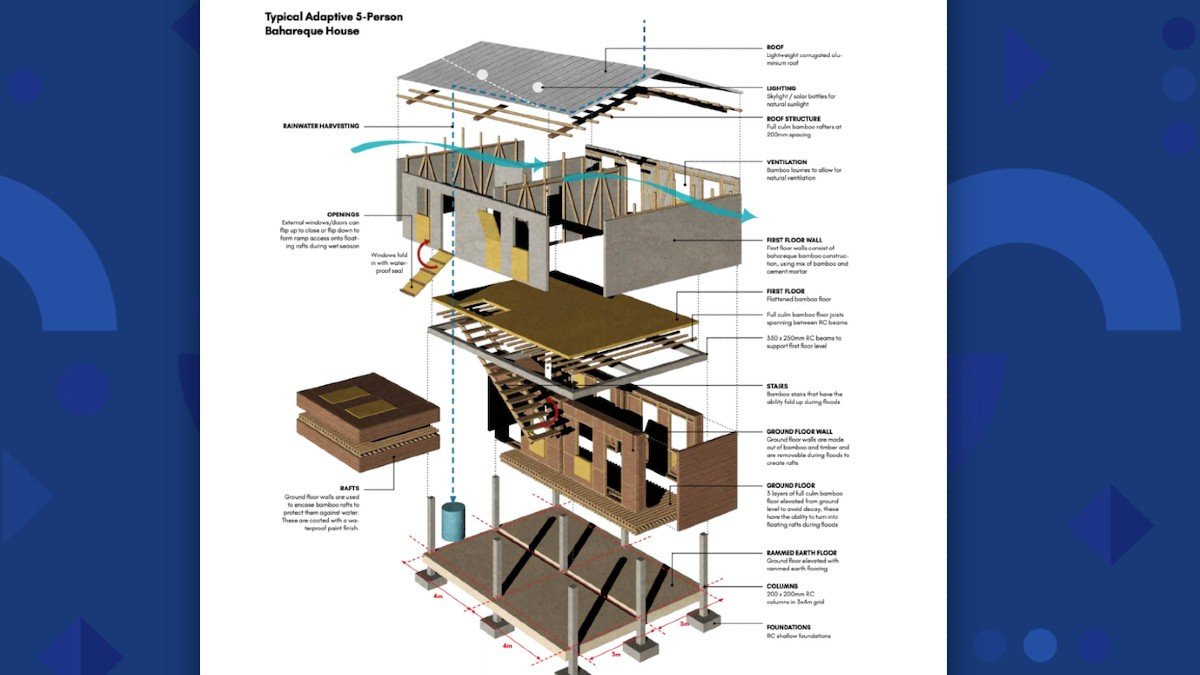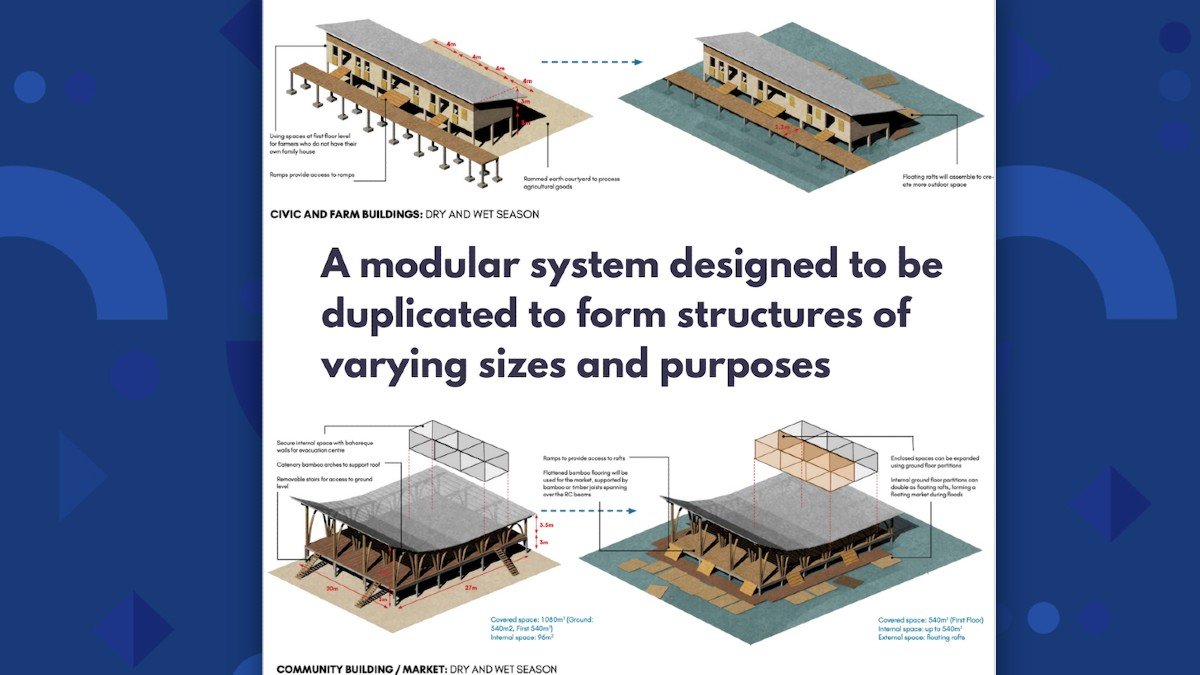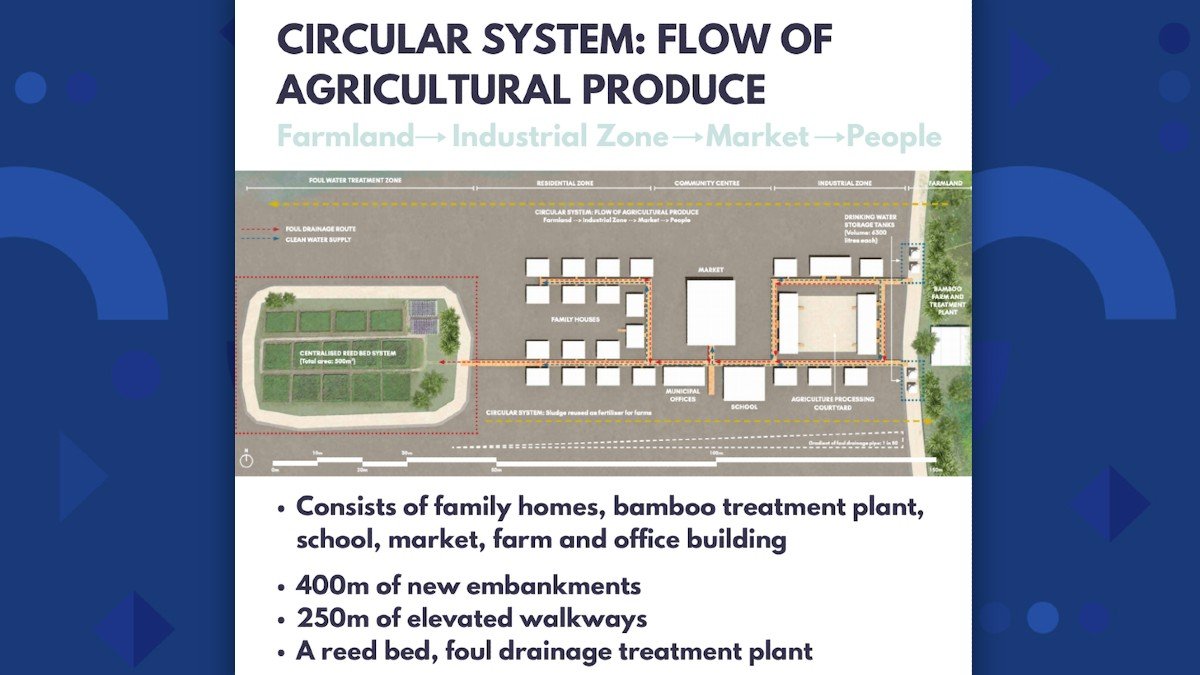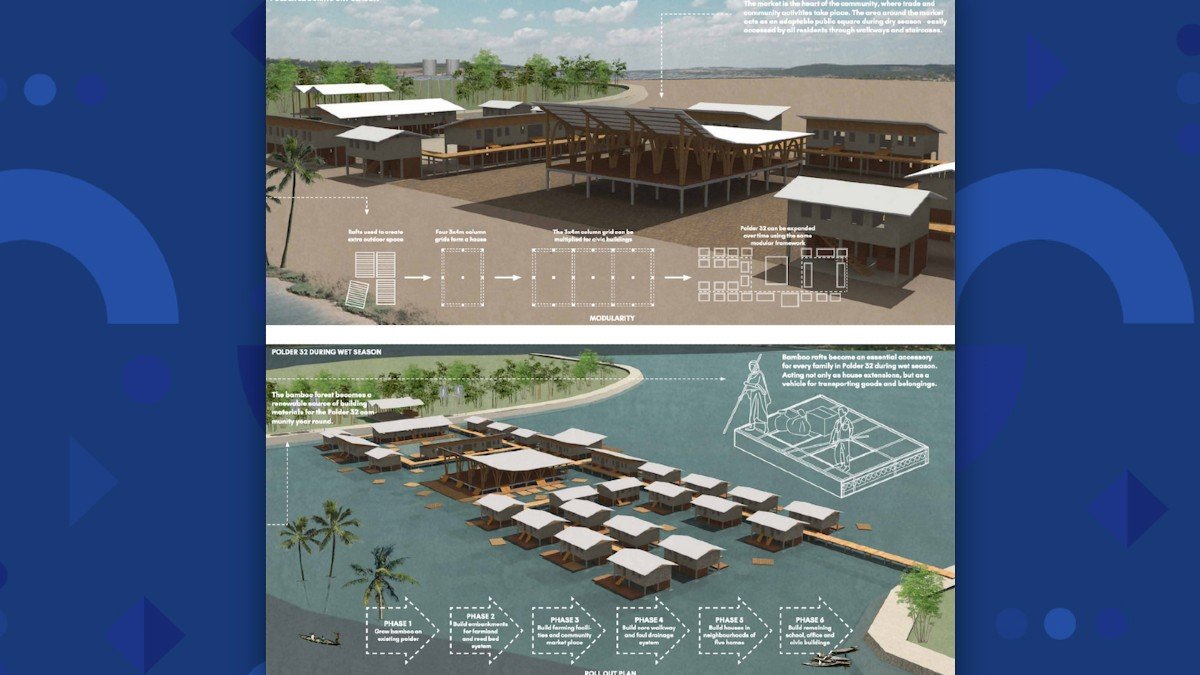 The Surrey duo walked away with the John Barrett Prize and a cheque for £5000 from this competition launched by the Institution of Structural Engineers. The most recent event challenged entrants to produce designs that provide solutions for humanitarian issues caused by climate change, asking teams to create a habitat for a small community living in a coastal region of a least developed country that's at risk of flooding and rising sea levels.
Gian and Suista designed an innovative bamboo structure for a village in Bangladesh, with folding doors, stairs and removable walls.
Challenges
"Since leaving Surrey in 2019, I've been working as a Structural Engineer at Elliott Wood Partnership," says Gian, who also won the University's Atkins Prize in 2018. "But I've continued my research into bamboo engineering through a project I created with Suista called Bamboo for Better."
Suista continues: "We won funding from the Institution of Civil Engineers Kenneth Watson Travel Award in 2019. So we set off to the Philippines, where we spent a month researching and documenting the bamboo industry."
The duo implemented many of the lessons learnt about social housing in the Philippines and using a sustainable building material such as bamboo into their award-winning entry.
Local research
"In the Philippines, the most successful projects were those that incorporated the residents and the local culture in the design," adds Gian. "Once we identified a site in Bangladesh to build our award entry design, we did as much research as possible to understand the culture and its traditional building techniques.
Suista adds: "At the core of our approach was ensuring that we understood the very cultures, methods and people who'll be impacted by our design. We developed a criteria to make detailed comparisons between various solutions.
"Having these fixed criteria allowed our design to be for the people, for the planet and for future progress."
This criteria included topics such as cost implications, locally available materials, resilience, buildability and acceptability. This thorough approach was one of several factors that helped the Surrey graduates stand out from other entrants.
Surprise success
"Winning the prize was a great surprise and an amazing opportunity for which I'd like to thank the Institution of Structural Engineers," says Gian. "It was a good way to implement our bamboo research and learn new skills."
Suista adds: "The Institution of Structural Engineers only holds this competition once every three years. We're grateful to have been awarded the prize and given the opportunity to promote sustainable bamboo design within the UK industry."
Future plans  
Suista, who's currently working as a designer at the London Structures Lab, says she and Gian aim to continue working on Bamboo for Better to promote the use of this plant as a sustainable building material.
Gian, meanwhile, is still in touch with the University. He's developing a new kit alongside Dr Alireza Behnejad for the Design, Assemble and Disassemble project, which teaches students about spatial structures via a 'learning through doing' approach.
Dr Alireza Behnejad adds: "I remember the summer of 2017 when Gian approached me to examine bamboo structures for his Year 3 individual research project. It was great to attend his presentation on bamboo joints a couple of years later at a major conference in Barcelona, right after his trip to the Philippines with Suista.
"We've been working together on several research projects in the past few years and I look forward to launching our new bamboo teaching kit in 2021."
Learn more about studying in our Department of Civil and Environmental Engineering.