---
news
Obituary – George Elton, scientist and government adviser
One of the pioneers of research into the elimination of the dense smogs in British cities while at Battersea Polytechnic has died at the age of 93.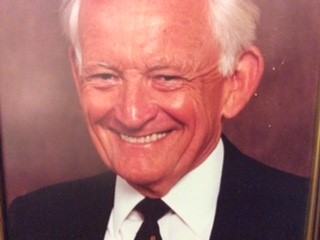 George Elton studied for his PhD in colloidal science at Battersea, the University's predecessor institution, where he subsequently became senior lecturer, before appointed Director of the newly-formed Fog Research Unit. Smog was a frequent part of London life in the 1950s but that of December 1952 was so toxic that it caused a huge death toll. In several parts of London people could not even see their feet.
George's work on the basic characteristics of fog informed the formulation of the Clean Air Act in 1956 and the introduction of smoke-free zones, bringing an end to the pea-soupers as the smog was known.
He continued his association after Battersea became the University of Surrey as Honorary Professor of Biochemistry for 15 years and was awarded an honorary degree from the Chancellor, HRH The Duke of Kent, in 1991.
George had a long and distinguished career as scientist, researcher and civil servant. As CEO of the British Baking Industries Research Association, he revolutionised with colleagues the process of making bread on a mass scale, called the Chorleywood Bread Process. This method made the average loaf 40% softer, reducing its cost and more than doubling its life. It is still used in 80% of factory-produced bread in Britain.
From 1971-1985 George was Chief Scientific Advisor (Food) at the Ministry of Agriculture and Fisheries, where he dealt with several public scares over food contamination, in particular those involving the lead content in baby food and mercury levels in the British diet.
George was appointed Companion of the Order of the Bath in 1983. He married Theodora Kingham, also a Battersea graduate, in 1951, who died in 2009. He is survived by his two daughters, Jane and Diana. 
In 1998, George penned his life story for his family, which can be read in full here.