---
news
Published:
28 August 2020
Professor Yue Gao's real-world research ranges from sty to sky
It's been a busy 2020 for Professor Yue Gao, an expert in wireless communications, who joined the University in January this year.
Credit: University of Surrey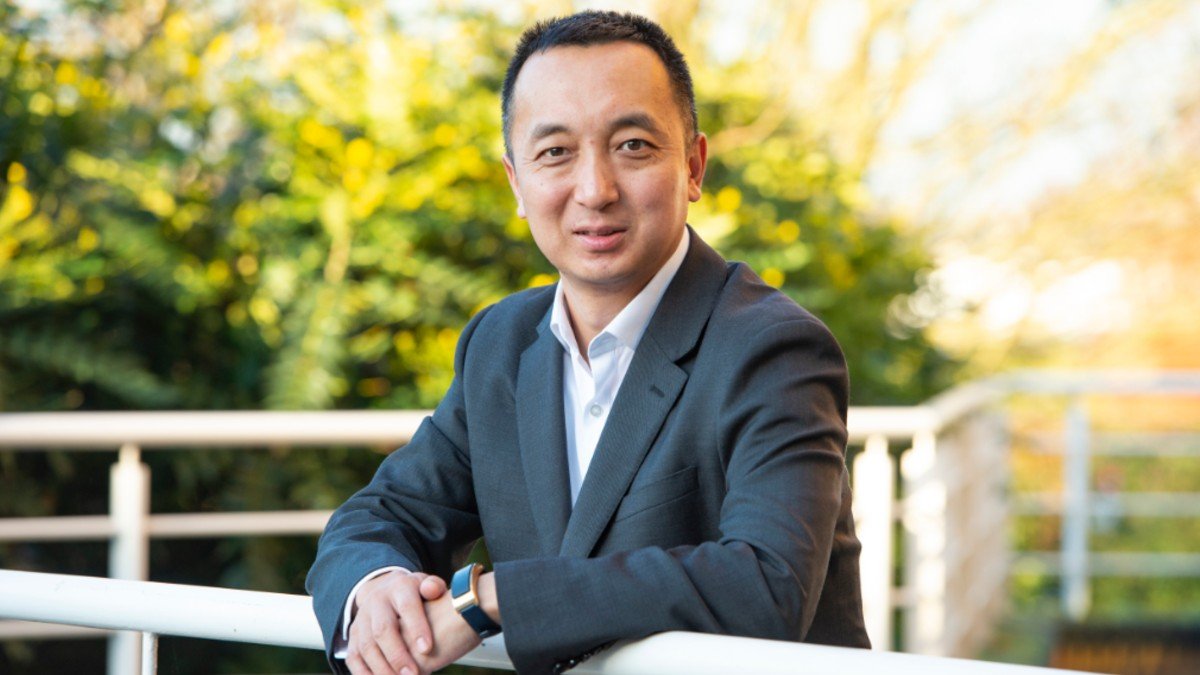 In February, Professor Gao, the newest member of Surrey's Institute for Communication Systems (ICS), was shortlisted for the Newton Chair Prize. This award highlights exceptional collaborative research projects tackling global challenges, and Yue was nominated for his work in creating a wearable device to help farmers. This employs artificial intelligence to monitor the welfare of livestock and the environments they inhabit.
Low-cost data
Yue's work at Surrey, however, moves away from the farmyard and the sty and looks towards the clouds and the sky. Recent research papers into communications systems have covered satellites, cognitive radio and low-cost 3D-printed antennas.
"I'm the principal investigator looking into a new data delivery system as part of an Engineering and Physical Sciences Research Council (EPSRC) grant," says Yue. "We're looking into creating a simpler and cheaper platform for delivering data to mobile phones and other devices.
"In a nutshell, the radio frequencies we currently use to transmit mobile and satellite data to other machines are organised into multiple narrow bands. The antennas and signal processing technology we're developing opens up the possibilities of wider bands to deliver large volumes of complex information, which will make analogue to digital information conversion simpler and cheaper to use.
"It will be more cost-effective when it comes to manufacturing devices that incorporate this new technology, too."
New laboratories
"I've also started building an Antennas and Signal Processing Lab on the ground floor of the ICS building," continues Yue. "This means we can test, improve and modify our emerging communications technologies."
With the current pandemic restrictions limiting access to leisure facilities, Yue admits he's missed relaxing on the tennis courts and the golf course. But it doesn't sound like that's a major priority at the moment either. He's converted a room in his house into a workshop and, frighteningly, he says it's made him even more productive.
"I moved to Surrey because it has the best 5G and satellite research facilities in the UK," reveals Yue. "I plan to work alongside my colleagues to refine and improve the technology I'm currently researching via my EPRSC fellowship. We have some quite exciting plans already in motion…"
Keeping on track
Another development has also seen Yue continue to work in the fast lane. He's been nominated as a candidate for the 2020 Institute of Electrical and Electronic Engineers Vehicular Technology Society Board of Governors, a body which oversees and reports on, among many other topics, driverless cars. It's an esteemed position and one which could see the Surrey academic drive this area of technology forward.
Achievements
Professor David Sampson, Pro-Vice-Chancellor of Research and Innovation, adds: "I'm delighted we've attracted such a strong communications researcher and leader to Surrey – even more so to see how well Yue is settling in and to learn of his ambitions.
"I'm sure we'll be reading more of Prof Gao's achievements in the years ahead – further strengthening our strong reputation in communications and signal processing."
Find out more about studying at our Institute for Communication Systems.