---
news
Stakeholder Engagement, Business and International Relations Event with NTT Ltd.
The hybrid event on 2 March in 'The Corporate Diplomacy Series' brought together speakers to discuss stakeholder engagement strategies in a world in flux.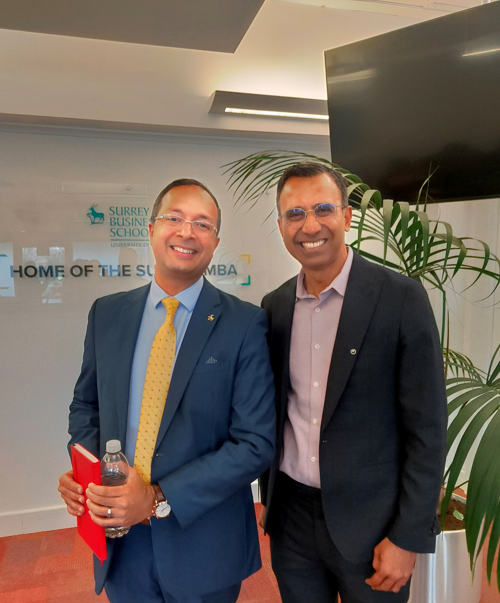 Professor of International Business and Strategy Tazeeb Rajwani (left) and Abhijit Dubey, Global Chief Executive Officer, NTT Ltd (right).
Hosted both on campus at Surrey Business School and as an online webinar, this hybrid event explored how globalisation and the rise of social media, combined with a rapidly changing geo-economic and geopolitical environment, has created unprecedented business and political leadership challenges. This has resulted in a need to balance the interests of wider stakeholders – employees, customers, consumers and, for many multinationals, dealing with foreign governments and the host country public – and is now central to a CEO's job description.
Professor Tazeeb Rajwani and Dr Saori Sugeno, Lecturer in Corporate Governance and International Business, were joined by Abhijit Dubey, CEO of global technology services company NTT Ltd, and Professor Tim Dunne, Provost and Senior Vice-President, University of Surrey for their expert insight on a range of key topics, including:
•  What does strategic stakeholder engagement mean in international business?
• How does the changing geopolitical landscape affect the priorities for building strategic alliances in international relations?
• What is soft power, and how is it evolving in international relations?
Professor Steve Wood, Dean, Surrey Business School, commented: "It was a pleasure to welcome Abhijit Dubey here to Surrey Business School for a fascinating insight into his position as CEO of NTT Ltd. and the continual wider stakeholder management of his day-to-day role, in a globally leading organisation in technology and business solutions.
The world of international business requires constant adaptation, with strategic stakeholder engagement at the heart of this; a concept the Business School embraces in both our teaching and our own operations. We hope everyone who attended in-person or online also valued the insight and learnings shared at the event."
Discover our further upcoming events here or via our social media channels.