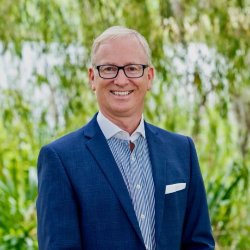 Professor Tim Dunne
---
Provost and Senior Vice-President
Executive Assistant: Melanie Flaxten (m.flaxten@surrey.ac.uk) / Judith Telford (j.telford@surrey.ac.uk)
About
Biography
Tim was appointed to the role of Provost and Senior Vice-President in April 2022, and is responsible for leading the faculties to deliver the University's academic mission as set out in its refreshed strategy, Forward thinking. And doing.
Tim brings to the role of Provost more than 30 years' experience as an educator. Prior to his move to Surrey, Tim had a number of leadership roles at The University of Queensland (UQ), including Director of the Asia-Pacific Centre for the Responsibility to Protect, Executive Dean of the Faculty of Humanities and Social Sciences, and Deputy Provost. Throughout his eleven years at UQ he continued to be an active researcher and teacher in the School of Political Science. Tim previously held discipline and faculty-level leadership roles at the University of Exeter and Aberystwyth University. His graduate training was at the University of Oxford where he won a national prize for his PhD.
Tim is recognised for his research on human rights protection and foreign policy-making in a changing world order. He has written and co-edited thirteen books, including Human Rights in World Politics (1999), Worlds in Collision (2002), Terror in our Time (2012), The Oxford Handbook of the Responsibility to Protect (2016), and the prize-winning collection The Globalization of International Society (2017). His latest collaboration was a re-issue of a classic text by Herbert Butterfield and Martin Wight called Diplomatic Investigations: Essays in the Theory of International Politics (2019). He is currently in the final stages of a collaborative volume to be published by Oxford University Press called The Rise of the International.
During his academic career, Tim has co-edited both the Review of International Studies and the European Journal of International Relations. He is an elected Fellow of the Academic of Social Sciences, Australia and holds an Emeritus Professorship at The University of Queensland.