---
news
Students prepare for National Physician Associate Examination
Our physician associate students put their clinical skills to the test during their first practice OSCE.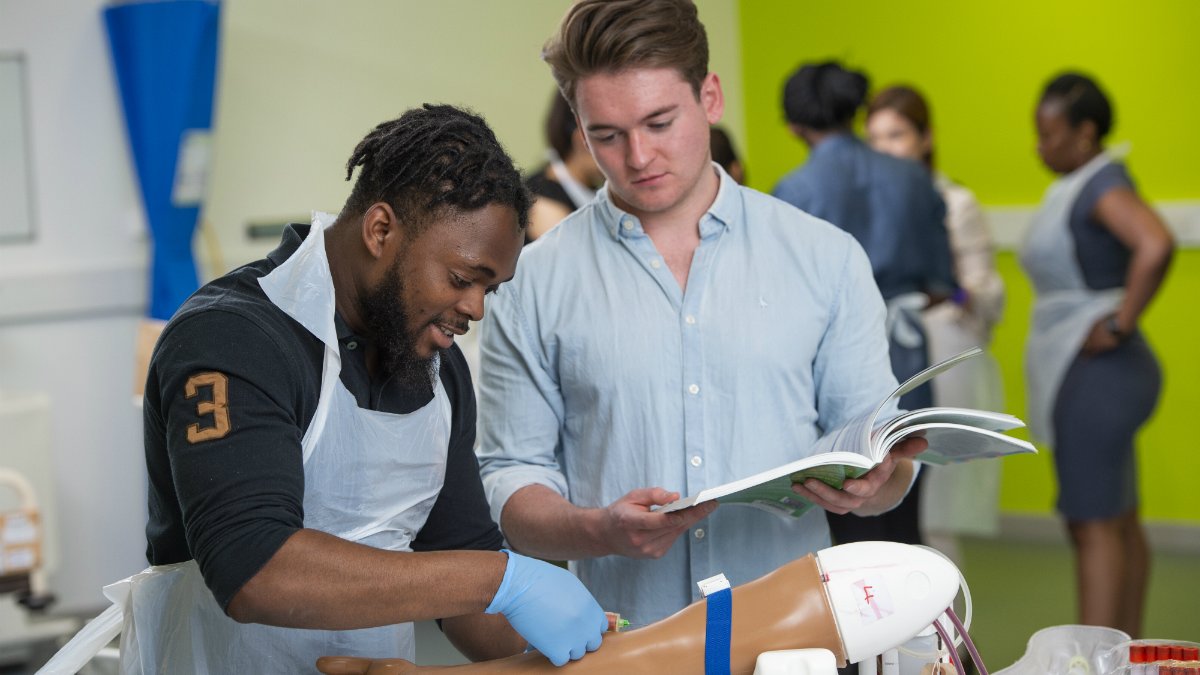 At the University of Surrey, simulation is embedded in all our health professional programmes, enhancing student learning and recreating realistic health care environments. Our Health Sciences students benefit from access to our Simulation Suite – home to the most up-to-date equipment and realistic health care environments, the suite offers students the opportunity to develop vital clinical skills in a safe environment.
Students in their first year of the PGDip Physician Associate Studies course were able to utilise the Simulation Suite in preparation for their upcoming Objective Structured Clinical Examination (OSCE), part of their upcoming national exam, designed to test their ability to apply knowledge and clinical skills to the care of patients. The mock OSCE was made up of five scenarios including mock consultations and acute ward, set up on one of the Simulation Suite's two large simulated hospital wards. Students benefitted from high-fidelity patient simulators, up-to-date medical equipment and trained actors, ensuring that they could fully demonstrate the ability to examine, diagnose, treat and communicate with patients.
Read on to find out what they had to say about the experience:
Sophie Drew said:
"The practice OSCE was a really good experience. Surrey is very good at making sure we treat it like the real exam. Knowing that Surrey had everything we need in the Simulation Suite persuaded me to come here for my course. With actors taking part in the Simulation Suite it felt like they could be a real patient. It's so realistic, once I started I just got in the zone.
 The OSCE tests all of your clinical skills like performing examinations and how you interact with patients. It's important because it makes sure that we're ready for the real thing once we finish our course. The mock OSCE was a good way to see what I know and what I can do, as well as showing me what I could improve."
Adanna Tauschwit said:
"I think the mock OSCE has been the most memorable part of my course so far. It highlighted the things I need to know and reassured me on how much I've already learnt.
With the scenarios taking place in the Simulation Suite, you realise medicine is not just what's in the textbooks and you see how important clinical skills are. OSCE forces you to practice those skills. It shows us what we'll do after our studies. I'm really excited about next year where I'll do my placement at hospital and work with real patients.
I'm really looking forward to seeing a wide range of areas like gynaecology, gastric and radiography."
Programme Lead for Physician Associate Studies, Jia Doulton, PGDip said:
"Although this requires a great deal of planning, we believe the experience of exam conditions is beneficial to each student as they discover how they respond to this type of assessment.
Immediately after the OSCE each student was given the five comment sheets written by the examiner for each station. They also received marks for each station and the video of their exam. This enables students to learn as much as possible about their strengths as well as areas for development.
We were delighted that all students demonstrated their developing knowledge and professional behaviour in a calm manner."
Learn more about our Physician Associate Studies, PGDip and other courses in the field of Health Sciences, Nursing and Midwifery, and explore our student profiles to discover more about life at Surrey.
Featured Academics
---
Related content
---