---
press release
Surrey-led research centre turns the spotlight on complexity
CECAN is a £3m research centre led by academics at the University of Surrey that works on methods and tools to improve the design and evaluation of Nexus policies on food, energy, water and the environment. CECAN tests and promotes innovative policy evaluation approaches and methods for these areas through a series of 'real-life' case study projects with co-funders including the Economic and Social Research Council (ESRC), the National Environment Research Council (NERC), the Department for Environment, Food and Rural Affairs (DEFRA), the Department for Business, Energy and Industrial Strategy (BEIS), the Food Standards Agency (FSA) and the Environment Agency.
We live in a complex world characterised by ambiguity and uncertainty, where policy formation is no longer straightforward. A number of interacting factors influence decision making, and ignoring the complexity of such factors can increase the risk of making costly, inadequate decisions that result in failing policies. The conference will include a wide range of interactive sessions to showcase the "complexity-appropriate" evaluation methods that CECAN has been pioneering. Around two hundred delegates from government, industry and academia are expected to attend the event.
The conference's keynote speaker is former political strategist and current Chief Executive of the Royal Society for the encouragement of Arts, Manufactures and Commerce (RSA), Matthew Taylor. A prominent writer, public speaker and broadcaster, and former head of the Number 10 Policy Unit, Mr Taylor will talk about the challenges of complexity for the government. Two panel sessions will also discuss how well the government is dealing with complexity in policy making, and solutions to enable better management of complexity in the future. Panel members will include Siobhan Campbell, Deputy Chief Scientific Adviser and Deputy Director of Research at Department for Transport (DfT), Gary Kass, Deputy Chief Scientist at Natural England, and Charlotte Allen, Chief Social Researcher at DEFRA.
The work of CECAN is a true collaboration, bringing together research, theory and practice. The team comprises social scientists, policy analysts and evaluation practitioners who all share a common goal to improve policy evaluations. Partners include eight universities and four evaluation consultancies. CECAN also delivers a programme of evaluation methods workshops, training courses and specialist seminars delivered by international experts, to encourage knowledge sharing and build capacity amongst those working in UK policy making and evaluation.
CECAN is based in the University of Surrey's Department of Sociology and is led by Professor Nigel Gilbert. Professor Gilbert is the founder and director of the Centre for Research in Social Simulation (CRESS) and is widely acknowledged as a pioneer in the use of agent-based models in social sciences.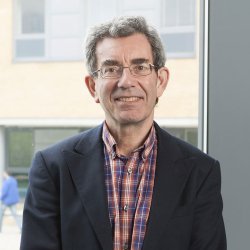 Professor Nigel Gilbert
Professor Gilbert said: "I am very proud of the achievements that CECAN has made since its launch just two years ago, and I am excited to showcase these at our upcoming event. This is an excellent opportunity for us to share the important work of CECAN and further increase the uptake of our 'complexity-appropriate' evaluation methods."
Other CECAN team members include Ben Shaw, Deputy Director of CECAN, Ian Christie, Senior Lecturer from Surrey's Centre for Environment and Sustainability (CES), Sociology Research Fellows Dr Alex Penn, Dr Pete Barbrook-Johnson, Dr Barbara Befani, and Martha Bicket, and Sociology Lecturer Dr Corinna Elsenbroich. The University of Surrey's Department of Sociology is widely recognised for its field-defining and conceptually driven empirical research, and its pioneering quantitative and qualitative methods work.
For further information about the work of CECAN, please email cecan@surrey.ac.uk or visit www.cecan.ac.uk.
Featured
Academics
---
Media Contacts
---
External Communications and PR team
Phone: +44 (0)1483 684380 / 688914 / 684378
Email: mediarelations@surrey.ac.uk
Out of hours: +44 (0)7773 479911