---
news
Surrey researcher takes AI work to Westminster 
Dr Armin Mustafa, who is a Royal Academy of Engineering Research Fellow at our Centre for Vision, Speech and Signal Processing (CVSSP), recently attended Parliament to present her latest work.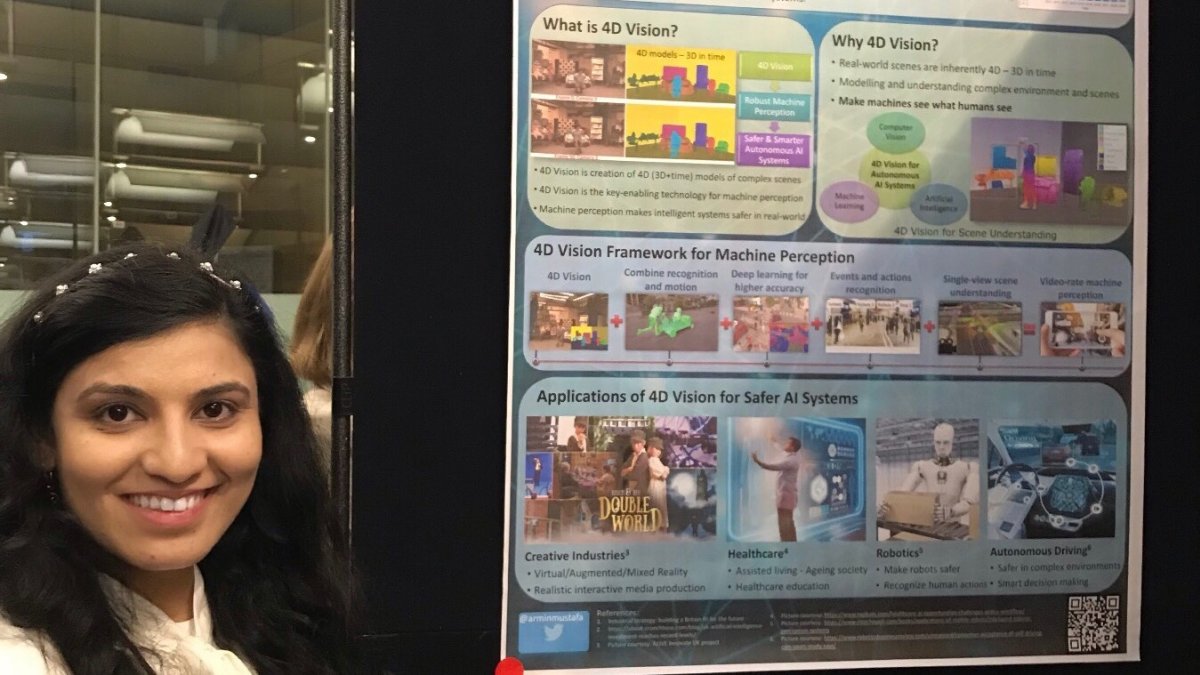 Armin was selected by a panel of judges to present her work on 4D Vision for Safer and Better Autonomous AI Systems to a range of politicians and a panel of expert judges. 
Armin explains: "Humans see the world in four dimensions, which is 3D with the additional dimension of time. This helps us to understand actions, interactions and events in time. 
"The term 4D Vision refers to creating 4D models of our day-to-day environment. The goal is that 4D Vision will assist machines to see and understand the world in four dimensions, like we humans do."
Existing AI systems are limited to constrained environments like warehouses and factories. Armin's work on 4D Vision could enable robust machine perception in everyday complex environments, meaning that AI systems are safer around humans, so machines can work and operate in our day-to-day lives.
Taking part in the STEM for Britain competition, a national event where early-career research scientists, engineers, technologists and mathematicians discuss and present their latest findings, was a first for Armin. 
It wasn't the first time she'd been invited to Parliament, though. 
"I've been to the Houses of Parliament before," says Armin. "I went to the Voice of the Future event in March last year. Early career researchers were invited to be part of an audience and ask questions on future policies. 
"I enjoyed the experience, so I thought it would be great to present my work to policy makers."
And Armin hopes to make it to Parliament next year, too. 
"There's a scheme called the Royal Society Pairing Scheme, which I'm aiming to apply for," Armin continues. "In that scheme, early career researchers are paired up with UK parliamentarians and civil servants and they spend time in Westminster to learn about each other's work. 
"It's a good way of understanding the policy-making process and gain an insight into how research findings can help inform policy.
"I definitely want to keep the communication going – it's only by having this sort of dialogue that you can actually influence policy." 
To find out more about our research, please visit the Centre for Vision, Speech and Signal Processing at the University of Surrey.