---
press release
Published:
02 August 2018
UK higher education students feel less empowered than their Irish counterparts
Professor Rachel Brooks at the University of Surrey is leading on new research which looks at the differences between the political activity of English and Irish higher education (HE) students.
HE students have often been viewed as important political actors in wider society, stemming largely from their activities in the 1960s. However, research has rarely explored the extent to which student political participation varies across nation states. Professor Brooks' new research begins to redress this gap by drawing upon data collected from focus groups with undergraduate students in England and Ireland, alongside an analysis of relevant policy documents from both countries.
Overall the study argues that, whilst English and Irish students expressed similar desires to be politically active, they differed in the extent to which they felt empowered to take up such roles and perceived the scope of their influence. Similar differences were evident to some extent in the way in which students' political activity was regarded by policymakers. These cross-national differences are explained with reference to background factors and, in particular, variation in the degree of HE marketisation in the two countries. There is also evidence to suggest that students are sensitive to the way in which they are constructed in policy, which affects their sense of themselves as political actors.
Professor Brooks, Professor of Sociology and Associate Dean of the Doctoral College, is leading the project alongside a small research team of two post-doctoral researchers and a PhD student. The research was conducted as part of a larger project called 'Eurostudents' funded by the European Research Council. This project explores the different ways in which higher education students are conceptualised in Denmark, England, Germany, Ireland, Poland and Spain.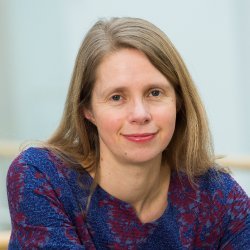 Professor Rachel Brooks
Professor Brooks said: "This research is very important in highlighting differences in students' sense of political agency between countries. Previous research on young people and politics has tended to generalise from the UK and/or US.
"In relation to the English students, in particular, it shows that an absence of political action is not necessarily indicative of a lack of interest in politics."
The research also discovered that although undergraduate students in England and Ireland have a similar high level of interest in politics and political issues, English students are much more pessimistic than their Irish counterparts about whether they will be listened to by politicians, and about their ability to make a change to wider society. This is related to English students' reflections on students' previous, unsuccessful attempts to bring about change, for example in relation to tuition fees, and also on the way in which they are often constructed by politicians as needing representation through the Office for Students rather than through their own channels.
Furthermore, the research showed that Irish students' unions engage with a much wider range of social and political issues than English students' unions. The study suggests that this narrow focus in England is related to the assessment of the performance of students' unions through the National Student Survey (NSS) which puts pressure on them to campaign on a limited and academically-focussed range of issues. It is clear that politicians and other leaders should carefully consider how to assure students that they will be listened to, and their views will be taken seriously.
Ultimately, this research provides evidence that higher education reforms have effects that are not necessarily anticipated, and the study suggests that the marketisation that now characterises the English HE system has affected students' political activity.
A paper based on Professor Brooks' research was published in Taylor and Francis Online in July. The article was jointly written by Professor Brooks and Researcher Jessie Abrahams who carried out all of the student focus groups.
Read more about the University of Surrey's Department of Sociology.
Media Contacts
---
External Communications and PR team
Phone: +44 (0)1483 684380 / 688914 / 684378
Email: mediarelations@surrey.ac.uk
Out of hours: +44 (0)7773 479911