---
press release
The University of Surrey's Next Generation Paper event will reveal the future of book technology
A team of academics from the University of Surrey, the University of Exeter and The Open University will host a groundbreaking Next Generation Paper (NGP) workshop at the British Library on 25 March revealing the future of paper book technology and how it is being adapted and enhanced for the digital age.
Credit: Maggie Kosek, University of Surrey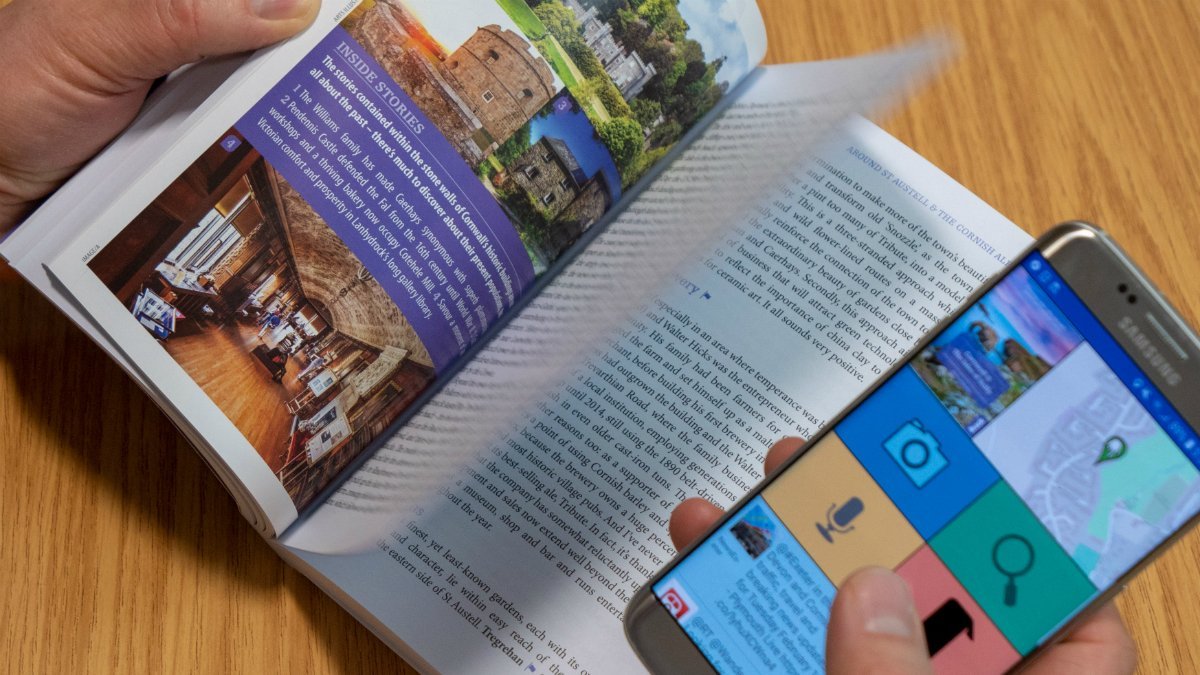 The prominent event entitled 'Next Generation Paper: Future Book Technology' will showcase the long anticipated results of a 33-month multidisciplinary NGP study which explores the future of paper and its connection to the web, particularly focussing on travel and tourism.
Having developed augmented paper with hyperlinks to the web, the project team have enabled readers to obtain related information on nearby digital devices, by just by turning a page or touching the surface of paper documents, photographs, posters or books. This could lead to documents "interacting" with their readers as they impart information.
Many other applications are also possible including printed textbooks linked to online teaching materials, patient medical records linked to test results, and office documents linked to their electronic versions and associated reference material.
Led by Professor David Frohlich, Director of the Digital World Research Centre and Professor of Interaction Design in the Department of Music and Media at Surrey, the project started life in November 2017 after receiving £1.17m in funding from the Digital Economy programme administered by Engineering and Physical Sciences Research Council. The study has gone on to assist in travel and tourism technology where people already read a combination of printed and digital information, by using travel brochures, guide books and leaflets alongside smartphone apps, e-books and TV programmes. However, augmented paper links up these sources, making it easier to move between them in the reading process.
Professor Frohlich said: "The project has given physical paper a whole new lease of digital life. Augmented paper appears to encourage a more socially driven and engaged form of reading, as well as providing users with greater autonomy in the types of content they want to access, curate and consume, generating richer travel experiences all round.
"Publishers are already benefitting from being able to add value to print products and services by connecting them to digital material, while web companies will be able to use paper as a tangible interface to online information."
The multidisciplinary team includes Surrey academics Professor Caroline Scarles and Dr Emily Corrigan-Kavanagh from the School of Hospitality and Tourism Management (SHTM), Professor Miroslaw Bober and Dr Haiyue Yuan at the Centre for Vision Speech and Signal Processing (CVSSP), Dr Radu Sporea and George Bairaktaris at the Advanced Technology Institute (ATI), Megan Beynon from Surrey Centre for the Digital Economy,  alongside Dr George Revill and Dr Jan van Duppen at The Open University, and Professor Alan Brown at the University of Exeter. Non-academic partners include Bradt Travel Guides, Emirates Holidays UK, HP, Otava Publishing Company, Ifolor Photo Printing, and Novacentrix.
Andrew Hunter, Senior Research Engineer at HP, said: "HP is one of the few large companies with a balanced commitment to printed and digital experiences, and the Next Generation Paper project has enabled a valuable exploration of an exciting future in which the artificial boundaries between real-world, printed and digital experiences are torn down."
The workshop will include an exciting exhibition enabling attendees to experience interactive NGP demos and there will be the opportunity to network with industry representatives, taking part in discussions on future technology.
The free to attend event is by invitation only, click HERE to see the full event itinerary. Those wishing to attend should email Alex Brown to register their interest in advance.
Featured Academics
---
Media Contacts
---
External Communications and PR team
Phone: +44 (0)1483 684380 / 688914 / 684378
Email: mediarelations@surrey.ac.uk
Out of hours: +44 (0)7773 479911