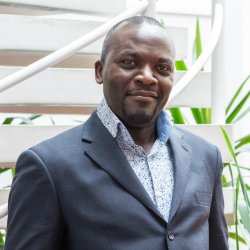 Dr Albert Kimbu
---
Senior Lecturer
PhD, MA, BA
Biography
Albert gained his BA in English Language and Literature from the University of Yaoundé (Cameroon), then obtained an MA in Heritage Management from the Brandenburg University of Technology Cottbus (Germany), picking up a Postgraduate Diploma in Human Resources Management along the way. He then completed his PhD in Tourism at Nottingham Trent University where he also worked as a Lecturer in Tourism and International Business Communication/Environment, before joining the University of Surrey in September 2010.
Areas of specialism

Development and social entrepreneurship;

stakeholder networks;

sustainability and inclusive development in hospitality and tourism.
University roles and responsibilities
Member of University Ethics Committee

Pathway Lead for ESRC DTP Development Studies Pathway

Director of Postgraduate Research SHTM
Previous roles
30 June 2015 -
01 August 2017
Programme Leader, BSc International Tourism Management
01 October 2015 -
30 September 2017
Early Career Researcher (ECR) Representative for SHTM
01 October 2013 -
30 September 2015
Academic Integrity Officer SHTM
01 October 2011 -
30 June 2013
Programme Leader, BSc International Tourism Management at Surrey International Institute – DUFE (China)
Affiliations and memberships
Higher Education Academy
Fellow
Royal Geographical Society
Fellow
Business, industry and community links
ABTA
SHTM liaison with ABTA
Research Associate 
School of Tourism & Hospitality University of Johannesburg
Research
Research interests
Development, social & women entrepreneurship, stakeholder networks, sustainability and inclusive development in hospitality & tourism in developing countries.
Research projects
Women as Vectors of Social Entrepreneurship in Hospitality & Tourism
Researchers: Dr Albert Kimbu (PI - University of Surrey) & Dr Michael Ngoasong (CI - Open University) The main aim of the project is to explore the nature, motivations and extent to which female entrepreneurs in hospitality and tourism related sectors use their businesses as platforms for engagement in various forms of social entrepreneurship leading to value (co)creation, economic and community development in emerging tourism destinations of sub-saharan Africa such as Cameroon. The findings will clarify the role and importance of women SE in hospitality and tourism, which is often overlooked and under-researched, and propose policy recommendations for maximising social value creation through women's participation in SE. Source of Funding: British Academy/Leverhulme SRG (Total value: £10K) Duration: May 2014 - October 2015  
Coping with change: Livelihood transitions strategies and practices through tourism in marginalised communities
Researchers: Dr Irma Booyens (PI – Human Science Research Council S.A.), Dr Albert Kimbu (CI – University of Surrey) & Mrs Anke Winchenbach (Collaborator – University of Surrey). This research seeks to explore livelihood transitions from primary economic activities into tourism employment in marginalised communities. The aim is to investigate the developmental role of tourism within a sustainable development framework. Tourism is often offered as a panacea for development in areas where traditional activities such as agriculture and fishing have declined. This proposed research seeks to determine whether and how affected communities in the UK and South Africa cope with these changes, and what their coping strategies are, the role tourism has played in diversifying local livelihoods, if and how obstacles to participating in tourism are overcome, how capabilities are built, and its influence on gender and community relations. This research addresses an under investigated area concerning sustainable human resources and decent employment in tourism. It aligns with the Sustainable Development Goals 1 (poverty), 5 (gender) and 8 (decent work). It also is concerned with resilience in tourism. Source of Funding: British Academy Newton Mobility Grant (Total value: £9K) Duration: March 2018 - March 2019.
Women Entrepreneurship in Tourism (WomENt)
Researchers: Dr Figueroa Domecq (PI - Rey Juan Carlos University Madrid), Professor Williams (CI - University of Surrey), Dr Albert Kimbu (CI - University of Surrey) and Dr Anna de Jong (CI - University of Surrey). The study will analyse the different pathways women take in their entrepreneurship journey in a changing tourism industry, and how different environments, agents, policies and actions across different scales influence their opportunities, motivations and challenges in Spain and the UK; working closely with a number of policy and industry bodies in both countries. The study will also survey potential entrepreneurs, interview groups of men and women entrepreneurs and analyse their use of social media as a resource. Source of Funding: EU Marie Sklodowska-Curie Fellowship (Total value: €195K) Duration: Sept 2018 - Sept 2020.
Courses I teach on
Supervision
Postgraduate research supervision
Julio Munoz - The Role of the hosts to VFR travellers: An inquiry into the influence of the hosts in the visitors' image and experience of a destination.
Frederick Dayour - Backpacking and the digital travel economy: Exploring risk perceptions and risk reduction strategies.
Postgraduate research supervision
Claudia Eckhardt - An evaluative framework to measure processes and impacts of volunteer tourism.
James Ellerby - Investigating the critical factors for achieveing success in independent restaurants in the UK.