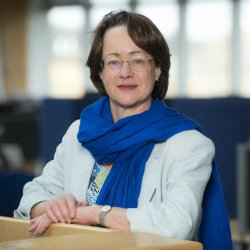 Professor Angela Druckman
---
Professor of Sustainable Consumption and Production
Biography
Biography
Angela Druckman is Professor of Sustainable Consumption and Production at the Centre for Environment and Sustainability, University of Surrey. She is a Chartered Engineer, having read Engineering at the University of Cambridge. Angela's research focuses on investigating avenues that may lead towards more sustainable lifestyles.
Research interests
Angela is Co-Investigator in the ESRC funded Centre for the Understanding of Sustainable Prosperity (CUSP), led by Professor Tim Jackson. In this Angela is leading work on synthesising and analysing narratives of sustainable prosperity. As Co-Investigator in the EPSRC funded Stepping Up project, led by Professor Alice Bows (University of Manchester), Angela is exploring how niche innovations might be 'scaled up' to produce transformational change across the water-energy-food nexus. Angela has particular interest in the sustainability and safety of the food supply chain, and, as Co-Investigator of the Evolution and Resilience of Industrial Ecosystems (ERIE) project, she is leading work on development of tools to mitigate food scares.
Angela is winner of the UK Scopus Young Researcher Award in Environmental Sciences 2011, and joint winner of the Institution of Civil Engineers Telford Premium Prize for the best paper in Waste and Resource Management 2106.
Angela's research interests include:
Sustainable consumption and production
Sustainable lifestyles
Time use
Rebound effect
Industrial ecology
Food security and sustainability
Environmentally-Extended Input-Output modelling
Agent Based Modelling
System Dynamics Modelling
Angela is a member of the Editorial Board of the Journal of Industrial Ecology.
Teaching
Angela convenes the Life Cycle Thinking & the Circular Economy Module that forms part of the MSc Corporate Environmental Management, MSc Environmental Strategy and MSc Sustainable Development run by the Centre for Environment and Sustainability (CES).
She is also Director of the Global Graduate Award in Sustainability.
My publications
Publications