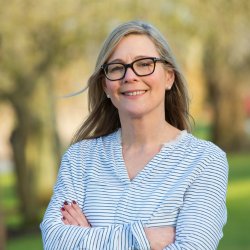 Anke Winchenbach
---
Teaching Fellow and PhD Researcher
Dipl Tourism Management, MA Tourism, Environment and Development
Biography
Biography
Anke joint the University of Surrey as a part-time PhD researcher and ESRC scholar in January 2016, and has since taken up a role as Teaching Fellow in the School of Hospitality and Tourism Management.
Previously, Anke worked at NEF Consulting (the consultancy arm of the New Economic Foundation), supporting a diverse range of clients from private, public and third sector organisations on their journey towards a new sustainable economy by developing an understanding of value for money that includes social and environmental outcomes alongside the economic costs and benefits. Key areas of expertise include evaluation & impact assessment, training & capacity building and strategy & culture change. 
Anke also managed the innovative 'Total Impact Measurement and Management' (TIMM') project for The Travel Foundation in partnership with PwC, which measured TUI Group's holistic impact in Cyprus. Anke holds a Masters with distinction in Tourism, Environment and Development from King's College London, and has worked in several managerial roles in Travel & Tourism since more than 20 years.
University roles and responsibilities
Academic Misconduct Officer

Sustainability and Wellbeing research group
Research
Research interests
Livelihood transitions and social change, dignity at work, international development, and sustainability in hospitality and tourism.
Research projects
Coping with change: Livelihood transitions strategies and practices through tourism in marginalised communities
Researchers:  This research seeks to explore livelihood transitions from primary economic activities into tourism employment in marginalised communities. The aim is to investigate the developmental role of tourism within a sustainable development framework. Tourism is often offered as a panacea for development in areas where traditional activities such as agriculture and fishing have declined. This proposed research seeks to determine whether and how affected communities in the UK and South Africa cope with these changes, and what their coping strategies are, the role tourism has played in diversifying local livelihoods, if and how obstacles to participating in tourism are overcome, how capabilities are built, and its influence on gender and community relations. This research addresses an under investigated area concerning sustainable human resources and decent employment in tourism. It aligns with the Sustainable Development Goals 1 (poverty), 5 (gender) and 8 (decent work). It also is concerned with resilience in tourism. Source of Funding: Duration: March 2018 - March 2019.
Dr Irma Booyens (PI – Human Science Research Council S.A.), Dr Albert Kimbu (CI – University of Surrey) & Mrs Anke Winchenbach (Collaborator – University of Surrey).British Academy Newton Mobility Grant (Total value: £9K) 
Diversifying with dignity: Coastal Tourism Employment in the UK
Her PhD Diversifying with dignity: Coastal Tourism Employment in the UK will bring innovative theoretical insights to understanding employment diversification in times of economic pressures and declining natural resources. As economies diversify, there are persistent challenges for new forms of employment to offer genuine alternatives to traditional forms of employment. Utilising dignity as guiding concept, the project will explore how people experience and understand their lives in relation to their work. The research will contribute to the theoretical development of the concept of dignity and will add to the debate around the value of service sector employment. The final output will contribute to enabling policy makers and businesses to manage meaningful livelihood diversifications, which protect and promote dignity, whilst positively affecting efficiency and profitability of destinations and businesses; and ultimately supporting the sustainable regeneration of marginalised areas. The proposed research will use tourism employment in the context of fishing towns in Cornwall as case study, which is expected to develop implications for the service economy and wider employment studies.
Supervisors
My publications
Publications
This paper focuses on establishing a conceptual grounding for the value of dignity in tourism employment for achieving decent work as part of the sustainable development agenda. Dignity is widely acknowledged as a key driver for ?good? work, but little conceptual grounding on the value of dignity in tourism employment has been established. This paper will contribute to the theoretical debate on sustainable tourism by providing a critical review of frameworks for decent work, workplace dignity (or its absence), and understandings of identity. We will explore how the context and conditions of tourism employment are conducive (or not) for offering dignified and sustainable employment. This paper makes two original contributions to knowledge. First, it introduces a psychosocial understanding of dignity in tourism employment, reflecting its deeply rooted individual, organisational, societal and policy aspects, and recognising the actors involved. Second, the critical importance of dignity in tourism employment for achieving the Sustainable Development Goals (SDGs) is discussed, with future research directions identified.