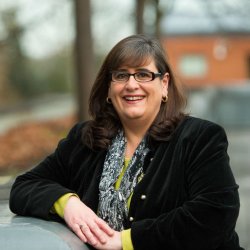 Dr Charo Hodgkins
---
Senior Lecturer & Director of Innovation, School of Psychology
PhD
About
Biography
I started my career with GSK as a development chemist and then moved to Superdrug Stores PLC as Head of Technical Services. During my 14 years in industry, I gained extensive experience of managing technical and research projects within both branded and retail environments. In 2003, I joined the  Food, Consumer Behaviour and Health Research Centre (FCBH) in the School of Psychology at Surrey, a multidisciplinary research centre which brings together skills and expertise in order to address research questions on food related policy, consumer behaviour and public health. I have played an instrumental role in the success of the Research Centre, working on a wide range of collaborative, multidisciplinary UK and EU funded research projects. I am also Director of Innovation for the School of Psychology, employing my expertise to support academics in the School of Psychology and the wider university to develop pathways to impact thus  ensuring our research delivers societal benefit.
Areas of specialism
Social science methodologies;
Responsible Research and Innovation;
Behaviour change/Intervention development;
Knowledge Exchange & Impact
University roles and responsibilities
Director of Innovation, School of Psychology

EDI Committee Member (School of Psychology)

Senate Academic Representative
My qualifications
PhD - Communicating healthier food choice – Food composition data, front-of-pack nutrition labelling and health claims.
University of Surrey
1991
BSc - Chemistry
Kingston University
Previous roles
1997 -
1999
Head of Technical Services
Superdrug Stores PLC
1993 -
1997
European Quality Manager
GSK
1989 -
1993
Senior Research Scientist (Special Projects)
GSK
1985 -
1989
Product Development Chemist
SmithKline Beecham (now GSK)
Research

Research interests

I have a keen interest in the communication of health-related information on foods to consumers i.e., nutrition labelling and health claims, this being the focus of my PhD thesis. In addition, I have expertise in exploring the design and delivery of interventions and m-health solutions to improve quality of life and to promote self-management of illness and/or healthier lifestyles. My research is wide ranging both in terms of topics covered (e.g., food, consumer behaviour, public health, chronic illness management) and methodologies used (e.g., qualitative, quantitative, stakeholder engagement). Policy relevance and Responsible Research and Innovation (RRI) are cross-cutting themes across my research, and my work is aimed at both understanding the processes of policy making and contributing high quality underpinning research evidence on which to base future policies.

Research projects

Community on Food Science: 2021-2025,  Funder: EU H2020

Sweeteners and sweetness enhancers: Impact on health, obesity, safety and sustainability: 2018-2023, Funder: EU H2020

A pre- and post-occupancy evaluation of GlobalHOM's adaptive living concept; 2020-2022, Funder: Innovate UK

Research Infrastructure on Consumer Health and Food Intake for E- science with Linked Data Sharing; 2015-2018, Funder: EU H2020

mhealth platform for Parkinsons' Disease Management; 2015-2018, Funder: EU H2020

Reduction of Disease Risk Claims on food and drinks; 2012-2016, Funder: EU FP7

Role of health-related Claims and Symbols in consumer behaviour; 2012-2016, Funder: EU FP7

Front of Pack Food Labelling: Impact on Consumer Choice; 2012-2015 Funder: NPRI

Plant Food Supplements: Levels of Intake, Benefit and Risk Assessment; 2010-2014, Funder: EU FP7

Food Risk Communication: Perceptions and communication of food risks/benefits across Europe: development of effective communication strategies; 2010-2013, Funder: EU FP7

PORTION INFORMATION

Portion information on food and drink packaging; 2010-2012, Funder: EUFIC;

Food Labelling to Advance Better Education for Life; 2008-2012, Funder: EU FP7

European Food Information Resource Network; 2005-2009, Funder: EU FP6