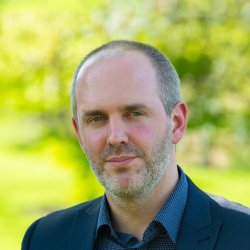 Dr Chris Jones
---
Visiting Reader
BSc (Hons); MSc; PhD; PGDip
About
Biography
Dr Chris Jones is a Senior Lecturer in Social and Environmental Psychology, with particular interests in attitudes and behaviours towards energy and environment.
He gained his first degree in Psychology (BSc) at the University of Birmingham (1999-2002) before moving to the University of Sheffield to complete a Master's degree in Psychological Research (2002-2003) and a PhD in Social Psychology (2003-2007). His PhD, completed under the supervision of Prof. J. Richard Eiser, focused on understanding more about the nature and process of attitude formation in novel environments. 
Upon completing his PhD, Chris completed a 4-year post-doctoral position on the 'Understanding Risk: Climate change and energy choices' project (2007-2010). It was this multi-centre (Cardiff, Sheffield & UEA), multi-disciplinary project that first stimulated Chris's research interests in public attitudes towards environmental change. 
Following his appointment as Lecturer in Social and Environmental Psychology at the University of Sheffield (2011), Chris continued to develop these interests and developed two key strands of research: (1) Assessing attitudes and behaviour towards energy supply and demand side technology options; and (2) Assessing the factors that facilitate and inhibit the promotion of more sustainable lifestyles. The applied relevance of these topics has led Chris to develop a number of fruitful collaborations with academics in other disciplines, as well as a number of non-academic stakeholder groups (e.g. business and industry). 
Chris joined the University of Surrey in the summer of 2017.
Alongside his research and teaching roles, Chris is the Knowledge Exchange and Impact Lead for the School of Psychology, the Urban Living Research Theme Lead for the University, and the founder and chair of the University of Surrey Living Lab initiative.
Areas of specialism
Attitudes and Behaviour;
Energy and Environment;
Social and Economic (wider) Impact;
Social and Environmental Psychology;
Quantitative and Qualitative Methods
University roles and responsibilities
ility Knowledge Exchange and Impact Lead for School of Psychology

ibility Urban Living Research Theme Lead for the University of Surrey

Chair of University of Surrey Living Lab Initiative

Interim Lead of the Social Emotions and Equality in Relations (SEER) group
My qualifications
2002
BSc (Hons) Psychology (Class 1)
University of Birmingham
2003
MSc Psychological Science
University of Sheffield
2007
PhD Social Psychology (Attitude formation through the exploration of novel environments)
University of Sheffield
2010
PG Diploma Teaching and Lecturing in Higher Education
University of Sheffield
Research

Research interests

My research focuses on public attitudes and responses to environmental change. The interdisciplinary and applied nature of my research has led to collaborations with a number of disciplines, including chemical engineering, town and regional planning, geography, landscape, computer science, management, journalism studies and sustainable fashion. I also have a number of historical and on-going collaborations with business and industry. 

My research tends to cluster under two broad themes: 

Public Acceptance of Energy Technologies
Assessing attitudes and behaviour towards established and emerging supply and demand side technology options (e.g. nuclear power, wind power, carbon dioxide storage and utilisation, smart metering). This includes understanding the implications for planning policy, public engagement and communication, etc. 
Sustainability and Pro-environmental Behaviour
Assessing the factors that facilitate and inhibit action on environmental issues and the promotion of more sustainable lifestyles (e.g. compensatory beliefs and moral licensing). This includes studying the interface between business/industry operations and the public.

Research projects

EUROfusion's mission is to pave the way for fusion power reactors. To do so, the consortium funds the research of its 30 members on the basis of the "European Roadmap to the Realisation of Fusion Energy" as a joint programme within Euratom Horizon 2020. I currently co-lead part of the social and economic studies (SES) research package, which is seeking to learn more about the social acceptance of fusion technology and research. 

Through this Innovate UK funded project, the University of Surrey is working in partnership with MyGlobalHome to trial and demonstrate a state-of-the-art modular, smart home concept on the University campus. In addition to providing accommodation for our staff and students, the MyGlobalHome development provides the University with a set of physical 'Living Labs', where we can work collaboratively to better understand and shape the future of Urban Living.

Through the HEIF funded project, we are seeking to promote collaboration between students, academics, staff, community partners and other stakeholders to apply current research and innovation to address real-world issues using the university campus and surrounding Surrey communities as a test-bed.

The transition towards a sustainable low carbon economy is fraught with multiple challenges. The BMBF research group 'STEEP-CarbonTrans' (of which I am a member) utilizes a comprehensive social-technical-economical-ecological-political (STEEP) approach to investigate how a raw materials transition in the Germany industry could look like, which alternative raw materials could be utilized and what the consequences for the energy and raw material systems would be.

The Japan – UK framework for Civil Nuclear Co-operation was established in 2012, leading to an annual UK – Japan Nuclear dialogue to strengthen bi-lateral co-operation in civil nuclear energy. The mission of the EPSRC JUNO Network for Japan – UK Nuclear Opportunities, is to build on the foundations of this bi-lateral co-operation, to facilitate, create, nurture and co-ordinate collaboration in civil nuclear energy between academic researchers in the UK and Japan.  The initial Network membership comprises over 80 individuals from more than 20 organisations. EPSRC (£547K)

The TRading Approaches to Nurturing Sustainable consumption in Fashion and Energy Retail (TRANSFER) project aimed to: (1) bring together the energy and fashion retail sectors, with academic experts and other stakeholders, to exchange best practice around the promotion of sustainable consumption to consumers; and (2) investigate how efforts to promote sustainable consumption within these sectors are received by consumers. These aims were achieved through a series of activities (including commercial partner workshops, public focus groups and a public exhibition) coordinated by a trans-disciplinary team of academics from the University of Sheffield and the Centre for Sustainable Fashion, University of the Arts, London. Drawing on theory from the disciplines of psychology, management and fashion; this project sought to foster a better understanding of how initiatives intended to promote conscientious consumption of fashion and energy can be successfully implemented in order to have maximum impact on the attitudes and behaviour of consumers. ESRC (£326K equivalent, £126K plus match funding)

Attitudes to CCS in the US and Canada (2011-2012)

This project was designed to investigate lay-public perceptions of Carbon Capture and Storage (CCS) in communities hosting demonstrations of the technology. The research took place in communities close to the Keephills power plant near Edmonton, Alberta (Canada); Pleasant Prairie power plant, Kenosha, Wisconsin (USA) and Mountaineer power plant, New Haven, West Virginia (USA). Electric Power Research Institute ($120K).

Indicators of esteem

Associate Editor of the Journal of Applied Social Psychology

Co-Lead of British Environmental Psychology Society (BrEPS)
Supervision
Postgraduate research supervision
Konstantin Chterev

PGR, School of Psychology

New Approaches to Utilize Responsive Environments (NATURE) (w/ Prof. Birgitta Gatersleben).

Rhosyln Sherman-Davies

PGR, School of Hospitality and Tourism Management

Understanding and measuring the impact of transformational holiday experiences on the subsequent adoption of pro-environmental and conservation behaviours (w/ Dr Christy Hehir).
Teaching
Undergraduate
I teach on the BSc (Hons) Psychology course.
I contribute to the PSY3109: Social Understanding of Science and Technology (SUST) module.
Postgraduate
I teach on the following courses:
I contribute to the following modules:
PSYM013: Social Change and Influence
PSYM117: Social Understanding of Science and Technology (SUST)
PSYM067: The Psychology of Sustainable Development.