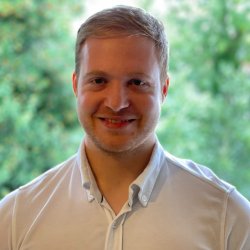 Dr Justin Aunger
---
Research Fellow
PhD, BA (Hons)
Biography
Dr. Justin Avery Aunger is a research fellow working on a NIHR-funded project, conducting a realist review to better understand how interventions to reduce unprofessional behaviours in acute care settings work, why, and whom they benefit. He is working closely with Prof. Jill Maben, Dr. Ruth Abrams, and a wider international team.
Further details on the project can be found below:
www.journalslibrary.nihr.ac.uk/programmes/hsdr/NIHR131606/
My qualifications
PhD; Behavioural Science applied to Health
University of Birmingham
Bachelor of Arts (Honours)
Maastricht University
Previous roles
15 October 2019 -
30 September 2021
Research Fellow - How, why and for whom do inter-organisational collaborations in healthcare work?
University of Birmingham
01 September 2016 -
31 August 2019
Research Fellow while conducting PhD in a Horizon 2020 Funded Innovative Training Network called PANINI:

https://www.birmingham.ac.uk/generic/panini/about/researchers/justin-aunger.aspx
University of Birmingham
Research
Research interests
Justin Aunger is particularly interested in research using realist methodologies, focused in organisational research in healthcare. However, since he has a background in behavioural science applied to health, he is also interested in other topics, including physical activity research and nutrition. The common thread throughout his work is delivering projects that help people to become more productive or healthier in their daily lives.
My publications
Highlights
1 Aunger JA, Millar R, Greenhalgh J. When trust, confidence, and faith collide: refining a realist theory of how and why inter-organisational collaborations in healthcare work. 2021.
2 Aunger JA, Doody P, Greig CA. Interventions targeting sedentary behavior in non-working older adults: a systematic review. Maturitas 2018;116:89–99. doi:10.1016/j.maturitas.2018.08.002
3 Aunger J. Physical Activity and Nutrition INfluences in Ageing: Current Findings from the PANINI Project. Adv Geriatr Med Res Published Online First: 2019. doi:10.20900/agmr20190005
4 Asamane EA, Greig CA, Aunger JA, et al. Perceptions and factors influencing eating behaviours and physical function in community-dwelling ethnically diverse older adults: a longitudinal qualitative study. Nutrients 2019;11. doi:10.3390/nu11061224
5 Aunger J. Frailty Levels In Geriatric Hospital paTients (FLIGHT)\textemdashthe prevalence of frailty among geriatric populations within hospital ward settings: a systematic review protocol. BMJ Open Published Online First: 2019. doi:10.1136/bmjopen-2019-030147
6 Aunger JA, Greaves CJ, Davis ET, et al. A novel behavioural {INTErvention} to {REduce} Sitting Time in older adults undergoing orthopaedic surgery ({INTEREST}): protocol for a randomised controlled feasibility study. Pilot Feasibility Stud 2019;5. doi:10.1186/s40814-019-0437-2
7 Aunger JA, Millar R, Greenhalgh J, et al. Why do some inter-organisational collaborations in healthcare work when others do not? A realist review. Published Online First: August 2020. doi:10.21203/rs.3.rs-58882/v1
8 Aunger JA, Millar R, Greenhalgh J, et al. Building an initial realist theory of partnering across National Health Service providers. J Integr Care 2020;29:111–25. doi:10.1108/jica-05-2020-0026
9 Aunger J, Aunger J, Wagnild J. Objective and subjective measurement of sedentary behavior in human adults: A toolkit. Am J Hum Biol Published Online First: 2020. doi:10.1002/ajhb.23546
10 Aunger JA, Greaves CJ, Davis ET, et al. A novel behavioural {INTErvention} to {REduce} Sitting Time in older adults undergoing orthopaedic surgery ({INTEREST}): results of a randomised-controlled feasibility study. Aging Clin Exp Res 2020;32:2565–85. doi:10.1007/s40520-020-01475-6
11 Aunger JA, Millar R, Greenhalgh J, et al. Why do some inter-organisational collaborations in healthcare work when others do not? A realist review. Published Online First: February 2021. doi:10.21203/rs.3.rs-58882/v2
12 Aunger J, Aunger JA, Millar R, et al. Why do some inter-organisational collaborations in healthcare work when others do not? A realist review. Syst Rev Published Online First: 2021. doi:10.1186/s13643-021-01630-8