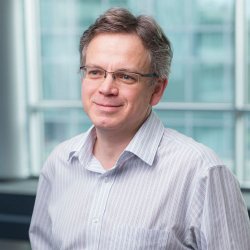 Biography
Biography
Maxim Shkunov studied physics and applied mathematics at Moscow Institute of Physics and Technology and trained at Russian Academy of Sciences (Moscow) prior to receiving his PhD in condensed matter physics from the University of Utah, USA, where he conducted research in ultrafast spectroscopy and laser action in conjugated polymers, microcavities and photonic crystals. He has since developed and evolved his research to encompass charge transport phenomena in organic semiconductors, plastic field-effect transistors, self-assembly at organic/inorganic interfaces, self-organisation with pi-conjugated liquid crystals and polymers, semiconducting nanowires, solution processable nanowire electronics and organic-inorganic hybrid devices. He has over 19 years of experience in the field and worked at Cavendish Laboratory (U. Cambridge) and Merck Chemicals (UK). Maxim (co)-authored more than 120 publications, including articles in peer reviewed journals, book chapter and patents. He is now a Senior Lecturer at the Advanced Technology Institute with a range of research, teaching, and administrative duties.
Further details can be found on personal web page.
Research interests
The focus research area can be described as "Printed electronics with solution processable nanomaterials and organic semiconductors". This serves as a platform for the development of novel devices for large area electronic applications with strategic overlap with EPSRC directions in Energy, Environment and Health. In particular, a printable sensor platform, based on nanowire FETs for chemical and biological sensing has been under the development for the last 5 years, with nanomaterials work spanning over 10 years.
Research activities are aimed at developing printed large area electronics at Surrey in synergy with ATI strategic activities, and utilising important collaborations with industrial and academic partners specialising in chemical synthesis, nanomaterials, sensor applications, metrology, printable devices, nanoparticle inks, organic semiconductors.
Immediate areas of research are: environmental sensors based on solution processable nanowire devices, biological sensors towards solving Global Challenges in Antimicrobial Resistance, self-assembly methods for highly reproducible high-performance semiconducting nanowire FETs, printable device applications for reconfigurable RF electronics, nano-scale high resolution scanning probe techniques, advanced solution deposition techniques for semiconducting nanoparticles and conjugated molecules, low-power consumption FETs and high-resolution ink-jet printing.
Teaching
Current and past modules:Renewable Energy Technologies (MEng & MSc)Nanoelectronics and Devices (MEng & MSc)Molecular Electronics (MEng & MSc)Frontiers of Nanotechnology (MEng & MSc)Polymers: Science, Engineering and Applications (MSc and Short Course)Optoelectronics (year 3)Electronic and Photonic Devices (year 2)Electrical Science (electromagnetism) (year 1)Final year projects (year 3)MSc projects
Departmental duties
Programme Director Nanotechnology and Renewable Energy MScAcademic Integrity officerPostgraduate Demonstrators Coordinator
Publication highlights
Nature Communications, 2016,.Rigas GP, Payne M, Anthony JE, Castro FA, Shkunov M, Spray-printed organic sigle crystals 7, 13531.
Scientific Reports, 2016, Wood S, Rigas GP, Zoladek-Lemanczyk A, Blakesley J C, Georgakopoulos S, Mas-Torrent M, Shkunov M and Castro F A, Precise Characterisation of Molecular Orientation in a Single Crystal Field-Effect Transistor Using Polarised Raman Spectroscopy 6 33057
ACS Nano, 2016, Constantinou M, Rigas GP, Castro FA, Stolojan V, Hoettges KF, Hughes MP, Adkins E, Korgel BA and Shkunov M, Simultaneous Tunable Selection and Self-Assembly of Si Nanowires from Heterogeneous Feedstock 10 4384-4394
Advanced Electronic Materials, 2016, Opoku C, Sporea RA, Stolojan V, Silva SRP, Shkunov M, Source-Gated Transistors Based on Solution Processed Silicon Nanowires for Low Power Applications, 1600256.