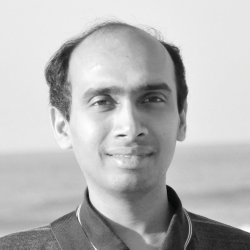 Professor Nishanth Sastry
---
Professor, Director of Research
PhD (Cantab)
About
Biography
Prof. Nishanth Sastry is the Director of Research of   the Department of Computer Science, University of Surrey. His research spans a number of topics relating to social media, content delivery and networking, and online safety and privacy. He is joint Head of the Distributed and Networked Systems Group and co-leads the Pan University Surrey Security Network. He is also a Surrey AI Fellow and  a Visiting Researcher at the Alan Turing Institute, where he is a co-lead of the Social Data Science Special Interest Group.
Prof. Sastry holds a Bachelor's degree (with distinction) from R.V. College of Engineering, Bangalore University, a Master's degree from University of Texas, Austin, and a PhD from the University of Cambridge, all in Computer Science. Previously, he spent over six years in the Industry (Cisco Systems, India and IBM Software Group, USA) and Industrial Research Labs (IBM TJ Watson Research Center). He has also spent time at the Massachusetts Institute of Technology Computer Science and AI Laboratory.
His honours include a Best Paper Award at SIGCOMM Mobile Edge Computing in 2017, a Best Paper Honorable Mention at WWW 2018, a Best Student Paper Award at the Computer Society of India Annual Convention, a Yunus Innovation Challenge Award at the Massachusetts Institute of Technology IDEAS Competition, a Benefactor's Scholarship from St. John's College, Cambridge, a Best Undergraduate Project Award from RV College of Engineering, a Cisco Achievement Program Award and several awards from IBM. He has been granted nine patents in the USA for work done at IBM.
Nishanth has been a keynote speaker, and received media coverage from print media such as The Times UK, New York Times, New Scientist and Nature, as well as Television media such as BBC, Al Jazeera and Sky News. He is a member of the ACM and a Senior Member of the IEEE.
Areas of specialism
Internet Data Science;
Social Networks;
Social Computing;
Computational Social Science;
Computer Networks;
Edge Computing;
Data Analysis;
Online Harms;
Web Science;
Privacy on the Web
Research

Research interests

My work focuses on the structures and architectures used for disseminating and consuming content online. This encompasses a range of topics both at the infrastructure (computer networks) and people (social networks) levels. My long-standing approach has been to apply the lens of data analysis to large, real-world data sets of social networks and computer networks, and using the patterns gleaned therein to design and develop better systems and architectures that are "fit-for-purpose" in deployed or deployable systems. This highly empirical approach, which may be termed "Internet Data Science", has allowed me to work with partners such as BBC R&D, Vodafone R&D and Cisco Systems, as well as drive social and public policy impact, with public bodies and organisations such as the UK Parliament, Wikimedia Foundation and the Samaritans:

Peer-Assisted Content Delivery and Edge Networking Architectures

Using anonymised data from the equivalent of half the UK population accessing BBC iPlayer, a series of papers showed how the load on UK's networks can be decreased by more than half, and how content delivery can be made greener and more sustainable. We also proposed architectures and theoretical evaluations for peer-assisted offloads and cache-aided D2D, based on individual preferences.
Using ~3TB of data from Facebook Live, we identified a number of opportunities for edge caching and city-level data centres to decrease and cellular data usage for users.

Computational Politics, Partisan News and Filter Bubbles

Web tracking and Privacy

Harnessing Crowdwork and Cross-Social Network Phenomena

We have identified several phenomena relating to how users manage their different identities across social platforms. Social bootstrapping showed how social logins help grow nascent social networks such as Pinterest. With Max-Planck Institute, we looked at how to transfer trust across platforms. With Penn State, we identified patterns in how users adapt their profiles to different platforms based on whether they capture formal settings (e.g., LinkedIn) or informal friendships (e.g., Facebook, Instagram).
We have also developed methods to harness the work of crowds. Predicting Pinterest showed how individual activities on social networks can be treated as a distributed human computation and automated based on crowd work. FaceLift, a collaboration with Bell Labs Cambridge, developed mechanisms to propagate binary rankings of beauty over pairs of images to a whole corpus, and developed a Generative Adversarial Network (GAN) to beautify urban scenes. 

In all the above, "we" refers to me and the group of talented hardworking students and postdocs with whom I collaborate. If this sort of research sounds interesting, and you would like to work with me, feel free to send me an email, mentioning "life=42" to indicate you have read through this text.

 
Supervision
Postgraduate research supervision
I am looking for PhD students. Please read my research and my publications, and if the topics sound like something you might want to work on for 3+ years, please get in touch!