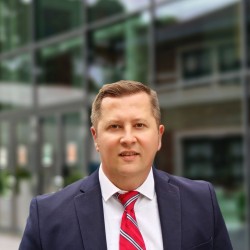 Professor Sorin Krammer
---
Professor of Strategy and International Business | Research Lead, Dept. of Strategy and International Business | Sustainability Fellow - the Institute for Sustainability
About
Biography
Sorin M.S. Krammer is Full Professor of Strategy and International Business at Surrey Business School. Prior to joining University of Surrey, Sorin was a Full Professor of Strategy an International Business at University of Exeter Business School (UK), Associate Professor in International Business and Innovation at Leeds University Business School (UK), and Assistant Professor of International Economics and Business at the University of Groningen (The Netherlands), and has held academic positions at MIT Sloan School of Management (USA), Stanford Institute for Economic Policy Research -SIEPR- (USA) and a visiting position at Northeastern University-D'Amore-McKim School of Business (USA). In addition to academia, Sorin was involved as well as an expert consultant in several World Bank projects dealing with innovation and international competitiveness (of regions and sectors) in less-developed countries.
Sorin has published, among others, in Journal of Management, Journal of International Business Studies, Research Policy, Academy of Management Learning and Education, Journal of Product Innovation Management or Journal of World Business, and he serves as member of the Editorial Boards of Journal of Management Studies, Journal of World Business, Journal of International Business Policy, Global Strategy Journal and Technological Forecasting and Social Change. 
His research has also been recognized in terms of excellence by various international professional associations, such as the Academy of International Business (Alan Rugman Best Young Scholar Award -2014- Winner), the European Academy of Management (Best Paper Award -2022- Winner) and the Academy of Management (IM Division Georgetown Best Paper in International Business and Policy Award - 2023- Winner). He has also won the "Researcher of the Year" Award (2023) presented by the Surrey Business School, University of Surrey.
Professional experience
Professor Strategy and International Business, Strategy and International Business Department, Surrey Business School, University of Surrey, Guildford, 2022-present.
Professor Strategy and International Business, Management Department, University of Exeter Business School, Exeter, UK, 2019-2022.
Associate Professor of International Business and Innovation, International Business Division (CIBUL), Leeds University Business School, Leeds, UK, 2017-2018
Assistant Professor of International Economics and Business, Global Economics and Management Department, University of Groningen, Groningen, the Netherlands. 2010-2016
Postdoctoral Fellow and Associate, MIT Sloan School of Management and NBER, Cambridge, MA, USA. 2009-2010.
Social media
Areas of specialism
International Strategy;
Technology and Innovation Management;
Emerging markets
University roles and responsibilities
Research Lead - Department of Strategy and International Business

Sustainability Fellow - Institute for Sustainability
My qualifications
2009
Ph.D. (Economics)
Rensselaer Polytechnic Institute, Troy, NY, USA.
2008
M.Sc. (advanced certificate), International Economics
Kiel Institute for World Economics, Kiel, Germany
Affiliations and memberships
Research

Research interests

My research interests evolve at the intersection of International Strategy and Innovation Management. Broadly these endeavours can be clustered into several inter-connected streams. 

The first one, includes work on innovation in transition economies from Eastern Europe and Central Asia that examines their systemic deficiencies in relation to innovation, the mechanisms and inhibitors of foreign R&D spillovers, and well as the complex interactions with institutional idiosyncrasies in place and the bottlenecks facing practitioners when implementing new policies (e.g., smart specialization) in these settings.

The second stream of my research focuses on the drivers and contingencies of partnering strategies in international technological alliances. Here I pay close attention to firm-specific explanations in terms of diversification profiles and distance in product and technology space between firms and their effects on formation of alliances. In addition, I examine the effects of macro-contingencies (such as institutional differences as well as historical background of countries) and their direct and indirect effects on firms' preferences for international alliances.

The third stream of my research looks at the effects of institutions (formal and informal) and various institutional deficiencies (e.g., corruption, crime, political volatility, political connections) on organizational performance. These theoretical conjectures are developed and tested in heterogeneous emerging market contexts such as Sub-Saharan Africa, BRIC countries, South-East Asia or Central and Eastern Europe.

Finally, the fourth stream research I am currently developing focuses on answering fundamental questions related to the "deep" drivers of innovation and creativity, as well as environmental issues, gender and racial biases, or socio-economic inequality. The main objectives of these research initiatives are to develop new (omitted) insights into the role of organizations in society and their potential contributions towards tackling these "grand societal challenges" using large datasets and state of the art quantitative techniques.

 

Scholarly profiles
Supervision
Postgraduate research supervision
I am interested in supervising PhD candidates in the areas of International Business / Strategy / Applied Economics to work on firm-level topics such as: green innovation, MNEs and sustainable development goals, greenwashing, non-market strategies, diversity and firm performance, firms and economic shocks, bibliometrics, academic productivity among others.
Candidate's checklist:
- a MSc/ research MSc. in Business/Economics/Allied Social Sciences (required)
- curiosity, drive, and motivation to undertake research independently and collaborative (required)
- command of statistical packages or coding (Stata, R, Python) (desirable)
- good English writing and speaking skills (desirable).
Teaching
Prof. Krammer's experience spans a variety of subjects (e.g., International Business, Economics of Strategy, Economic Organization Theory of the Firm, Globalisation of Innovation, International Business Environment, Research Methods) and settings (from small, specialised Ph.D. courses to large and very large M.Sc. and B.Sc. classes).
My interests and expertise combine analytical skills from economics with interesting qualitative insights through case studies and examples. In terms of accolades, courses I have taught/delivered, have been rated as "A"s in terms of student evaluations and I have been awarded several distinctions such as Best Personal Tutor award (2017, University of Leeds) and a top 5% lecturer (2012, University of Groningen).