Emergent everyday ethics in infrastructures for smart care
Exploring how ethical challenges arise and are managed in everyday smart care for people living with conditions such as dementia. Providing resources to support decision-making about smart care.
Start date
01 October 2020
Overview
New smart technologies offer great promise to improve care for people living with long-term conditions such as dementia and to enable them to live in their own homes for longer. Engineers work with healthcare professionals, service users and carers to develop technologies to monitor wellbeing and support people to live well at home. Significant ethical challenges arise, however, as decisions are made about what features the technology should contain, who has access to data collected by monitoring devices and what actions should be taken in response. Smart technologies can take decisions on our behalf, and sometimes this can be troubling.
In this project, a social scientist is working with an expert in machine learning and 'internet of things' who is developing smart technologies for care settings. Together they are exploring how ethical challenges arise and are managed in everyday practice. The research entails interviewing engineers, healthcare professionals, carers and service users who are involved in development of smart technologies for care settings.
Aims and objectives
The aim of these interviews is to identify from each participants' perspective when and how they become aware of ethical challenges, how they distinguish the ethical challenges from other kinds of issue such as a technical hitch or a misunderstanding, and how they deal with the various kinds of issue to negotiate acceptable outcomes. As a result we will learn more about whether ethical issues can be anticipated in advance and develop ways to build ethical decision-making into the lifespan of a project.
Funders
APEX award (Academies Partnership in Supporting Excellence in Cross-disciplinary research award) scheme, operated in partnership with the British Academy, the Royal Academy of Engineering and the Royal Society ('the Academies') and with generous support from the Leverhulme Trust.
Funding amount
£70,794
Team
Principal investigator
Co-investigator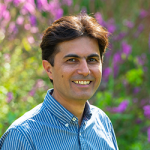 Professor Payam Barnaghi
Chair in Machine Intelligence Applied to Medicine in the Department of Brain Sciences at Imperial College London and Deputy Director and Group Lead in the Care Research and Technology Centre at the UK Dementia Research Institute
See profile
Outputs
Hine, C., Nilforooshan, R., & Barnaghi, P. (2023). Negotiating the capacities and limitations of sensor-mediated care in the home. Journal of Computer-Mediated Communication, 28(5), zmad013. https://academic.oup.com/jcmc/article/28/5/zmad013/7248797
Hine, C., Nilforooshan, R., & Barnaghi, P. (2022). Ethical considerations in design and implementation of home-based smart care for dementia. Nursing Ethics, 09697330211062980. https://journals.sagepub.com/doi/full/10.1177/09697330211062980
Hine, C. (2021). Evaluating the prospects for university-based ethical governance in artificial intelligence and data-driven innovation. Research Ethics, 17(4), 464-479. https://journals.sagepub.com/doi/full/10.1177/17470161211022790.
Hine, C., & Barnaghi, P. (2021).Surveillance for independence: discursive frameworks in smart care for dementia. AoIR Selected Papers of Internet Research. https://spir.aoir.org/ojs/index.php/spir/article/view/12185.
Making decisions about smart care
This research focuses on the ethical dilemmas that arise in smart care initiatives. The team hope that by opening up conversation around these concerns, they can build better support for decision making with people that use and manage these technologies on a day-to-day basis.
The team have developed this series of informative videos exploring the issues that arise when choices are made about technology and care, and the impact of these decisions. They will present these resources at a range of events to foster further discussion between care recipients and their families as well as professional care providers and organisations advocating these audience groups.
Easy to read overview:
Explore more on our YouTube channel.
Send your feedback on these videos and your suggestions for further resources that would be useful via this short anonymous survey or by sending an email to smartcareethics@surrey.ac.uk.
What kind of devices are available? What can they do? How do I get them?
After watching the videos you may want to explore the options available to you or you may have questions about what the various devices can do. Several organisations offer information and advice on these technologies:
Research themes
Find out more about our research at Surrey: