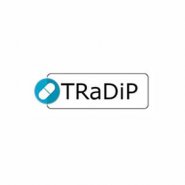 Evaluation of supplementary prescribing by dietitians and independent prescribing by radiographers
Introduction
A recent change in the law allows dietitians and therapeutic radiographers, working at an advanced level, to prescribe medicine for patients that they treat. Before they can prescribe, dietitians and therapeutic radiographers must pass a prescribing training programme.
Dietitians, who manage diet and feeding for many health problems, can prescribe medicines from a treatment plan agreed with a doctor. This is known as 'supplementary prescribing'. Therapeutic radiographers, who deliver radiotherapy and manage the side effects of this for people with cancer, can assess patients and prescribe medicine without the need of a doctor. This is known as known as 'independent prescribing'. Research on prescribing by other professionals, such as nurses and pharmacists, shows benefits to patients and to the NHS. From talking to patients, we know that faster access to medicines is important and this change may be welcomed if patient safety is assured. 
Aim
We aim to study the effect of dietitians and therapeutic radiographers prescribing on patients, staff and services. We will study how prescribing is used and identify where it works well, to help managers to plan services. The study will be conducted by an experienced research team, including a patient advisor, and will be guided by clinicians, managers and a patient group to advise when best to approach patients and help design tools and written information.
Plan of investigation
This study will be conducted in four phases:
Phase 1:
Will be a literature review, to understand the roles of advanced practice dietitians and therapeutic radiographers in medicines management and to assess the impact of their prescribing activities on patients and organisations.
Phase 2:
Will be a survey of the current therapeutic radiography and dietetic services provided in England and surveys of dietitian/therapeutic radiographer prescribers. The surveys will explore how and where dietitian and therapeutic radiographer prescribing is being put into action.  
Phase 3:
Will consist of a comparative case study of four sites where dietitians or therapeutic radiographers are prescribing. At these sites we will compare the impact of these prescribers versus non-prescribing colleagues.   
In addition, we will identify two sites where dietitians or therapeutic radiographers are about to begin prescribing training. In these cases, we will collect data before and after the training to look at the changes resulting from the qualification.
We will be collecting a range of information using prescriber self-reporting tools, patient questionnaires and phone interviews, and data collected for us by hospital staff on-site.This will include:
Staff reports on their prescribing and patient-facing activities   
Patient satisfaction and views
Economic data
Patient safety data
Case studies will be from different hospital or community-based clinics around England. This data will be used to assess the impact of dietitian/therapeutic radiographer prescribing on patients, staff and services.
Phase 4:
Will be the development of a model of implementation and an online tool-kit.
Progress
Phase 1:
We've completed the literature review and this is being prepared for publication.
Phase 2:
We've carried out 55 interviews with therapeutic radiotherapy and dietetic service managers in England. 
Our prescriber surveys are now closed. We've received 103 completed surveys from dietitian and therapeutic radiographer prescribers and are now analysing these results.
We have ethics approval to begin follow-up questionnaires and interviews with some of the managers and prescribers who have already taken part in the study.
Phase 3:
We've identified four case sites where dietitians or therapeutic radiographers are trained as prescribers, and two where they are planning to begin training in 2021. We have HRA and ethics approval to begin these studies and are working with each site to set this up.
Phase 4:
Our first prescribing toolkit event took place in April 2021. Service managers, prescribers and patients joined the team to discuss ideas for a toolkit to help implement non-medical prescribing in practice. We will now form a small working group to give feedback on the toolkit as it is developed.
We always welcome input from patients or carers using dietetic or therapeutic radiographer services. If you'd like to help with our work, please contact us on TRADIP@surrey.ac.uk.
Team
Principal investigator
Co-applicants and research team
News
Non-medical prescribing toolkit event
Our first NMP toolkit event was held on 29 April.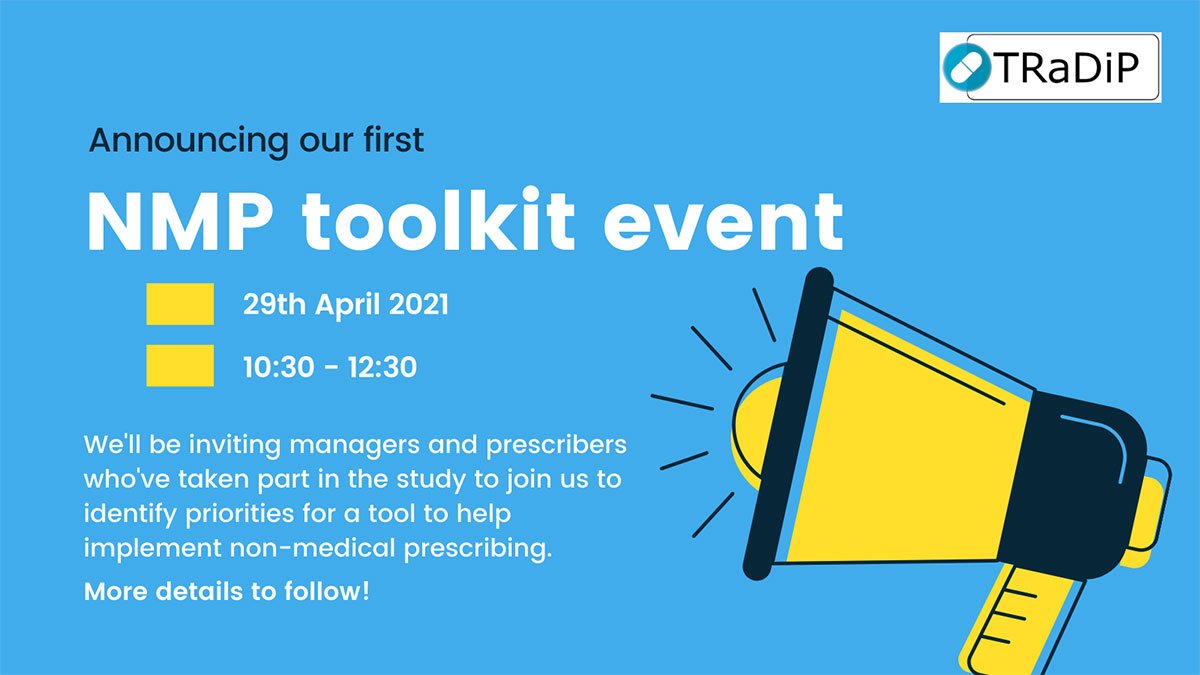 Stay connected
Latest tweets
@TRaDiPstudy

Thanks to everyone who has completed our follow-up prescriber survey. We've had a great response so far. If you'v…
https://t.co/DzrqLlxoVH

🔎We're looking for two case sites in England - NHS dietetics service with a supplementary prescriber Dietitian - NH…
https://t.co/Bv7YF6p3T6

Case site needed! We're still looking for a dietitian who has just begun NMP training to take part in a case study…
https://t.co/ihp6XeMMru
Outputs
Research information sheets
Participant information sheets will be available here when we begin our data collection.
Research dissemination
As we make progress with the project, we will make our findings available through publications and a number of events. The details of these will be listed on here.
Research team articles
Jarmain Sally and Carey Nicola (2020) Exploring the roles and responsibilities of Non-Medical Prescribing leads in the South West of England Journal of Prescribing Practice.
Edwards Judith, Coward Melaine and Carey Nicola (2020) Paramedic independent prescribing in primary care – seven steps to success Journal of Prescribing Practice.
Stenner Karen, Edwards Jude, Mold Freda, Otter Simon, Courtenay Molly, Moore Ann, Carey Nicola (2018) 'Medicines management activity with physiotherapy and podiatry: A systematic mixed studies review.', Health Policy 122 (12) pp. 1333-1339 doi: 10.1016/j.healthpol.2018.10.004
Courtenay M, Carey N, Gage H, Stenner K, Williams P (2015) 'A comparison of prescribing and non-prescribing nurses in the management of people with diabetes', JOURNAL OF ADVANCED NURSING 71 (12) pp. 2950-2964 doi: 10.1111/jan.12757
Carey N, Stenner K, Courtenay M. (2014) 'An exploration of how nurse prescribing is being used for patients with respiratory conditions across the east of England.'. BMC Health Serv Res, England: 14 (1) doi: 10.1186/1472-6963-14-27
Research themes
Find out more about our research at Surrey: