Research
Our research aims to advance knowledge in all aspects of veterinary medicine and education. Faculty members' research activities extend beyond school boundaries, with national and international collaborations in fields ranging from biosciences and psychology to business and the arts.
Research innovation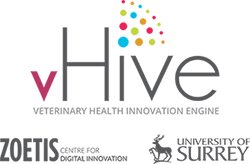 Based at The School of Veterinary Medicine, the Veterinary Health Innovation Engine (vHive) is a research centre, start-up and incubator supported by a co-investment of £8.5 million in resources dedicated to the development and adoption of new digital technologies in animal health.
The African Livestock Productivity and Health Advancement (ALPHA) Initiative is a co-funded grant by the Bill & Melinda Gates Foundation to Zoetis lnc, the largest global animal health company. ALPHA is working to advance livestock health and productivity in Sub-Saharan Africa.
One Health collaboration
The One Health European Joint Partnership is a One Health Initiative consisting of 39 partner institutes across Europe. The education and training and communication activities are conducted at the School of Veterinary Medicine where we aim to create a platform to train and communicate with the next generation of One Health researchers.