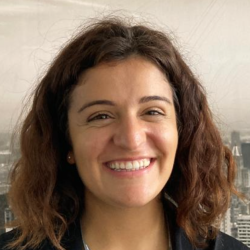 Alessia Trabucco
"My time at Surrey has made me open to new opportunities, new cultures and new ways of living. I've grown so much and become a person I am truly proud of."
Describe your experience at Surrey in three words. 
Inspiring, welcoming and life-changing.  
Why did you choose to come to Surrey?  
Surrey was - and still is - in the top five universities in the world for tourism and hospitality, and the best in the UK.  
What was your first impression when you got here? 
I loved the campus and especially the lake. I also felt a fantastic energy from the Freshers Angels and the staff that helped during the moving in weekend.  
Why are you passionate about your subject? 
I'm passionate about studying tourism management because mass tourism is a critical problem nowadays and I'd like to find ways to make tourism more sustainable, both for the environment and the workers. 
What do you like about your course and why? 
Many assignments in International Tourism Management are based on case studies and real-life scenarios, which help the students prepare for the professional world. 
Have you been on a Professional Training placement?  
Yes, I did my placement at a software company based in London, working as a marketing executive. 
What did the work on your placement involve? What were the highlights?  
I handled all aspects of EMEA (Europe, Middle East and Africa) marketing, creating promotional materials, managing social media, creating content for the company podcast and facilitating the transition to live video episodes. Organising the first conference after the pandemic was definitely one of the highlights. We travelled to Manchester and I co-ordinated the entire company's presence, working closely with directors and senior executives.  
Would you recommend a Professional Training placement to others?  
I'd definitely recommend doing a placement. It gives you the opportunity to work full time in your industry before graduating, which helps you understand what you would like or wouldn't like to do after finishing university.
A placement is an incredible growth opportunity, at both a personal and a professional level, as it equips you with valuable soft skills that will stay with you for the future. 
Are you part of any societies?  
I'm involved in many societies, and I've also been president of the Surrey Italian Society for two years. Societies are such an incredible way to find like-minded people and improve your university experience! I am so grateful for the many societies at Surrey that gave me the opportunity to get involved and try new things.  
What are the best things about life at Surrey?  
The campus structure makes the University feel like 'a city in the city'; it allows you to meet people easily and see them again with minimal effort. Being near London is also a plus, as it's easy to get to London for a fun weekend, a concert or even a fancy dinner. I also love the community feeling I get at university as I now know many people from the different volunteering and social experiences I have had, and it truly makes it feel like home. 
What have been your best moments at Surrey so far?  
My best moments have been the picnics by the lake after deadlines, FreeFest, and Mediterranean Nights at Rubix with my friends from the Italian Society. 
How has your time at Surrey had an impact on you? 
My time at Surrey has made me open to new opportunities, new cultures and new ways of living. I've grown so much and become a person I am truly proud of.