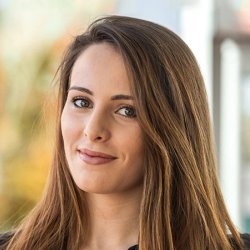 Alice Parr
"I'm a matron at Langley Green Hospital and I'm proud to make a positive difference for my service users, challenging the stigma around mental health."
Course
Nursing Studies (Registered Nurse Mental Health Nursing) BSc (Hons)
Why I chose Surrey
I always knew I wanted to be a nurse from a young age. I remember my grandmother giving me her silver fob watch from her days as a midwife, which really motivated me. As I got older, I started to think about what type of nursing would best suit me and decided against midwifery – it just wasn't right for me. I then discovered mental health nursing, and everything clicked.
I first visited Surrey at a careers fair and really liked the energy and enthusiasm of the academic team. The campus was very welcoming and green – I spent many a lunch break sat by the lake – and within commutable distance from my home. I'd also heard great things about Surrey from friends and knew it was the right place for me.
My course
I really enjoyed how dynamic and well-structured my mental health nursing course was. There was a good amount of linking theory to practice and the Objective Structured Clinical Examinations (OSCEs) really helped to build my confidence.
The teaching staff were so welcoming, kind and supportive. They really put their students first and displayed a real passion for their jobs.
"I still have a letter a patient gave to me on my last day as a student. It helps to keep me grounded and remember why I do what I do when things get tough."
My clinical placements
My placements were based in West Sussex, under the Sussex Partnership NHS Foundation Trust. I had a wide range of placements, working on acute inpatient wards, Child and Adolescent Mental Health Services (CAMHS), out in the community and in crisis services.
I learnt so much on my placements and got to perform clinical tasks, like taking people's blood pressures, giving injections, performing percutaneous endoscopic gastrostomy (PEG) tube feeds and so much more! I did assessments with patients, under my mentors' supervision, in the form of care plans, risk assessments and positive behavioural support plans. I also got to shadow clinics to get a better understanding of specialist assessments and have a go at these myself.
There were too many memorable moments to mention from my placements, but I look back on my time as a student nurse fondly with much pride. I still have a letter a patient gave to me on my last day as a student nurse. It helps to keep me grounded and remember why I do what I do when things get tough.
My career and development
My time at Surrey helped me grow my belief in myself. I felt very independent at university and I think that really helped me mature.
I'm now a matron at Langley Green Hospital, where I did some of my placements as a student and my preceptorship. I love my job and I get to work with some amazing service users. When people are in a confused state of mind, it can be very difficult for them to trust and accept your help. But I'm proud to be able to make a difference for them, to be a part of positive change and a strong team that's challenging the stigma around mental health.
Some of the highlights of my career so far have been:
Attending the Houses of Parliament with my colleagues to talk about the importance of prioritising staff wellbeing within the NHS
Being part of a national mental health collaborative and showcasing work we'd done to improve our learning from serious incidents, giving patients a voice to lead their care
Working for a team that won a national positive practice award in excellence towards mental health nursing
Surviving a pandemic which forced us to work creatively, with some important learning, too.
My advice
Do it and don't regret it! I look back at my time at university so fondly and have so much appreciation for how it helped me grow as a person.