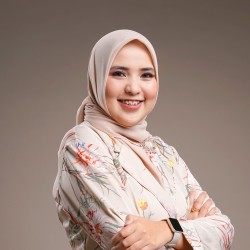 Ananda Suci Munggaran
This course uncovers and explores the amazing hidden truths that exist inside the aviation business.
Why did you choose to come to Surrey?  
First and foremost, my decision to come to Surrey was based on the availability and reputation of the course I wanted to study: the Air Transport Management MSc. As an aviation professional with over five years' experience, my goal is to broaden my horizons in the aviation sector from the fundamentals to the advanced level, which this MSc enables me to do. Also, the University of Surrey is only 30-40 minutes from London, where I can easily attend aviation conferences and establish broad industry networks. 
What was your impression of Surrey? 
One of my favourite features of the University of Surrey is the large number of relaxing study spaces across the campus. The campus setting is really pleasant and conducive to learning, with plenty of green space and learning facilities. The learning equipment is modern and lecture recordings, university IT assistance and integrated applications with the website together provide a seamless learning experience.
When we feel stressed with academic life, we go for a short stroll to the university lake, where we can take a deep breath and enjoy the breath-taking beauty of nature! 
Why are you passionate about your subject? 
The Air Transport Management MSc enables me to understand the complex nature of the aviation industry from a management perspective.
We often travel by air and see millions of people doing so, yet we often have no idea how challenging it is for the air transport business to make a profit. We generally view aircraft with our own eyes, but we rarely understand that there are costly components in the plane, which can also be turned into profits. This course uncovers and explores the amazing hidden truths that exist inside the aviation business. 
Why did you choose to study your course at Surrey? 
I chose this course because the modules fascinate me. 
The modules cover the entire aviation business from the management viewpoint: market research, finance, strategy, marketing and sustainability.
The course is taught by distinguished teachers with notable professional and research experience, as well as industry expertise in their respective fields. 
What's been a highlight of your course?  
A highlight has been the numerous 'mind-blowing' C-level guest lectures.
My cohort was privileged to have Alex Cruz (ex-CEO of British Airways and Vueling), Sophie Dekkers (CCO of easyJet), Professor Rigas Doganis (ex-CEO of Olympic Airways, non-executive director of easyJet and South African Airways), Dr Carole Nakhle (CEO of Crystol Energy), Peter Davies (ex-CEO of Brussels Airlines, Air Malta, and DHL), Nadine Meischner (Strategy Director of Lufthansa Group), and some speakers with VP and manager positions in international airline companies, airports and consultant firms. 
Have you lived in University accommodation? If so, what's it like?  
Yes. The university accommodation is the most comfortable location to live at the university. Cathedral Court, where I'm staying, provides the ideal environment. I enjoy living in a peaceful neighbourhood where I can easily focus on my studies and can walk to the lecture halls, as well as essential places like the grocery store and Surrey Sports Park. It offers decent facilities for a very affordable price. 
What are the best things about life in general at Surrey?  
The University of Surrey's surroundings are relatively peaceful; Guildford is an entirely different place from big, vibrant cities like London. I really like this environment; it supports academic activity while ensuring safe travel across Guildford. The campus is close to vital locations such as the town centre, shops, the hospital, and Surrey Sports Park. The University of Surrey Students' Union organises a variety of exciting on-campus activities regularly. Don't worry if you're looking for part-time work in Guildford; part-time work options are widely available. 
What do you plan to do following your postgraduate course at Surrey? 
After graduating from Surrey, my employment chances will be greater than they were previously.
I hope to return to my home country and apply my skills to the Indonesian aviation sector. However, before returning, having work experience at an international aviation business will allow me to broaden my exposure in the aviation sector. The UK is a great country to provide that opportunity.