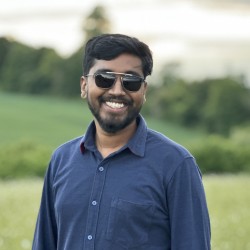 Andrew Oswin Ratnam
"In the second semester, we visited Queen Alexander Hospital in Portsmouth and Royal Surrey County Hospital which helped me decide what to do for my career."
Course
Medical Physics MSc
Why did you choose to come to Surrey?  
I chose to come to the University of Surrey as it's one of the top universities in the UK, and my course had a good reputation. I was very satisfied when I went through the modules, which were well structured, and I looked at the research being done. The radiation laboratory also contributed to my decision. 
Why are you passionate about your subject? 
I am passionate about medical physics because it has a role in treating cancer, the scanning technologies and therapy techniques are unique, and the subject on the whole has a lot of potential. 
What do you like about your course? 
The curriculum is planned very well; it gives practical exposure like hospital visits, while the laboratory sessions help you build your technical knowledge. The academic staff are also very kind and have guided me whenever I needed help. 
What are the best things about life in general at Surrey?  
I often go to Surrey Sports Park and play squash and badminton, and I go to the gym. On campus, I always visit the library for my studies and Hillside Café to have some coffee and relax.  
Guildford is a very beautiful place and is surrounded by the Surrey Hills. My favourite place is Guildford Cathedral. 
Do you feel supported at university? 
Yes, I've always felt supported. I faced a few problems with my results in my first semester and my personal tutors, Professor Wilton Catford and Dr Silvia Pani, helped me work through them. Having a tutor is one of the best ways an international student can be supported at university. During my first meeting with Professor Catford, he gave me a general overview of everything and guided me on how I could make the most of the course in the time I had. 
Have you used any of our support services? 
I've often used the support services; MySurrey Hive has been really helpful. I was offered a place on the course in 2021 but due to the delay in my ATAS certificate and the Covid-19 pandemic, I had to defer my application to the next year. During this time, the Hive was a huge help; they supported and guided me with the steps I had to take. And since I've been here, they've helped with any queries I've had.  
What careers support have you received?  
In the second semester, we visited Queen Alexander Hospital in Portsmouth and Royal Surrey County Hospital which helped me decide what to do for my career and which division would be best for my further growth in the field. 
What has been your best moment at here so far?  
The days I spend with my friends on and off campus and during assignments and group studies are some of the most memorable moments. 
Do you think you have changed since you started at Surrey? How?  
Yes, I have changed a lot in the way I do my work. I used to seek help with my studies a lot, but since being here I've learnt how to be more independent. And I've learnt how to manage my time better and balance life and work. 
What do you plan to do when you graduate? 
After completing my course, I would like to find a job at a well-established institute as a clinical scientist. 
Find out more about our MSc Medical Physics.