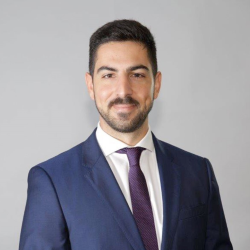 Angelo Vassiliades
"What makes me happy is knowing that some of my best friendships started at the University, and for that, I am forever thankful."
Course
International Hospitality and Tourism Management BSc (Hons)
What attracted you to the University of Surrey and to study your course here?
The University's outstanding reputation, its high global ranking in the field of hospitality and tourism and the quality of education that is delivered combined with the fantastic facilities that are available. But most importantly, the overall university life: the diversity of cultures, the feeling of community and the vast amount of societies to sign up to, all contributed to a strong sense of belonging.
What were the best things about your course?
The course materials were both relevant and current, individuals who greatly impacted the industry were my lecturers, there were opportunities for practical training and the degree covered topics from all sectors of the industry which really made the experience complete.
How did you change as a person during your time as a Surrey student?
During those three critical years at university, I grew and matured as an individual. I learned to manage my time, to prioritise tasks and balance out my schedule, especially during the times I held part-time jobs. I was reassured that the field I chose to study was the right one as it represented my interests and what I wanted to build my career around.
What do you do now and what do you find most enjoyable about your line of work?
I am currently based in Dubai and work for InterContinental Hotels Group as a Campaign Marketing Manager. I enjoy the opportunity to collaborate with other regional or global departments and gain access to valuable business insights. During this process, I have learnt about overall business performance and come up with creative solutions to deliver against objectives.
How did your time at Surrey influence your career?
My time at Surrey enabled me to lay the foundations for my career. Given its outstanding reputation, the University qualification was highly regarded by employers, there were even instances where employers themselves had also studied at Surrey which further added to the University's influence on my career.
What aspects of being connected with the alumni network are most important to you/of most interest to you?
What I find fascinating about the alumni network is its global expanse and reach, covering literally all corners of the world. Equally as fascinating is learning about the various stories, journeys and career paths shared by alumni.
There is a good presence of alumni in the UAE with several gatherings organised over the years. It's been remarkable to see the support shown amongst the alumni community and the willingness to help each other out.
What is your happiest memory of your time at Surrey?
There are too many great memories to list. Reflecting on my time at Surrey, what makes me happy is knowing that some of my best friendships started at the University, and for that, I am forever thankful.
Discover our courses in hospitality, events, tourism and transport including our BSc International Hospitality and Tourism Management.