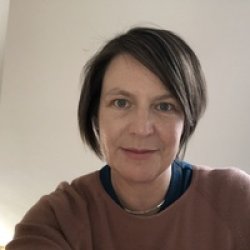 Anna Pakes
"The course is a chance for me to upskill in terms of translation technologies, develop my understanding of the languages industries and expand my existing translation practice."
Choosing Surrey
Surrey's programme better suited my needs and interests than competitor courses, plus the location is convenient for me as a mature student who commutes. It seemed a lively university in a pleasant campus and the Centre for Translation Studies (CTS) has great computing facilities and specialist language labs, with a well-stocked and relevant library.
I have always loved languages and have long been intrigued by processes of moving and mediating between cultures. I am in the process of changing career direction and having done some freelance translation work in the past, I was keen to explore the field's opportunities further. The course is a chance for me to upskill in terms of translation technologies, develop my understanding of the languages industries and expand my existing translation practice.
Your course
"The curriculum provides exactly what I was looking for in an MA, with its focus on technology and the languages industry, but also a theoretical dimension which allows critical reflection on both."
The programme attracts a diverse group of students and I love learning from my colleagues in different language combinations and at different stages of their careers.
The staff
Staff are hugely knowledgeable and passionately committed to their discipline. This shows in their approach to curriculum design and in their excellent teaching in the classroom. They are also very welcoming and approachable and have been very supportive academically, plus interested in my welfare more generally. Being a mature student has its challenges, but I have always felt that staff were on hand to help me address these.
Life before Surrey
I studied a BA in English and Modern Languages many years ago at Balliol College, Oxford, and also completed professional dance training at the Centre National de la Danse Contemporaine in Angers, France, in the 1990s. I graduated with a PhD in philosophy/dance studies from City University/Laban Centre in 2002. I have since been working as a lecturer/researcher at the intersection of philosophy and dance.
Career support
"The focus on industry trends and practices within the course helps us to locate ourselves within a rapidly developing professional landscape."
The MA requires that we complete a Professional Engagement Portfolio, which is a really useful exercise in encouraging us to engage with the wider profession. CTS also runs a careers fair in May which will enable us to talk directly to other language professionals and potential employers. I have also signed up for the University's Employability Award, which provides valuable resources and acknowledgement for work and related activities undertaken during the MA.
Looking back
My stand-out moment was the sense of achievement I felt when I managed to make my Python code work in completing some natural language processing exercises! I'm a coding novice, but one of the course modules gave me the skills to write code for term extraction and text summarisation, something I never thought I'd be able to do.
Looking forward
After graduation, I plan to find work which is interesting and allows me to earn a decent living. This might involve increasing the amount and range of freelance translation work I do and/or pursuing other opportunities – including further research – opened up by the MA.
The course has also opened my eyes to the range of other types of employment within the industry, providing invaluable skills that are directly applicable to professional environments, but also developing a critical perspective and the autonomy to take control of our careers as linguists once we leave.
My advice to potential students would be - if you are looking to develop new skills and understanding in a supportive environment, surrounded by like-minded students, do it! It's a lot of work, but the rewards are considerable. Whatever stage you are at in your professional life, it will broaden your horizons, increase your employability and help you make new contacts and friends.