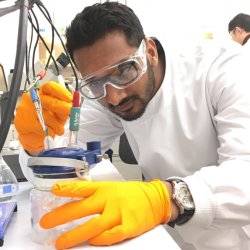 Ash Stott
"I chose the University of Surrey not just for my course's league table position, but after visiting the campus and seeing the facilities. That made the difference in making Surrey my first choice."
Research project
Polyaniline and Nanocarbon Composites for High-Performance Supercapacitor Materials
"For my undergraduate degree, I did an MPhys, a four-year masters in physics. It was a well-run course and whenever I talked to students at other universities about studying at Surrey, they always said I'd made a great choice.
"Following my MPhys course, I became the first PhD student here researching electrochemical energy storage. I've had quite a lot of freedom to make my own choices when it comes to research methodologies. I was allowed to make my own mistakes, which is an important part of the learning process.
"My PhD involves analysing a material called polyaniline for use in high-performance supercapacitors. The easiest way to think of supercapacitors is that they're like very high power batteries. Normal batteries can store a lot of energy, but they're low power, which means they charge slowly and release energy slowly. Supercapacitors, meanwhile, are high power, so they charge quickly and release energy quickly, but they can't store a lot of energy at the moment.
"The idea is we eventually want to move to high power and high energy in one device. One way of doing this is to make supercapacitors from better materials, and polyaniline has the potential to store more energy than the activated carbon we use at the moment.
"The research I'm doing could have an impact on renewable energy, which down the line could help in the fight against climate change. There's even evidence to suggest this area of research could help increase the performance of a national electricity grid in certain situations. For me, my renewable energy research is more impactful than a lot of the work I was doing before. Following my PhD, I want to move into policy research on sustainability.
"I'll be very proud when I finish my PhD! I initially studied quantum physics, so I've had to learn a whole new area as I had no knowledge of chemistry.
"Away from the laboratory, I'm a keen climber and I used to compete in long jump events. I still train three times a week locally in Guildford."
To find out more about our research, please visit the Advanced Technology Institute.