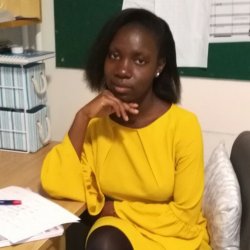 Deborah Brako-Amoafo
Deborah Brako-Amoafo says that speaking to the Disability and Neurodiversity manager about the support they could provide was a key factor in choosing to study BSc Chemistry at Surrey.
Choosing Surrey
"I chose Surrey after looking at their Chemistry course, attending an open day and speaking to the Disability and Neurodiversity [D&A] manager about the support they could provide.
"This was a key factor. For instance, the university offered a three-day induction period for students with disability and neurodiversity. The staff at the D&N department and the lecturers at the chemistry department were welcoming and supportive, too."
My course
"I chose to study BSc Chemistry at Surrey after the open day talk, where a lecturer, Professor Neil Ward, explained studying here offered more laboratory work.
"I also learnt about computational chemistry. This appealed to me because I could combine computational methods with chemistry to create new drug molecules or simulate chemical processes accurately.
"The lecturers go above and beyond for students, too. The department has an open office policy, which enables students to contact teaching staff at any time. This availability and readiness to support students is impressive."
Facilities
"In the Department of Chemistry, there are two laboratories, one for final years students and the other for undergraduates. The latter offers a wide range of laboratory instruments, including a world-renowned Inductively Coupled Plasma Mass Spectrometry (ICP-MS) facility.
"There's also a Computer-Aided Chemistry (CAC) laboratory with computational chemistry software for computational students."
Support for disabled and neurodiverse students
"I first contacted Surrey's D&N service prior to my admission in 2016. The support they put in place for me included having quiet accommodation in a preferred hall of residence, weekly mentoring sessions, the opportunity to go to an isolated room to study in the library, organising for me to take my dyslexia and dyspraxia assessments, and much more.
"They also advocated on my behalf for any support I needed from my lecturers. The D&N department helped me immensely to grow as a person holistically. They supported me to build my confidence and enjoy my learning experience.
"I can categorically say I could not have enjoyed university as much without the support of the D&N department. I was treated with dignity and respect – I was never made to feel different because of my disability. Instead, disclosing my disability enabled D&N to provide me with tailored support."
Professional Training placement
"I had a one-year Professional Training placement at Grace GmbH in Worms, Germany, where I gained experience doing chemical research. This experience enabled me to learn a new language, and skills and techniques to aid me in the future.
"It also helped me become more independent and allowed me to adapt to a different culture.
"I'd definitely recommend a Professional Training placement to other students. You have an opportunity to apply subject knowledge in a practical setting and you gain experience, which helps when applying for jobs."
Life at Surrey
"Student life at Surrey is great. I've been part of the women's rugby team, who made me feel really welcome.
"The University's Christian Union was very welcoming and supportive of my spiritual growth, too.
"I was also a member of Chemsoc, the Chemistry society, which had an annual concert and an annual ball for socialising."
The future
"I've become more confident and independent since I came to Surrey. It has increased my aspiration to do more research in computational chemistry, and I've been offered an opportunity to do a Global PhD at St Andrew's University in Scotland and at Charles University in Prague.
"The University of Surrey is excellent. I was given every support to utilise my ability and to achieve. It provides a springboard for anybody to grow and succeed."
Find out more about our Chemistry courses and our Disability and Neurodiversity support.